Baked Salmon with Spicy Creamy Sauce
Scottish salmon is one of my favorite fish to cook at home. It's light, tasty, easy to cook and packed with healthy nutrients. This baked salmon with spicy creamy sauce recipe is so delicious, your family is going to love it.
Perfect for busy weeknights when you have to get something healthy on the table in a short amount of time. This recipe can be prepped and cooked in under 25 minutes.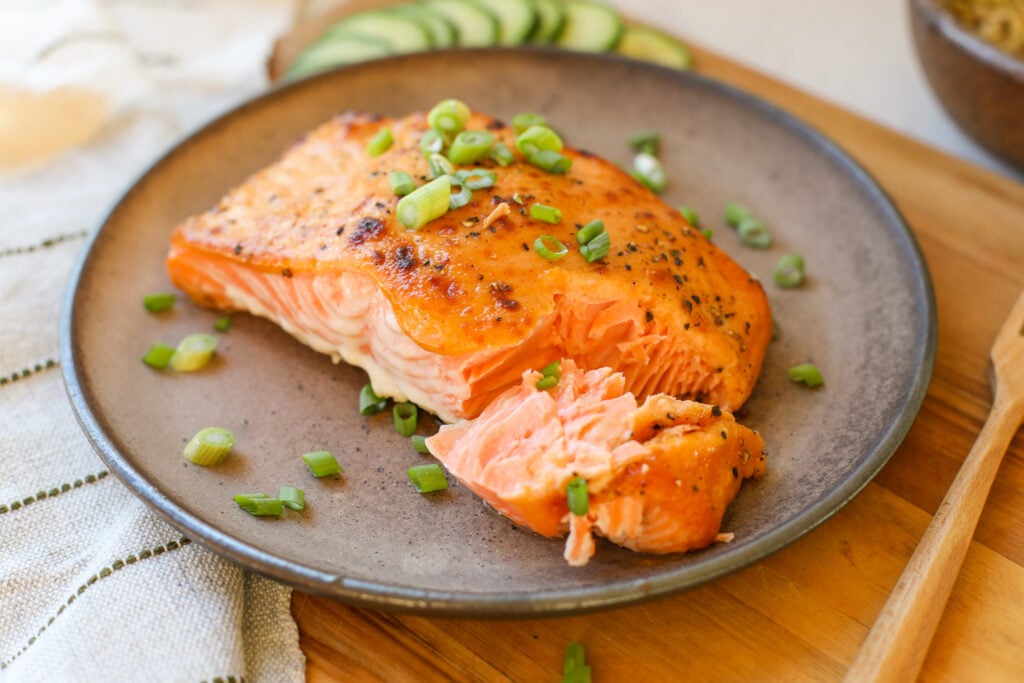 First, let's talk about some of the ingredients. Gochujang is a Korean chili paste, so it adds a slight amount of heat to the sauce. You can use sriracha instead, but sriracha is much spicier.
Liquid amino is commonly used as a soy sauce substitute since it is gluten free. It is a little stronger than soy sauce so if you plan to substitute it in recipes, be careful because it's not one-for-one.
Vegenaise is a brand of mayonnaise that tastes so delicious but is completely plant-based. Meaning no animal products are used in making it. But don't worry, it still has the zippy, tangy flavor we all love.
In this baked salmon with spicy creamy sauce recipe, you can swap regular mayo for the Vegenasie and you can swap soy sauce for the liquid amino if you do not have it at home. But you will need to use 1 tablespoon of soy sauce versus ½ tablespoon of liquid amino.
Should you have any leftovers, you can turn them into my baked salmon salad with spicy creamy sauce.
What makes it Healthyish?
For starters, I oven baked the salmon which is always a healthy and light way to prepare a protein. Next, I made sure all of the ingredients were gluten free, making this dish a crowd pleaser for households with gluten intolerances. Please note: if you use regular soy sauce it is no longer gluten free. Finally, salmon is a rich source of omega three fatty acids that can reduce inflammation in the body, and lower blood pressure. (1)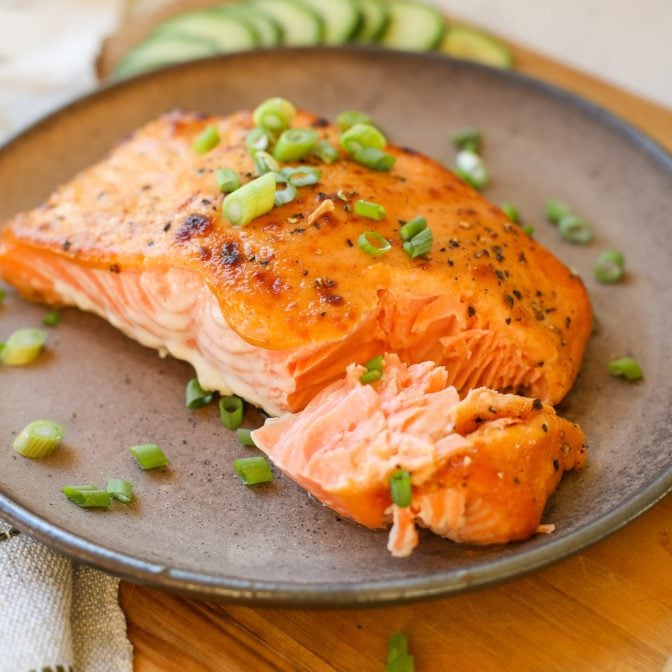 Baked Salmon with Spicy Creamy Sauce
Ingredients
12

oz

two 6 oz Scottish salmon filets

,

deboned – but you can leave the skin on

½

cup

vegenaise

,

regualr mayonnaise will work as well.

1

teaspoon

gochujang

,

you can substitute sriracha

½

tablespoon

liquid aminos

,

soy sauce will work as well but you will need to use 1 tablespoon. Also, this recipe will no longer be gluten free.

season with salt and pepper
Equipment
baking sheet

small mixing bowl
Instructions
Preheat oven to 350°F. Lightly spray a baking sheet with cooking spray.

Debone your salmon filets and season them with salt and pepper Score the skin to prevent it from buckling and constricting as it bakes.

Grab a small mixing bowl and combine vegenaise, gochujang, and liquid aminos. I stirred everything together with a spoon. Once well mixed, spoon the spicy creamy sauce evenly on top of the salmon filets. Make sure they are both well covered.

Bake for 15 minutes at 350 degrees, then broil for an additional 3-3.5 minutes until the everything gets lightly browned on top. This will cook your salmon to a medium-well temperature. If you salmon filet is larger, you may need to bake it for 1-2 more minutes to get to medium well.

Serve with a side of rice and veggies of your choice. You can also substitute the rice for cauliflower rice too.
____________________________________________________________________________