Old Fashioned Banana Bread
Growing up my mom, Linda would always make us her old fashioned banana bread. It would barely make it to the table before we would begin slicing it and smearing it with butter. This recipe brings back so many great childhood memories and is so delicious.
There are so many ways to enjoy this old fashioned banana bread. While topping mine with butter is by far my favorite, cream cheese or peanut butter are also tasty ways to top this bread. For a fun twist, try adding in chocolate chips, blueberries or your favorite nut to the batter before baking. 
To ensure your banana bread is deliciously moist, you have to use ripe bananas. That is the key to any successful banana bread. Incredibly ripe bananas (almost completely brown on the outside). I hope you love this recipe as much as I do.
Also, you can pour the batter into one 9×5-inch glass or ceramic loaf pan. Or you can split the batter between two 8×3-inch foil loaf pans. I like splitting the batter between two foil loaf pans, because I can freeze one of the breads for future use. See below for baking times as they vary for each approach.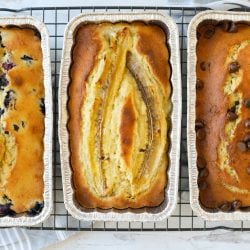 Old Fashioned Banana Bread
Ingredients
Wet ingredients:
1

cup

cane sugar or coconut sugar

2

large

eggs

½

cup

1 stick soft butter

1

cup

2-3 mashed RIPE bananas

¼

cup

2% milk

1

teaspoon

vanilla
Dry ingredients:
2

cups

sifted AP flour

,

all purpose flour

1

teaspoon

baking soda

½

teaspoon

salt

½

cup

nuts

,

optional
Equipment
9"x 5" loaf pan - glass or ceramic preferred

3 mixing bowls

spatula, whisk, handheld mixer
Instructions
Preheat your oven to 350 degrees.

Gently spray your loaf pan with baking spray and set it aside.

In a large bowl, cream your butter and sugar together using a handheld mixer.

Beat in one egg at a time.

In a separate mixing bowl, smash your banana using the back of a fork. You'll want it to resemeble baby food.

Using a spatula, fold the smashed banana, 2% milk and vanilla extract into the butter / sugar / egg mixture. Stir until well combined.

In a second mixing bowl, combine the dry ingredients. These include the AP flour, baking soda, and salt. Stir until well combined.

Next, you'll fold the dry ingredients into the wet ingredients. Stir until well combined using a spatula.

Pour the batter into a 9"x5" loaf pan. Ceramic or glass preferred.

Bake for 50-55 minutes or until a toothpick inserted into the center comes out clean.

Remove from the oven and cool on a wire rack before slicing.

**NOTE** If you make a double batch, split the batter among 3 foil baking tins. The foil tins will be 8"x 3"7/8 inches. Bake for 45-50 minutes or until cooked through.

You can freeze the extra breads for up to 1 month. Just make sure they are well covered in foil and sealed in an air tight bag to prevent freezer burn.

Store covered on the counter for 3-4 days.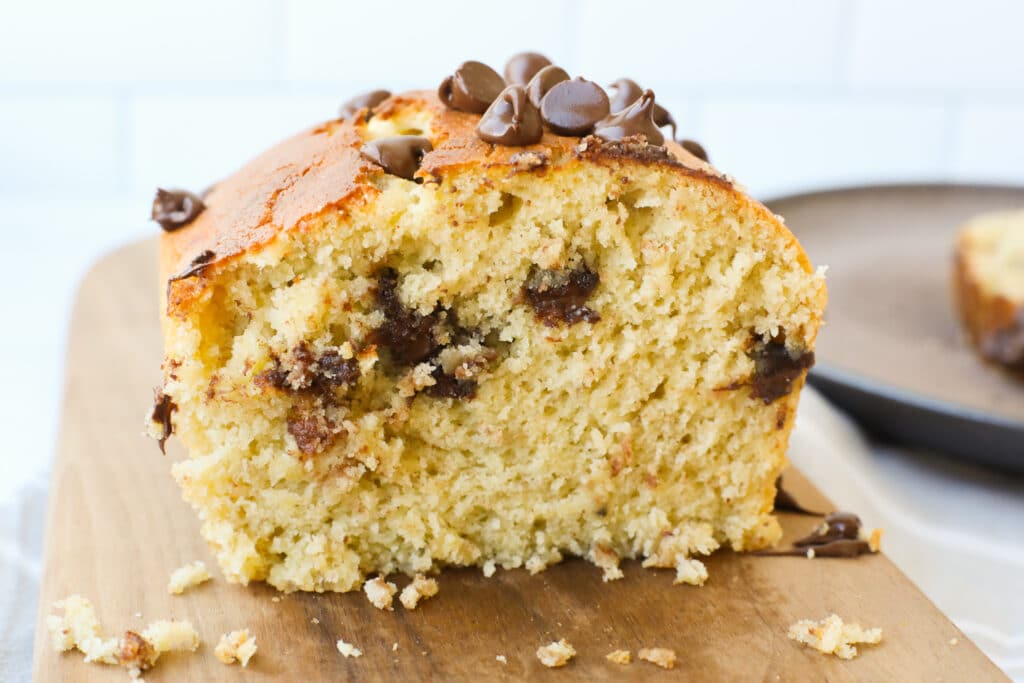 ENJOY!