Garlic Ginger Soup, Immune Boosting Soup
This garlic ginger soup is the perfect way to boost your immune system and your mood! This recipe is loaded with nutrient-dense ingredients that are known to help the body gear up for cold and flu season.
Not only is this soup intensely flavorful making it an excellent meal on a cold day, but it is also loaded with nutrient-dense vegetables, herbs and spices. By using fresh ingredients and preparing the soup by the recipe, this recipe may be able to help promote a strong immune system.
Fortunately for us, strong immune systems have been linked to being able to fight off illness and disease which is something we all struggle with when the weather turns cold. Plus, there is nothing more comforting than a warm bowl of soup when you're not feeling the best. Make this for yourself and re-heat over the week, or present it to a loved one who's feeling under the weather.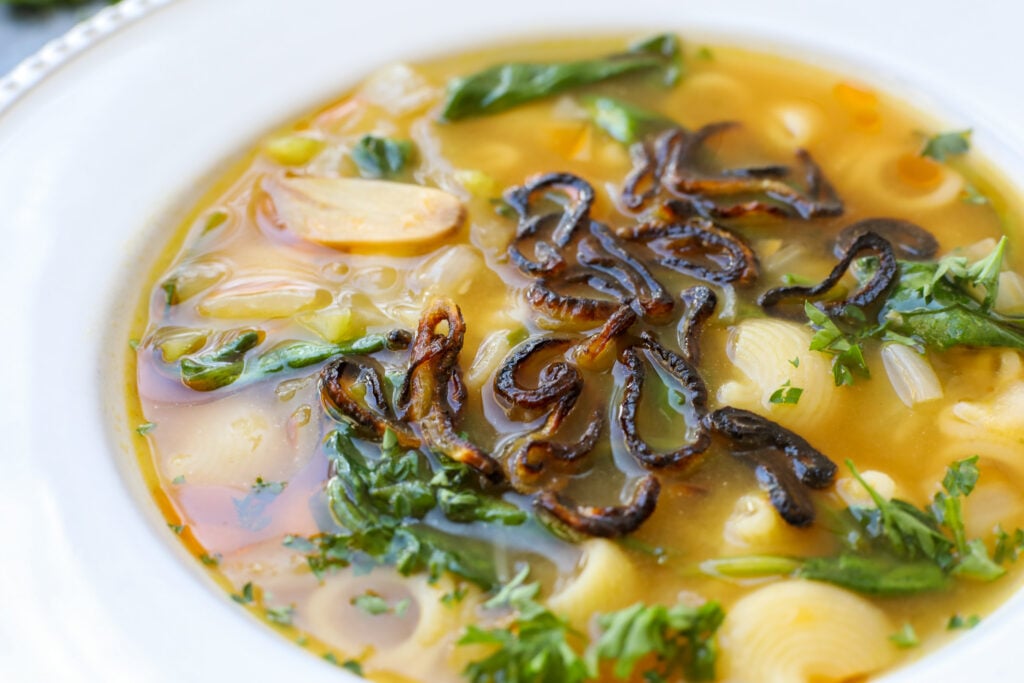 About this Garlic Ginger Soup Recipe
This garlic ginger soup is loaded with healthy ingredients. This combination of vegetables and herbs are known for their immune boosting properties. Plus, if you are prone to an upset stomach when nauseous, you'll love this soup for its ability to calm the stomach and digestive system. For more information, please see details on each ingredient below.
This recipe makes enough soup for 4 light servings or two hearty servings. You can use whatever pasta shape you desire. I like using the shellbows because they scoop up some broth when you eat them. If you prefer to omit the pasta in favor of a heartier option, try adding quinoa to the individual bowls before serving soup over it.
Can I Omit the Onion?
Yes, you can omit the onion from this soup, but I don't like to skimp on ingredients when my immune system needs a little boost. Onions are a great source of nutrients that will help your body overcome whatever it is fighting, no matter what time of year it is. Plus, who doesn't love a little zing to their soup?
In addition to being packed with healthful antioxidants, onions are a great source of quercetin. Quercetin fights bacteria and inflammation in the body. Some studies suggest that quercetin can even help fight e.coli bacteria. (1) Ultimately, onions aid in keeping our bodies free from harmful bacteria, improving our immune function.
Even better, cooked onions add a delicious sweetness to any dish because they caramelize when heated. Sweet onions are known for being earthy but sweeter than the average onion, so if you prefer to keep your soup a little more on the savory side, you can substitute sweet onions for white.
Is Garlic Healthy in Soup? Garlic is one of those immune-system super foods that everyone loves in pan-fried or baked dishes, but few people remember to include in a good soup. Garlic can prevent and help fight against illnesses like the common cold and flu virus. In fact, one 12-week study conducted found that daily garlic intake can reduce colds by 63% compared to the placebo group. (2) Bottom line, garlic is packed with vitamins and nutrients that strengthen our body's immune system and help fight off illness.
Plus – garlic just makes things taste better. It combines perfectly with the earthy-sweetness of the onion and the earthy spice of the ginger. Truly, I'm convinced this trio of ingredients is a match made in heaven. Bonus points if you chop and cook fresh garlic for maximum flavor in this soup.
Is Ginger in Soup Good for You?
Yes, adding ginger to soup is good for you, but it's not the soup that does it; adding ginger to daily diet is a great way to boost your overall health and immunity.
Ginger is known for its anti-inflammatory properties and its ability to improve our gut health. Another benefit of ginger is that it also produces a very powerful bioactive compound called, gingerol. Have you heard of this compound before? It occurs naturally within the ginger root, which is the part of the plant that we use in cooking. Gingerol is loaded with antioxidants and bacteria fighting agents which have been shown to make a significant difference in the body's ability to fight off infection and colds. (4) Gingerol can even help fight bacterial infections like gingivitis and periodontitis (common oral infections) which is an astounding feat. All the more reason to start eating more ginger! (3) Ultimately, ginger is a great additive to our diets that improves our immune system, aids in digestion, and fights off bad bacteria. What's not to love?
Can I Make This Soup in the Instapot?
Yes, you can absolutely make this soup in the instapot, but it will require you to modify the recipe a little bit. Instead of sauteing the garlic and ginger in a pan, you can optionally do this in the bottom of the instapot pan. Simply turn the instapot's settings to saute, and proceed through steps 1-5.
At step 5, once your veggies are translucent and it's time to let the broth simmer, cover the soup but leave the vent unlocked so that pressure doesn't build up in the instapot. Leave it alone for 15-20 minutes and attend to the seasonings for the next steps.
To prepare crispy onions and cooked pasta, you will need to use a separate pot and pan on the stove. If you're really looking for a one-pan instapot soup, you can omit the crispy shallot onion, and cook the pasta in the instapot with the simmering soup. Keep in mind that by doing this, you will need to add extra water to the pot and you'll be adding a lot more starch to the soup, so you will need to skim the top of the broth during cooking.
Even if you prefer the instapot for sauteing the ingredients and letting the broth simmer, it's best to prepare the crispy onion and pasta separately from the rest of the dish.
Storage
This soup stores well in the fridge but should be used relatively quickly so it does not go bad, and you preserve the natural flavors in the soup. Store any leftover soup in an airtight container in the refrigerator for 3-4 days. Be sure to store the pasta separate from the broth. This will prevent the pasta from soaking up all of the broth and becoming soggy.
You can store the soup in individual portioned containers as a way of meal prepping, or you can pour it all into a single container. When you are ready to eat, reheat the soup in a microwave-safe bowl until heated through, about 2-3 minutes, stirring every 45 seconds. Enjoy leftover soup with a side of warm garlic bread or naan bread for dipping for optimal flavor, turning it into a wholesome meal.
Looking for more soup recipes? Try my homemade wedding soup or my salmon chowder. These are great soups that are equally nutritious and delicious, giving you plenty of culinary options for what I like to call "soup season."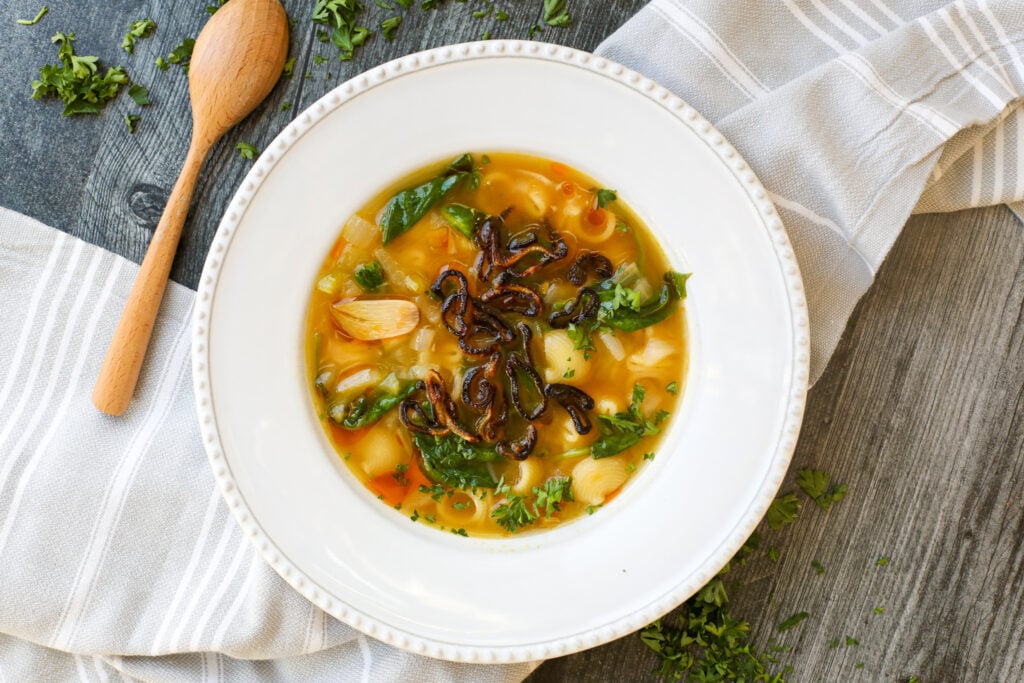 Garlic Ginger Soup
This garlic ginger soup is the perfect way to boost your immune system and your mood! Loaded with nutrient-dense veggies and herbs, this recipe may be able to help promote a strong immune system.
Ingredients
4-5

ounces

pasta

,

cook according to the package. Al dente is best

2

tablespoons

olive oil

4-5

cloves

garlic

,

sliced thinly

1

tablespoon

ginger

,

finely diced, be sure to peel the outer skin first (almost minced)

1

cup

sweet onion

,

diced small

½

cup

celery

,

diced small

salt

,

to taste

black pepper

,

to taste

2

cups

low sodium chicken broth

1

cup

chicken bone broth

1

cup

water

1

teaspoon

chicken base or bouillon

,

optional, but adds extra flavor to the broth

1

cup

baby spinach

,

packed in measuring cup

1

tablespoon

lemon juice

,

fresh squeezed
Toppings
1

small

shallot

,

pan fry in oil until slices are crispy

2

tablespoons

Italian parsley

,

roughly chopped

1

teaspoon

chili oil

,

optional – spicy
Instructions
Boil the Pasta
Boil a pot of seasoned water and cook the pasta according to the package. Al dente is best.

Drain the water using a colander and set the pasta aside. Drizzle it with olive oil to prevent sticking.
Make the Soup
Heat olive oil in a large sauteuse pan over medium high heat. Add the thinly sliced garlic and finely diced ginger. Once fragrant, add the diced onions and celery. Saute.

Let the celery and onions sweat in the pot. You want them to be translucent, but not browned. Season with salt and black pepper.

Once the veggies are translucent and softened, add the chicken bone broth, low sodium chicken broth, water and chicken bouillon. Stir well. Let everything simmer over low heat for 15-20 minutes. Taste the broth to make sure it is seasoned enough.

Next, add the baby spinach and allow it to wilt. Then, add the fresh squeezed lemon juice. This will brighten the broth and add some extra flavor and acidity.
Prepare the Crispy Shallot
In a separate non-stick skillet, add a touch of vegetable oil and fry the shallot slices until they become crispy.

Once crispy, place them on a paper towel to remove any excess oil. Set aside.
Assemble the Soup
Add the cooked pasta to the bottom of the soup bowl.

Pour in a few ladles of hot soup making sure to get all of the veggies and spinach.

Finish the dish with some fresh parsley, crispy shallots and a touch of chili oil.
Nutrition
Serving:
1
serving or 1/4 of the soup with pasta, crispy shallots and chili oil drizzle
,
Calories:
129
kcal
,
Carbohydrates:
10
g
,
Protein:
4
g
,
Fat:
9
g
,
Saturated Fat:
1
g
,
Polyunsaturated Fat:
1
g
,
Monounsaturated Fat:
6
g
,
Cholesterol:
1
mg
,
Sodium:
532
mg
,
Potassium:
375
mg
,
Fiber:
2
g
,
Sugar:
4
g
,
Vitamin A:
1054
IU
,
Vitamin C:
12
mg
,
Calcium:
45
mg
,
Iron:
1
mg