Street Corn Guacamole
Creamy, spicy, and topped with juicy grilled corn and queso fresco, this street corn guacamole recipe is the only guacamole recipe you will need. Perfect with tortilla chips, naan bread, celery sticks, or carrots, just about anything goes with this delicious dip.
For this street corn guacamole recipe, I added sweet red bell peppers and left out the raw onion and garlic. After blending my guacamole, I topped the dish with grilled corn and salty (yet delicious) queso fresco.
When dicing the fresh jalapeno, be sure to remove the seeds and veins on the inside of the jalapeno. This will reduce the heat level in the jalapeno a good bit. That said, if you like it spicy, you can leave the seeds and veins in the recipe. Just be sure not to touch your eyes after handling the jalapeno. It's probably best practice to wear gloves.
Top the guacamole with a few leaves of fresh cilantro. You can also chop the cilantro and mix it into the recipe. Not a fan of fresh cilantro, no worries. Simply leave it out of the recipe all together. With or without the cilantro, this recipe combines tasty street corn with traditional guacamole for the perfect flavor match up.
Looking for more tasty appetizers? Try my sesame tuna tostadas with spicy mango salsa or my BBQ chicken meatballs.
What makes it Healthyish?
Loaded with healthy fats, avocados are also a rich source of nutrients and fiber. Fiber aids in healthy digestion, and has shown to have metabolic benefits as well. (1)
Lime juice is loaded with vitamin C, supporting a healthy immune system. It has also been known to decrease the risk of heart disease and certain cancer types. (2)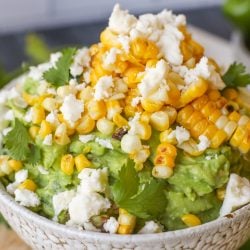 Street Corn Guacamole
Ingredients
3

large

avocados

,

peeled and smashed

3

tablespoons

lime juice

,

fresh squeezed

½

cup

red bell pepper

,

diced small

2

tablespoons

jalapeno

,

diced small- remove seeds and veins to make it less spicy

½

teaspoon

salt

1

ear

grilled corn

,

shave the kernels off of the cob

1/4

cup

queso fresco cheese

,

crumbled on top

2

tablespoons

fresh cilantro

,

you can chop it and mix it in or simply add a few leaves to the top
Instructions
In a large mixing bowl, combine peeled and smashed avocado, fresh squeezed lime juice, salt, diced red bell pepper, and diced jalapeno. Mix well.

Grill an ear of corn and carefully remove the kernels from the cob. Top the guacamole with the grilled corn kernels.

Crumble the queso fresco and add sprinkle it over everything. Add a few leaves of fresh cilantro if you desire.

Serve with tortilla chips, naan bread or anything you like to use for dipping.

Serve and Enjoy.