Plant Based Tofu Parmesan – Easy Tofu Parm
Some nights you just need a cozy homemade dinner. This plant-based tofu parmesan tastes so good you'll never know it's dairy and meat free until you make it. It has a perfectly crispy outside, soft center and is loaded with delicious red sauce and parmesan vegan cheese or vegan mozzarella for a vegan recipe twist. Serve with a side or pasta or just have it on its own. Either way, this recipe is so satisfying!
Delicious, Plant-Based Ingredients for this Parm
This delicious and healthy vegan parmesan is a great alternative to the popular Chicken Parmesan dish.
With all the flavors of Italian cooking, you won't even be able to tell that this dish is made with entirely plant-based, dairy free ingredients.
Combine this with the easy preparation and minimal cooking time, you can make this as a vegan comfort food or a cozy date night meal in no time.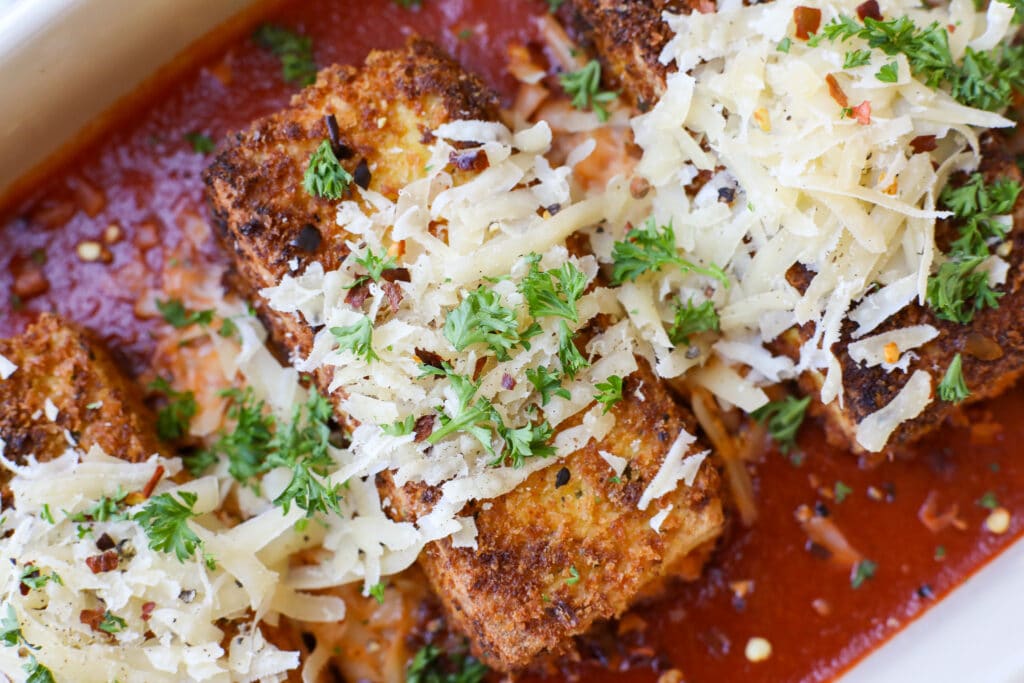 About This Vegan Chicken Parmesan Recipe
When prepping the tofu for this easy chicken parmesan recipe, you will want to press out all of the moisture. Use a clean kitchen towel, or some paper towels to wrap the tofu and gently press the moistures out. If you have a tofu press handy, that will work perfectly. Next you will cut the tofu in half and then each of those pieces in half again. You will have four evenly sized pieces per block of tofu. After you're done prepping, it only takes minutes of your time in the kitchen for this easy meal. You can also add it on top of a bed of gluten free pasta.
To make the breading for this vegan tofu recipe, you will combine the panko breadcrumbs, italian breadcrumbs and nutritional yeast. Dust the each piece so of tofu in the cornstarch, followed by the vegan egg wash, then the breadcrumb mixture. Make sure each piece is well coated during this process. Set the breaded tofu aside. Top with spinach for a little greenery over the baked marinara sauce.
Next, in a 9-inch skillet you will heat some vegetable oil. Make sure the oil is hot before you pan fry the tofu parm. This doesn't go in the oven, otherwise, the tofu will get soggy instead of crispy.
This recipe make 4 light dinner servings or 2 heartier servings. The nutritional information below does not include the vegetable oil for frying. Enjoy this tofu recipe with a side of pasta, simple salad, and garlic knots. You will feel like your in a small Italian restaurant.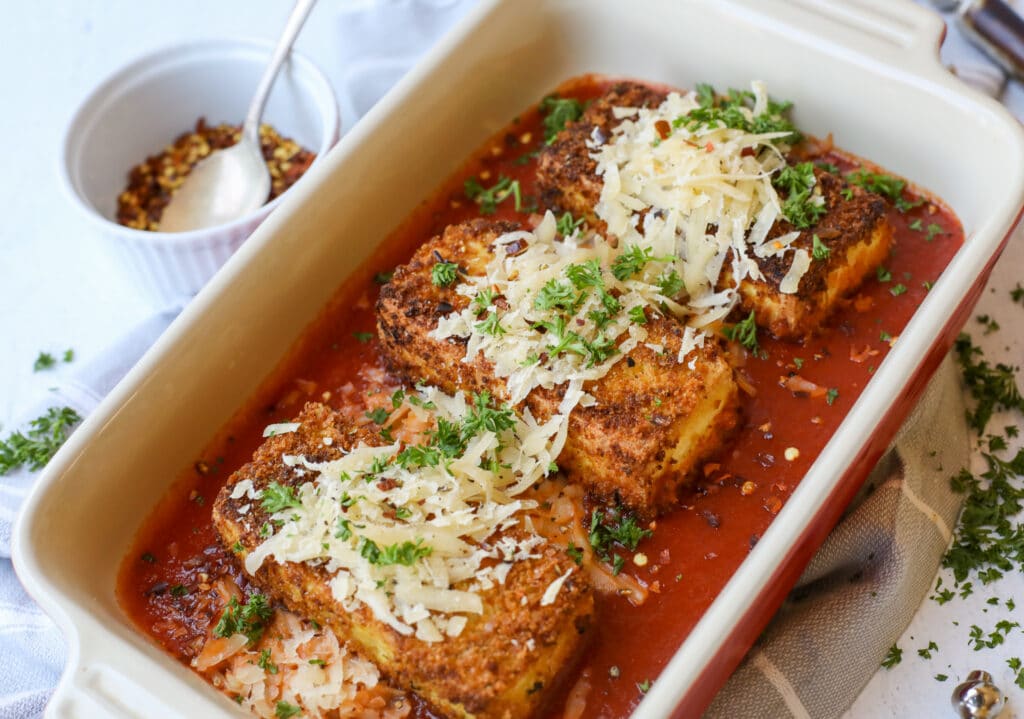 Why Press Tofu Before Cooking?
Tofu should be pressed before cooking to make sure there is not excess moisture in the dish. Since tofu is stored in the water that it is prepared in, it is completely saturated.
If you cook tofu without pressing the moisture out, you'll find that the tofu is difficult to handle and tears apart easily, making a mess of the dish. Furthermore, it can over-saturate the dish, watering down the marinade and leaving excess moisture in the pan after baking.
Pressing tofu before cooking with it eliminates this issue and gives you a firmer, more structurally-sound tofu that acts much more like meat proteins in cooking, allowing you to get creative with it.
Is Crispy Tofu Healthy?
Yes, tofu is incredibly healthy for you. Not only is it an excellent source of protein, but it is rich in calcium and iron. This makes it a great source of nutrition for vegans and vegetarians, and its versatile texture makes it easy to work into a variety of delicious recipes.
Furthermore, tofu is low in fats and calories which makes it a healthy option if you are trying to manage your weight. In most cases, a half cup of tofu provides a whopping 21 grams of protein that is easy for your body to digest.
Does Brand Matter for Vegan Parmesan?
Yes, the quality of the tofu you choose can affect the nutritional quality and taste of your meal. The difference is in the type of soybeans used and the type of processing the tofu undergoes before it reaches grocery store shelves.
Since tofu is the star of this tofu parmigiana dish, I always recommend choosing a firm tofu from a brand that minimally-processes their tofu. The goal with any main dish is to choose something with high-quality, fresh ingredients that can offer a pure flavor profile. I find that most firm or extra-firm tofu brands at health food stores will have a "minimally processed" or "organic" offering. Alternatively, if you have a healthy food aisle or organic food aisle, this should have the tofu you want for this meal.
Storage
Store any leftover tofu parmesan in an airtight container in the refrigerator for three to four days. Reheat in the microwave until heated through. Store any red sauce separately to prevent the tofu from getting soggy. Looking for more tofu recipes? Try my crispy tofu cutlets.
Health fact
Tofu is derived from soy and is a great source of protein and calcium for vegans and vegetarians. Tofu contains 9 essential amino acids and is a great source for magnesium, B1, and iron! (1)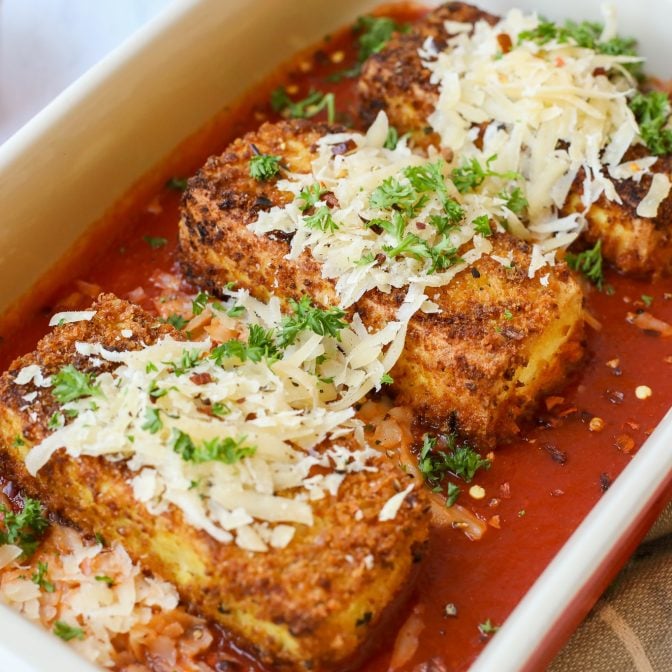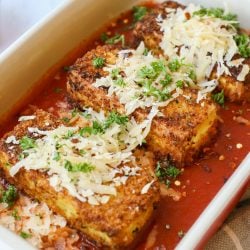 Plant-Based Tofu Parmesan
This plant-based tofu parmesan tastes so good you'll never know it's dairy and meat free. It has a perfectly crispy outside, soft center and is loaded with delicious red sauce and parmesan cheese.
Ingredients
1

block

super firm tofu

3

tablespoons

cornstarch

½

teaspoon

salt

¼

teaspoon

black pepper

¼

cup

JUST liquid egg ,

plant-based egg product

½

cup

panko breadcrumbs

¼

cup

Italian breadcrumbs

1

tablespoon

nutritional yeast

2

cups

red sauce

,

heated in a saucepan

¼

cup

grated parmesan cheese ,

Violife, vegan brand

1

tablespoon

Italian parsley

,

chopped small

¼

teaspoon

red pepper flakes

½

cup

vegetable oil

,

for frying
Equipment
3 plates

sauce pot

baking dish

skillet
Instructions
Preheat your oven to 350 degrees.

Grab a small 8×8 baking dish and line it with cooking spray. Set aside.

In a small saucepan, heat your favorite store-bought or homemade red sauce. Just make sure you choose a vegan brand.

In a small bowl, combine the nutritional yeast, panko breadcrumbs, and Italian breadcrumbs and mix well.

Grab 3 plates. Add cornstarch to one plate.  Add JUST liquid egg product to the second plate. Then, add the breadcrumb mixture to the third plate.

Dust the tofu with some salt and pepper.

Dredge the tofu through the cornstarch making sure it's evenly covered. Then, you'll dredge it through the egg wash. Finally, you'll dredge it through the breadcrumb mixture. Make sure it is well coated.

Repeat this process for all 4 tofu rectangles.

Heat the vegetable oil in a 9-inch skillet over medium high heat.

Make sure the oil gets nice and hot but not smoking. If the oil isn't hot enough the breading will get soggy. You can test it by dropping a small piece of breading into the oil. If the breading begins to sizzle and cook, the oil is ready. If it sinks to the bottom of the pan, the oil is not hot enough yet.

Add two pieces of breaded tofu to the hot oil.

You do not want to overcrowd your pan. Overcrowding the pan with tofu with cause the oil temperature to drop, and the tofu will get soggy.

Cook the tofu until it's golden brown on all sides, flipping frequently. Remove the tofu from skillet and place it on a paper towel to soak off any excess oil.

Add in a few ladles of the red sauce to the prepared baking dish.

Place the crispy tofu on top of the sauce.

Top the crispy tofu with grated Violife parmesan cheese, salt and pepper and a pinch of red pepper flakes if you like some spice.

Cover with foil and bake for 20 minutes.

Finish with fresh chopped parsley. Serve warm and enjoy.
Nutrition
Serving:
1
serving
,
Calories:
236
kcal
,
Carbohydrates:
26
g
,
Protein:
17
g
,
Fat:
7
g
,
Saturated Fat:
2
g
,
Polyunsaturated Fat:
3
g
,
Monounsaturated Fat:
2
g
,
Cholesterol:
6
mg
,
Sodium:
1222
mg
,
Potassium:
526
mg
,
Fiber:
4
g
,
Sugar:
7
g
,
Vitamin A:
756
IU
,
Vitamin C:
10
mg
,
Calcium:
250
mg
,
Iron:
4
mg