Plant Based Tofu Parmesan
Some nights you just need a cozy homemade dinner. This plant-based tofu parmesan tastes so good you'll never know it's dairy and meat free. It has a perfectly crispy outside, soft center, and is loaded with delicious red sauce and parmesan cheese. Serve with a side or pasta or just have it on its own. Either way, this recipe is so satisfying!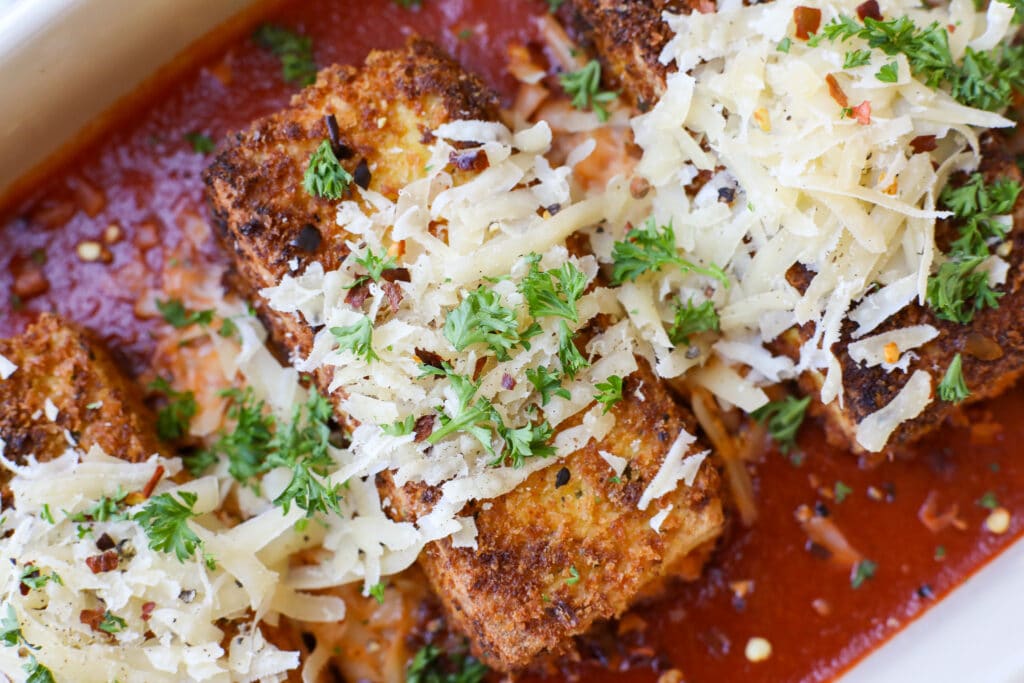 This recipe is so tasty that even Dan cleaned his plate. He had NO idea it was made from tofu! I served mine with a side of spaghetti and garlic toast and I honestly felt like I was in a small Italian restaurant. It was perfect!
What makes it Healthyish?
Tofu is derived from soy and is a great source of protein and calcium for vegans and vegetarians. Tofu contains 9 essential amino acids and is a great source for magnesium, B1, and iron! (1)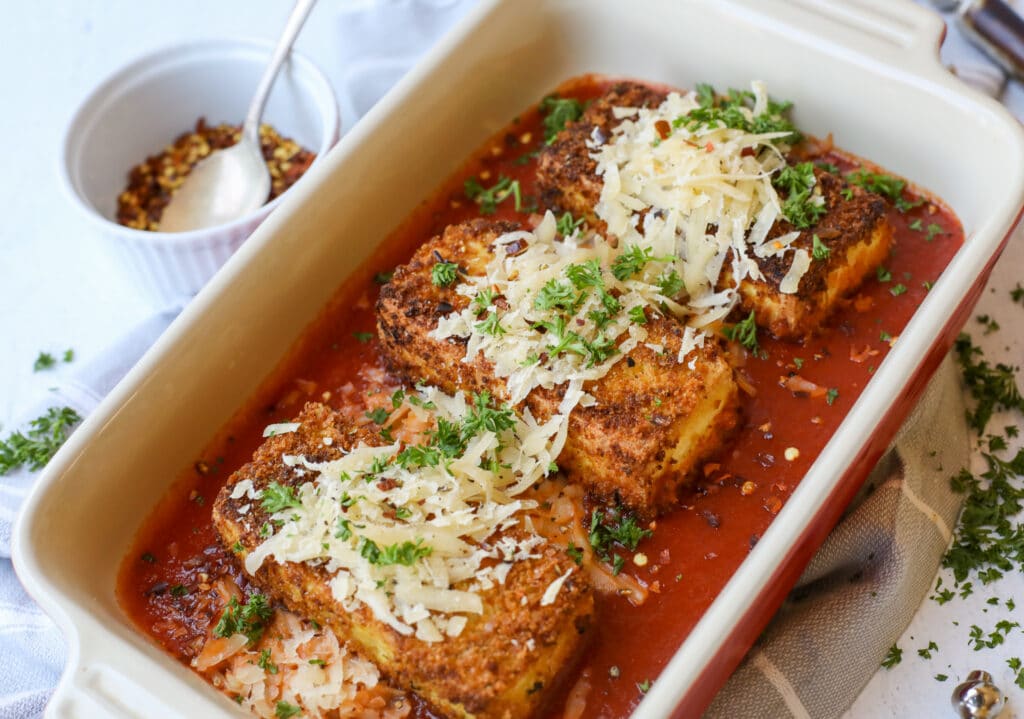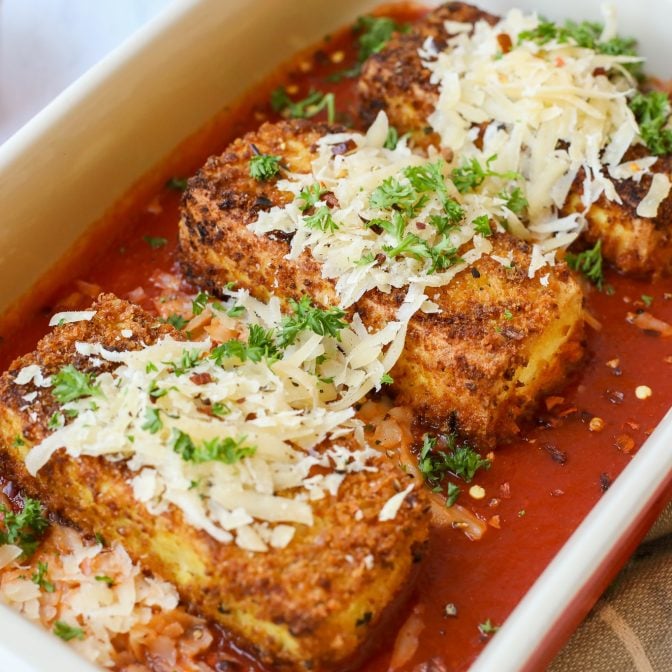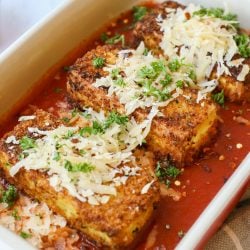 Plant-Based Tofu Parmesan
Ingredients
1

block of super firm tofu

2-3

tablespoons

cornstarch

3-4

tablespoons

JUST liquid egg ,

plant-based egg product

½

cup

panko breadcrumbs

¼

cup

Italian breadcrumbs

1

tablespoon

nutritional yeast

Jarred red sauce

Grated parmesan cheese ,

violife vegan

fresh Italian parsley

,

chopped small

red pepper flakes

,

pinch for some heat

salt and pepper

,

to taste

1

cup

vegetable oil – or canola oil for frying
Equipment
3 plates

sauce pot

baking dish

skillet
Instructions
Preheat your oven to 350 degrees.

In a small sauce pan heat your favorite store-bought or homemade red sauce. Just make sure you choose a vegan brand.

Drain the liquid from your tofu and press out all of the moisture using paper towel, or a kitchen towel.

Next, you'll slice the tofu into 4 evenly sized rectangles.

In a small bowl, combine the nutritional yeast, panko breadcrumbs, and Italian breadcrumbs and mix well.

Grab 3 plates.  Add the cornstarch to one plate.  Add the JUST liquid egg product to the second plate.  Then, add the breadcrumb mixture to the third plate.

Dust the tofu with some salt and pepper.

Dredge the tofu through the cornstarch making sure it's evenly covered. Next, you'll dredge it through the liquid egg product.  Finally, coat it well in the breadcrumb mixture making sure it is well coated. Repeat this process for all 4 tofu rectangles.

Next, you'll grab a medium sized skillet and add the vegetable oil. Make sure the oil gets nice and hot. If the oil isn't hot enough the breading will get soggy. You can test it by dropping a small piece of breading into the oil. If the breading begins to sizzle and cook, the oil is ready. If it sinks to the bottom of the pan, the oil is not hot enough yet.

I like to cook two pieces at a time. You do not want to overcrowd your pan. Overcrowding the pan with tofu with cause the oil temperature to drop, and the tofu will get soggy.

Cook the tofu until it's golden brown on all sides. Remove the tofu from skillet and place it on a paper towel to soak off any excess oil.

Grab a small 8×8 baking dish and line it with cooking spray.

Add in a few ladles of the red sauce.

Place the tofu ontop of the sauce.

Top with your grated violife parmesan cheese, salt and pepper and a pinch of red pepper flakes if you like some spice.

Cover with foil and bake for 20 minutes.

Finish with fresh chopped parsley and serve & enjoy!