Juicy Lobster Rolls
Nothing screams Summer quite like juicy lobster rolls. They're meaty, buttery and loaded with flavor. With 6 simple ingredients, these tasty sandwiches come together in under 30 minutes.
While most lobster rolls incorporate mayonnaise, I like to keep mine simple. I really enjoy the flavor of the lobster meat and don't want to mask it behind the mayonnasie. So, I keep my ingredients light, fresh and easy! Don't get me wrong, I love mayonnaise, but not in this recipe.
Looking for more delicious sandwich ideas? Try my plant-based reuben sandwich or my breaded chicken cutlet sandwich.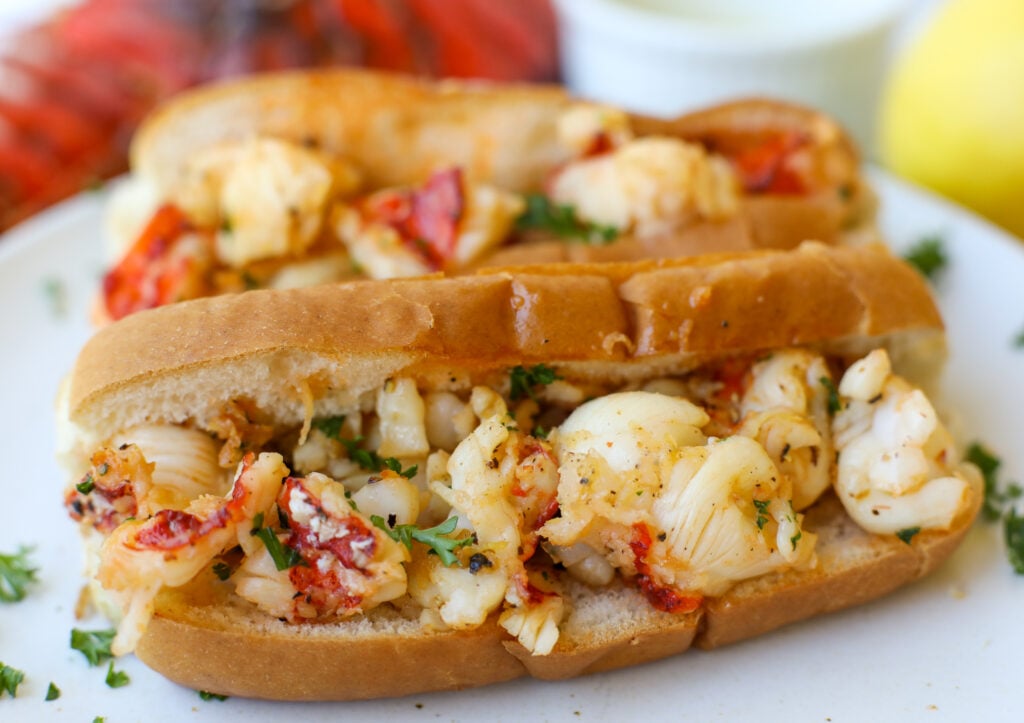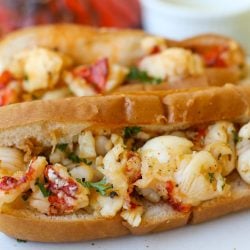 Juicy Lobster Rolls
Ingredients
12

ounces

of lobster meat

,

I had three 4-ounce tails

1-2

tablespoons

butter

1/2

teaspoon

fresh garlic

,

pressed or you can use garlic paste too

1

teaspoon

lemon zest

1

tablespoon

lemon juice

Pinch

Italian parsley

,

chopped fresh parsley

Pinch

salt

Split top hot dog buns – buttered and toasted on a skillet.
Equipment
pasta pot to cook lobsters in

saute pan
Instructions
Boil water and add the lobster tails. Cook until the tails are bright red in color or for about 8 – 10 minutes.

Remove the tails from the water using tongs and let the lobster cool. You can even run it under cold water to help it cool off more quickly.

Gently crack the shells and remove the meat, cut the meat into bite size pieces.

In a sauté pan add the butter, pressed garlic, and lemon zest. Let it simmer over medium / low heat for a few minutes. You do not want the butter to brown so keep a close watch.

Next, add the cubed lobster meat, lemon juice, and a pinch of salt. Toss everything together until the lobster is coated in the butter, lemon zest & juice, garlic and salt. I like my lobster meat to be a little crispy on the outside, so I let it cook in the pan for about 4-5 minutes. But since the meat is already cooked this will come together very quickly. Turn off the heat and set aside.

Butter your split top hotdog buns and let them brown in a pan. Once they have a crispy outside load in the lobster meat. Serve with a slice of fresh lemon and enjoy! You can also add some fresh chopped parsley or fresh chopped cilantro for some extra flavor!