The BEST Baked Bean Recipe
Ready for the BEST Baked Bean recipe ever? I don't blame you. This baked bean recipe is so delicious it will have you and your entire family wanting more. Plus, it is the perfect side dish for any occasion or get together.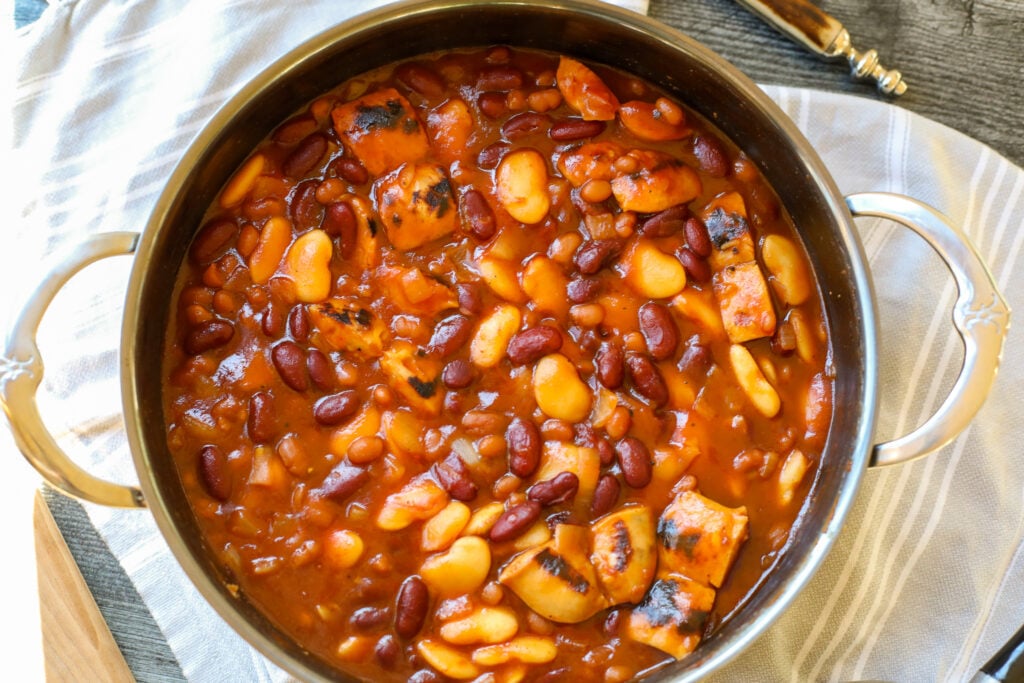 Growing up, we would eat these baked beans at almost every social gathering. They are tangy, tender, and perfectly sauced.
My Mom likes to brown ground beef and add it in. (If you do this, be sure to drain off the fat first.) Then, she would top the entire dish with crushed bacon. It was so tasty!
I no longer eat red meat, so I am going to use chicken sausage links instead. However, you can add whatever protein you enjoy the most. Try hotdogs, chicken sausage, ground beef, or bacon to take this recipe to the next level.
Looking for more delicious side dishes? Try my creamy plant based macaroni salad or my one pan crispy smashed potatoes.
What makes it Healthyish?
Beans are loaded with fiber, protein and antioxidants. Kidney beans have even shown to decrease the rise in blood pressure after a meal. (1) To make this meal vegan, simply use veggie stock vs. chicken stock. Also, use tempeh vs. sausage.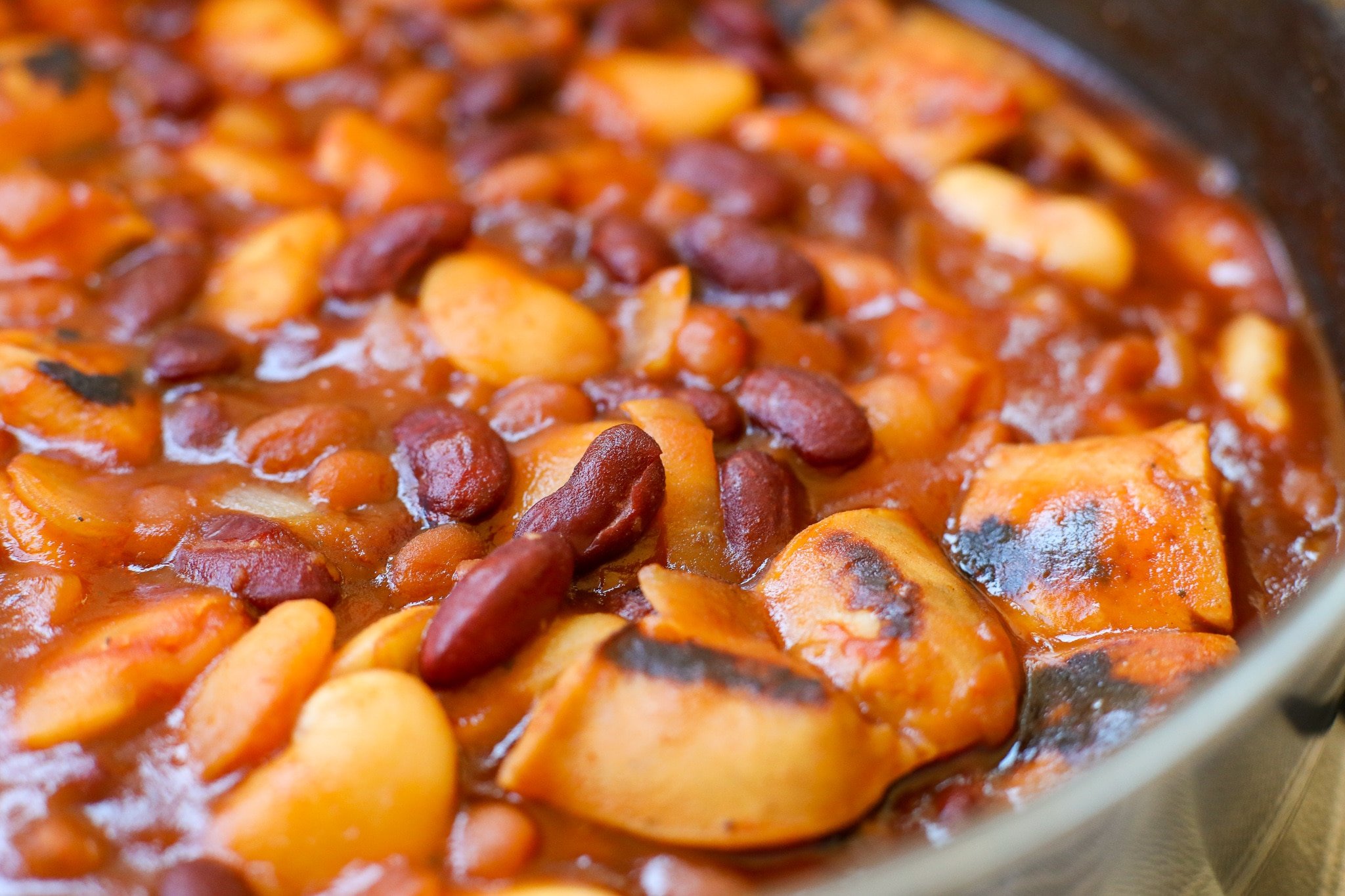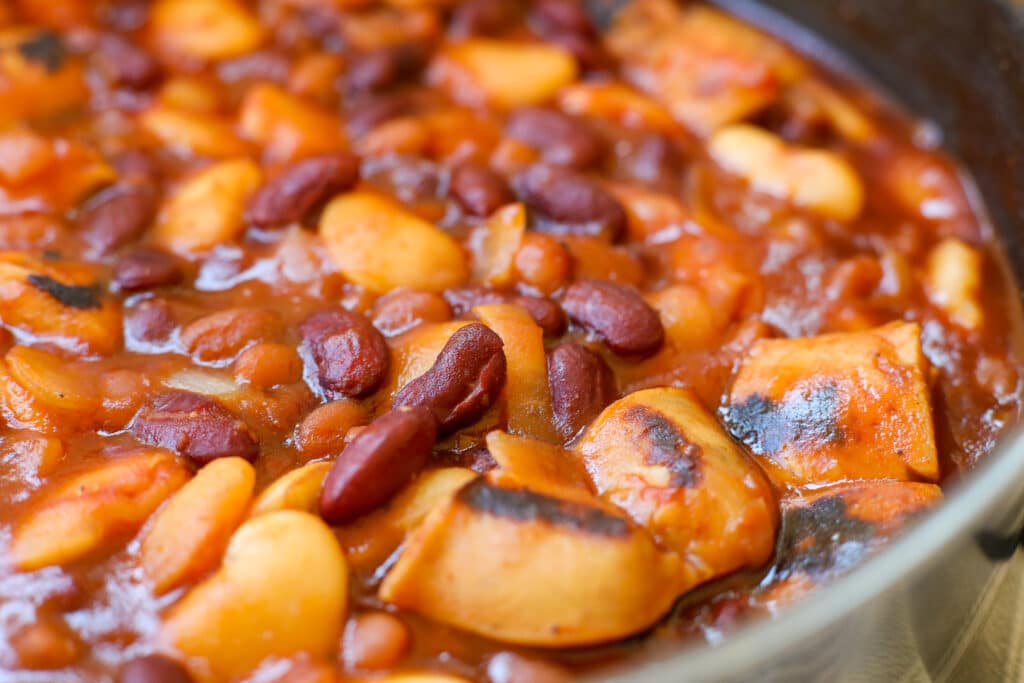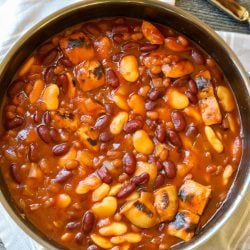 The BEST Baked Bean Recipe
Ingredients
1

cup

diced sweet onion – yellow or white will work

1

15.5 ounce

can kidney beans – drained and rinsed

1

15.5 ounce

can butter beans – drained and rinsed

1

16-ounce

can vegetarian baked beans – I used bush's

1

cup

ketchup

½

cup

light brown sugar

1

teaspoon

apple cider vinegar

1

teaspoon

dry mustard powder

½

tablespoon

Worcestershire sauce

¼

cup

chicken broth
Instructions
Gently spray a large sauté pan with cooking spray. Add your diced onion. Let the onions sweat until they become translucent.

Then, add the drained and rinsed kidney beans, butter beans, and 1 can of the baked beans (with sauce). Add the ketchup, apple cider vinegar, mustard powder, brown sugar, Worcestershire sauce, and chicken broth. Stir until well combined.

Let everything simmer over low heat on the stove top.

Option to add cooked protein of choice. I used pan seared chicken sausages.

You can serve this from the stovetop or bake it in a baking dish for 20-25 minutes at 350 degrees. I typically just let it simmer until the beans soften and serve it from the stovetop.