One Pan Crispy Smashed Potatoes
Looking for an incredible potato recipe? Try my one pan crispy smashed potatoes. They melt in your mouth and are perfect for weeknights or holidays. The potatoes are so tender in the center and perfectly crispy on the outside. They honestly melt in your mouth, it's amazing. As an added bonus, you only need one pan for this recipe, making clean up a breeze.
That said, before you soak your pan in hot water, be sure to make a quick pan gravy from the crispy bits on the bottom. The pan gravy can be poured over the potatoes or served on the side for dipping. Almost like Canadian poutine, minus the cheese curds.
Because we used shallots, garlic and rosemary, the pan gravy has so much flavor. These are the little bits of magic in the bottom of the pan that you don't want to waste. Not a big gravy person? No worries! You can enjoy these one pan crispy smashed potatoes any way you like. To keep it simple, just use ketchup or honey mustard. Both will be perfect for dipping. No matter what you choose, I can guarantee this recipe will be a hit with the entire family.
Looking for more potato recipes? Try my scalloped potatoes with caramelized onions or my melting potatoes.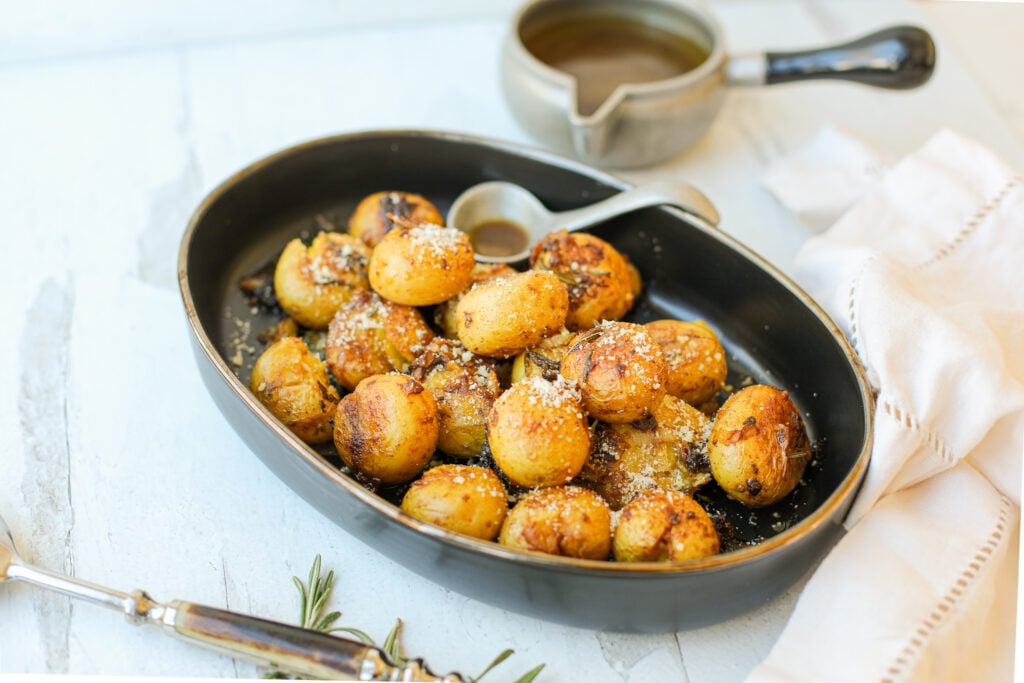 One Pan Crispy Smashed Potatoes
Ingredients
1.5

pounds

petite gold potatoes

water

,

just enough to cover the potatoes in the pan

1

large

shallot

,

sliced

4-5

cloves

garlic

,

minced

4

sprigs

rosemary

4

tablespoons

salted butter

3

tablespoons

olive oil

1

teaspoon

salt

2

tablespoons

grated parmesan cheese
Gravy
1.5

teaspoons

cornstarch

16.9

ounces

broth – chicken, veggie or bone broth all will work.

,

I used Smart Chicken garlic rosemary bone broth
Instructions
Grab a sauté pan and over medium/ high heat add your petite gold potatoes. You want them to lay flat in the pan. No stacking.

Add water, just until the water covers the potatoes.

Add the sliced shallots, rosemary, minced garlic, salt, butter and olive oil. Gently stir.

Let everything simmer in the pan until the water begins to evaporate. You should have a soft boil (not roaring boil) occurring after 5-10 minutes. If not, your heat is too low.

Once ¾ of the water has evaporated take a jar or ramekin and gently press the potatoes until they slightly burst. You do not want to press them too hard or they will completely fall apart and be hard to flip.

After all of the potatoes have been smashed, reduce the heat to medium and let them continue to brown on the pan.

Once the potatoes are crispy, use about a ¼ cup of the bone or chicken broth to deglaze the pan and scrape the crispy bits up from the bottom.

Now that the potatoes are crispy and the bone broth has reduced, add them to a platter. Sprinkle them with some grated parmesan cheese to finish the dish.
Prepare the gravy:
Add the cornstarch and remaining bone broth into the pan with the crispy pieces that have stuck to the bottom.

Stir and simmer over medium/ low heat until a gravy begins to form. If you want a thicker gravy use more cornstarch. Be careful because a little can go a long way.

Strain the gravy and serve it with the potatoes.

Serve hot and enjoy!