Best Chicken Burgers: Juicy Ground Chicken Burgers
These juicy ground chicken burgers are moist and flavorful! Perfect any night if the week; this chicken burger recipe comes together in under 30 minutes. Just one look at these burgers and you'll fall in love, they're that good. I've never had such a crispy yet juicy burger in my life, and I think I've finally been converted to making up a chicken patty when the grill comes out.
This recipe is so simple that you'll be going back for more in no time. It takes so little prep, and you'll feel so much better afterwards compared to eating a beef patty high in saturated fats. Chicken is lighter on the stomach and fuels your body with clean protein. When everyone else is feeling bloated and run down with the usual case of 'food coma' after a large meal, you'll be ready to take on the world.
This recipe post is sponsored by Smart Chicken. They provided me with the ability to try out this new product, which I hadn't tried before, but when I heard about the brand, I had to check it out. I was compensated for my time, but all opinions are my own.
About this Chicken Burger recipe
For these juicy burgers, I used Smart Chicken's ground chicken product. If you've been a part of this community for a while, then you know my love for Smart Chicken runs deeps. Their chickens are fed a high-quality diet, humanely handled, and never given antibiotics, hormones, or animal by-products. In fact, their products are the reason I started eating chicken again after nine years.
Tips and tricks for juicy chicken burger patties
Ok, back to the burger recipe. When prepping the burgers, you'll want to make sure you do not overwork the meat. This will help to keep the burgers light and juicy versus dense and firm. Also, make sure you oil your grill racks before you add the patties. Do this before the grill gets too hot so you do not get burned. Be sure to have a metal spatula handy so you can easily flip the burgers. Only flip them once and do not press down on the meat as it cooks.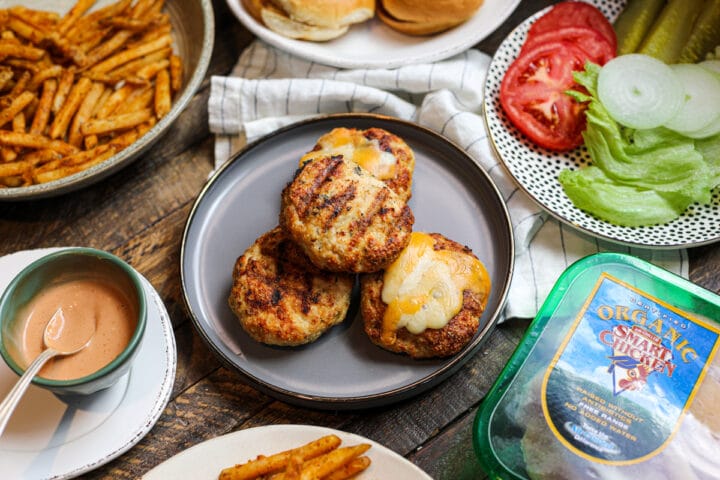 How long to cook this chicken burger recipe on the grill?
I grilled the chicken patties for 5-6 minutes per side. Make sure the lid is closed on the gas grill and the temperature should be between 375-425 degrees. Use a meat thermometer to ensure doneness. Once the burgers reach an internal temperature of 165 degrees Fahrenheit, remove them from the grill. You do not want them to overcook and dry out. If you plan on cutting into these patties to serve it in quarters, cut it in half, or anything else, be sure to let the chicken rest for a few minutes before you do. Allowing the meat to rest will help keep the juices inside, rather than allowing it to all run out once cut open.
What to top your chicken burger with?
Top these juicy patties with cheese, special sauce, sliced tomato, thinly sliced white onion, and lettuce. Also be sure to butter and toast your bun. The buttery toasted bun takes this sandwich to the next level. This recipe is the ultimate chicken burger recipe.
How Long Do Chicken Burgers Take to Cook?
Once the grill is prepared and the ingredients are together, you'll be surprised at how quickly these chicken burgers cook.
In a 400-degree grill, it only takes about 12 minutes to cook a perfect chicken burger patty from start to finish. Simply flip it halfway through to ensure both sides are cooked evenly. From start to finish, this recipe only takes 30 minutes from pulling ingredients out of the pantry to plating a delicious and juicy chicken burger. That's a fast dinner!
How Do You Keep Ground Chicken Burgers from Falling Apart?
Because ground chicken isn't very fatty, a lot of people have trouble with the patties falling a part because they are used to handling beef patties. Because of the lack of fat content, the patty won't have much reason to bind together, especially if you form your patties too thin. That's why we've added the ingredients that we did in this recipe, to help it stay together and bind with help from the olive oil and panko. This will help your formed patties keep their shape even during their time on the grill.
How Do I Make Ground Chicken That Isn't Dry?
No one likes dry chicken. In fact, dry chicken is the number one reason why people don't eat chicken burgers in place of beef. Turkey is considered more popular than chicken because of the additional moisture and fat content. For a lot of chicken burgers, this comes down to the quality of the meat at the beginning of the meal. When purchasing ground meat for any burger patty, it helps to keep in mind that you are purchasing an ingredient that makes or breaks the meal. The quality and taste of this single ingredient will shape the quality and taste of the entire dish.
Fortunately, Smart Chicken is a great brand that has so few additives that the real, natural chicken flavor really comes out. The lack of additives really helps facilitate the natural moisture of the chicken, and so long as we don't overcook it, you might even find this juicy burger tastes even better than beef. Additionally, the added oils and spices we add into the chicken patty mixture will help retain moisture while it sits in the grill. An open flame helps seal in moisture using the Maillard effect, which you can get on a covered stovetop, whereas oven-baking tends to dry out the meat.
Is Ground Chicken Healthier Than Beef?
Assuming you are using lean beef, which is better for you than beef that is high in fats, beef is actually one of the worst meats you can consume on a regular basis. This is shocking to many people, especially considering how much of a staple it is in the standard diet. Unfortunately, ground beef – even lean ground beef- is tough to digest and has a lot of cholesterol and saturated fat, which is the bad kind of fat that can strain your cardiovascular health.
Ground chicken, on the other hand, is a much healthier alternative with more mineral and vitamin content per-ounce and can achieve the same texture as ground beef patties if its cooked right. Ground chicken also has less saturated fat and less cholesterol. If you're looking for a high protein content, consider that, on average, ground chicken has 25 grams of protein per 4 ounce patty, while ground beef has 20 to 23 grams on average. Of course, this also depends on the quality of meat and how lean it is. A good rule of thumb is to consider that the better the meat, the better the nutritional content you'll receive from it.
Are Chicken Burgers Actually Burgers?
Yes, as surprising as it may be to some burger aficionados, a chicken burger really is considered a true burger. All it takes for a burger to become a true burger is the meat must be ground and formed into a patty before cooking. This means that a shredded chicken patty isn't a burger, and neither is a ground chicken meatloaf, as one isn't ground and the other isn't in a patty formation. This also means that most 'chicken burgers' that consist of grilled chicken between two buns isn't really a chicken burger either. Most people's experience with chicken burgers is instead experience with a grilled chicken sandwich.
Storage
These burgers stored really well in my fridge to my surprise, especially with how clean and pure the ingredients list was. Sometimes, I'll see hormone- and antibiotic-free chicken go bad too quickly because it doesn't have as long as shelf life as other types of chicken that are pumped full of preservatives.
Store any leftover burgers in an airtight container in the refrigerator for three to four days. Reheat these patties in the microwave until heated through. This recipe makes 4-5 patties depending on size. Please see below for nutritional information. Looking for more burger recipes? Try my juicy chicken smash burgers or my broccoli cheddar chicken burgers. Both are easy to make and delicious.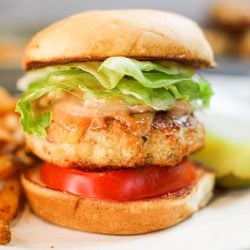 Juicy Ground Chicken Burger
These juicy ground chicken burgers are moist and flavorful!Perfect any night if the week, these burgers come together in under 30 minutes.
Ingredients
Chicken burgers
1

lb.

ground chicken,

Smart Chicken

½

cup

panko breadcrumbs

¼

cup

grated parmesan cheese

1

teaspoon

dried parsley

1

teaspoon

oregano

½

teaspoon

salt

½

teaspoon

red pepper flakes

½

teaspoon

onion powder

½

teaspoon

garlic powder

¼

teaspoon

black pepper

1.5

tablespoons

olive oil
Special sauce
2

tablespoons

mayonnaise

2

tablespoons

ketchup

2

teaspoons

yellow mustard

2

teaspoons

relish

1

teaspoon

Worcestershire sauce

1

teaspoon

white vinegar

few turns cracked black pepper
Suggested toppings
lettuce

sliced tomato

white onion sliced thin

pickles
Instructions
Preheat your grill to 400 degrees.

Brush the racks with vegetable oil.

In a large bowl, combine the ground chicken, panko breadcrumbs, parmesan cheese, olive oil, salt, oregano, parsley, onion powder, garlic powder, black pepper and red pepper flakes.

Form the mixture into burger patties.

Add the chicken burger patties to the gas grill.

Cook for 5-6 minutes per side, lid closed. Once the internal temperature reaches 165 degrees Fahrenheit the burgers are ready.

Mix the special sauce together.

Remove burgers from the grill, top with cheese, special sauce, onions, tomato, lettuce and a buttery toasted bun.
Nutrition
Serving:
1
serving
,
Calories:
215
kcal
,
Carbohydrates:
6
g
,
Protein:
18
g
,
Fat:
13
g
,
Saturated Fat:
4
g
,
Polyunsaturated Fat:
2
g
,
Monounsaturated Fat:
7
g
,
Trans Fat:
0.1
g
,
Cholesterol:
82
mg
,
Sodium:
422
mg
,
Potassium:
511
mg
,
Fiber:
1
g
,
Sugar:
0.4
g
,
Vitamin A:
110
IU
,
Vitamin C:
0.1
mg
,
Calcium:
70
mg
,
Iron:
1
mg