Broccoli Cheddar Chicken Burgers
Light, healthy and delicious these broccoli cheddar chicken burgers are perfect any night of the week. Enjoy these burgers during your next gathering or cookout. Cook them in a non-stick skillet or place them on the grill, either way they're delicious. Plus, it's a great way to sneak some veggies into your family's diet too.
I enjoyed my broccoli cheddar chicken burgers wrapped in lettuce, topped with cheese and tomato. However, you can enjoy them anyway you like. My husband, Dan, enjoyed his on a toasted bun with American cheese and mayo. It was delicious.
Grilling tips
If you decide to grill your chicken burger patties, be sure they are cold before placing them on the grill. Unlike other meats, you want your burgers to hold together and stay juicy when they cook. So, place the patties on a plate, covered and refrigerate them while the grill heats up.
Another good tip for these patties is to place aluminum foil on the grill racks before heating it. Brush the patties with olive oil right before placing them on the hot foil. It's been my experience that this approach makes it a lot easier to flip the burgers and prevent sticking. Plus, using the foil makes cleaning the grill a breeze.
It's important to mention, that you should only flip the chicken burgers once and do not press them down. Pressing them down releases all of the moisture and makes the burgers dry. Following these tips will help ensure that you have a juicy, flavorful burger.
Finally, you will want the internal temperature of your burgers to hit 165 degrees Fahrenheit to ensure they are fully cooked through. This typically takes about 5-6 minutes per side but will also depend on the thickness of your chicken burgers.
About this recipe
For this recipe, I used Smart Chicken's breast meat and ground it in the food processor. The only reason for this is because my local grocer does not carry their ground chicken yet. So, adding breast meat to a food processor is a fun hack that works really well. However, feel free to simply purchase the ground chicken breast meat if your store does carry it.
Also, if you do not have a full-sized food processor this mini food processor is a great buy. It's about $40.00 which is a lot more affordable than the full-size version that can run anywhere from $200-$400. It is also a Cuisinart brand which is great!
Another tip, is to make sure the broccoli is cooked before you add it to the food processor. I purchased a 12-ounce bag of microwaveable broccoli florets and it worked perfectly. The instructions said to microwave it for 3-4 minutes. I microwaved mine for 3 minutes knowing it would cook a little more in the burgers and it was perfect. However, you won't need all 12 ounces. I only used about 8 ounces or 1.5 cups of chopped broccoli for this recipe.
I highly recommend using mild shredded cheddar cheese in this recipe too. The mild shredded cheddar is easy to mix into the patties and melts really well. I used Kraft mild cheddar and it was delicious.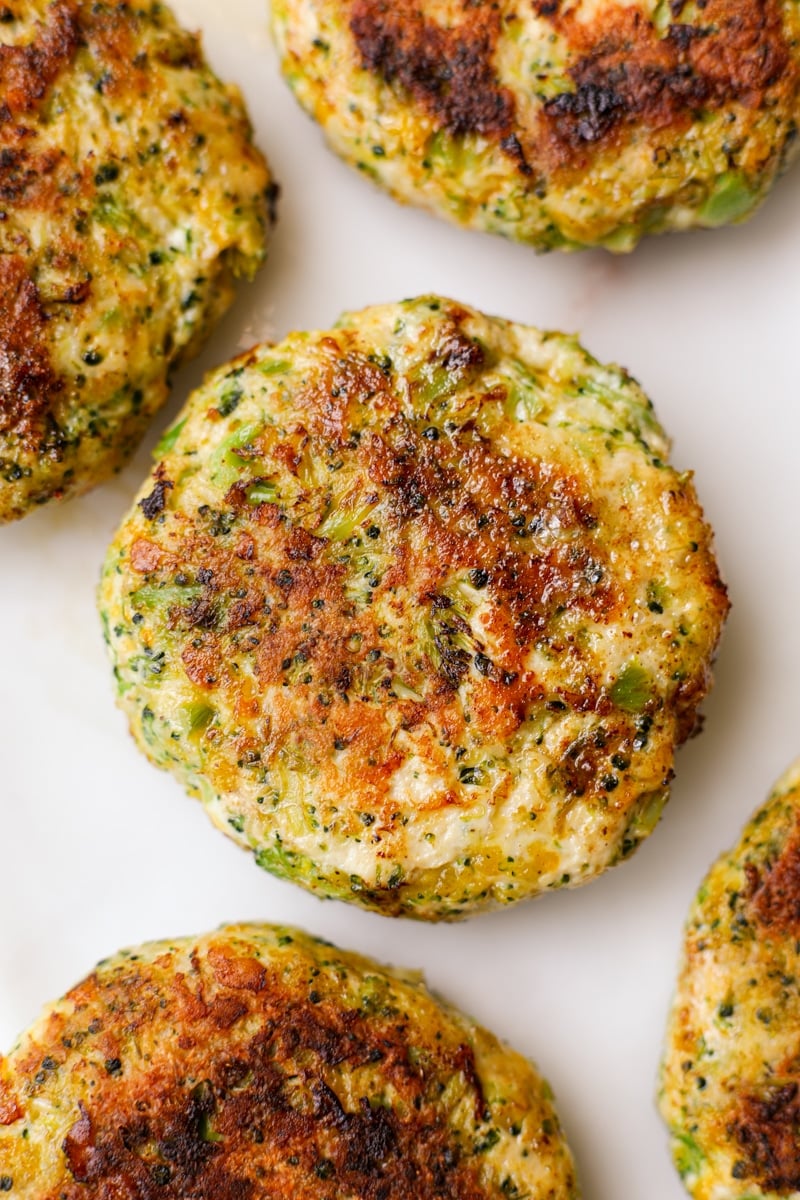 Storage
Store in an airtight container in the refrigerator for up to 3-4 days. You can also freeze your raw or cooked patties for future use. However, freezing the raw patties is better and will last for 30-60 days. To reheat your burgers, add them to a hot skillet or the microwave. Either way will work fine. Looking for more cookout recipes? Try my baked beans or my ditalini pasta salad. Both are perfect summer sides.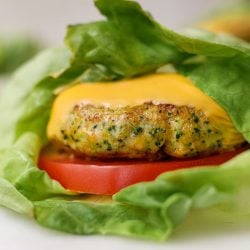 Broccoli Cheddar Chicken Burgers
Ingredients
Broccoli Cheddar Chicken Burgers
1.5

lbs.

ground Smart Chicken

1.5

cups

broccoli florets

,

cooked and chopped small in the food processor

1

cup

finely shredded mild cheddar cheese

¼

cup

grated parmesan cheese

1.5

tablespoons

olive oil

1

egg

½

cup

panko breadcrumbs

1

teaspoon

salt

½

teaspoon

black pepper

½

teaspoon

onion powder

½

teaspoon

garlic powder
Optional toppings:
American cheese

sliced tomato

lettuce wraps or bun

mayonnaise
Equipment
mixing bowl

skillet or grill

food processor
Instructions
Prepare the broccoli florets:
Cook the broccoli until it is soft but not mushy. Follow the tips listed above.

Add the cooked broccoli florets to the food processor.

Buzz the broccoli florets until all large pieces are well chopped. Set aside.
Prepare the chicken burger patties:
In a large mixing bowl, combine all of the ingredients. Ground chicken, egg, panko breadcrumbs, olive oil, salt, pepper, garlic powder, onion powder, chopped broccoli, parmesan cheese, and shredded cheddar cheese.

Mix everything together using your hands.

Once well combined, form your chicken burger patties.

Cook the patties in a non-stick skillet that has been spray with cooking spray. Or, you can grill your burgers. If grilling, please follow the tips listed above.

Enjoy your burger on a bun or wrapped in lettuce. Top with cheese, tomato, mayo or any toppings you enjoy!