Miso Butter Sweet Potatoes
These miso butter sweet potatoes are proof that dreams do come true. Enjoy these potatoes as a side dish any night of the week. They are easy to make and so delicious. The miso butter is made from 4 simple ingredients, yet it is jam packed with flavor. It is so good that I caught myself licking the spoon clean. I can guarantee your family is going to love these potatoes.
These miso butter sweet potatoes are perfectly crispy on the outside and soft in the center. I loaded mine with a healthy dollop of the miso butter, scallions, and toasted sesame seeds. It was perfect. You can also add a few turns of cracked black pepper for some extra flavor. To make this recipe vegan, simply use a vegan butter of your choice.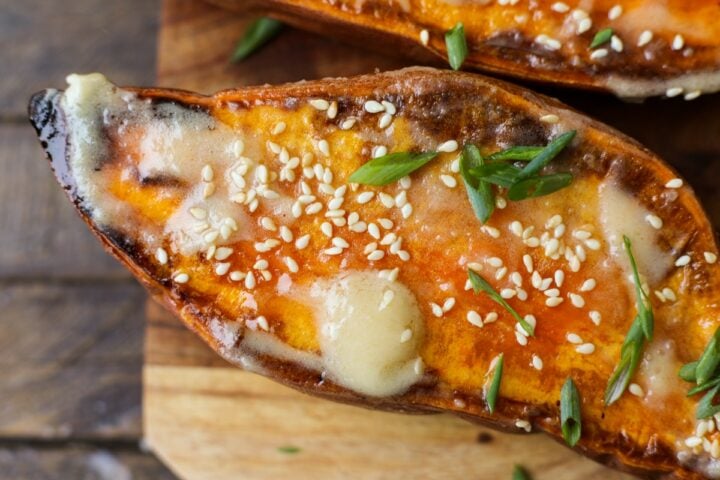 For this recipe, I used white sweet miso. As background, white miso is lighter, sweeter, and milder than its red miso counterpart. It also does not taste as salty as the red miso paste. Both are great in so many ways, but yet very different. So, be sure you are using the right one when you make this recipe. Otherwise, it may not turn out as you expect.
Looking for more side dish ideas? Try my one pan crispy smashed potatoes or my candied sweet potatoes.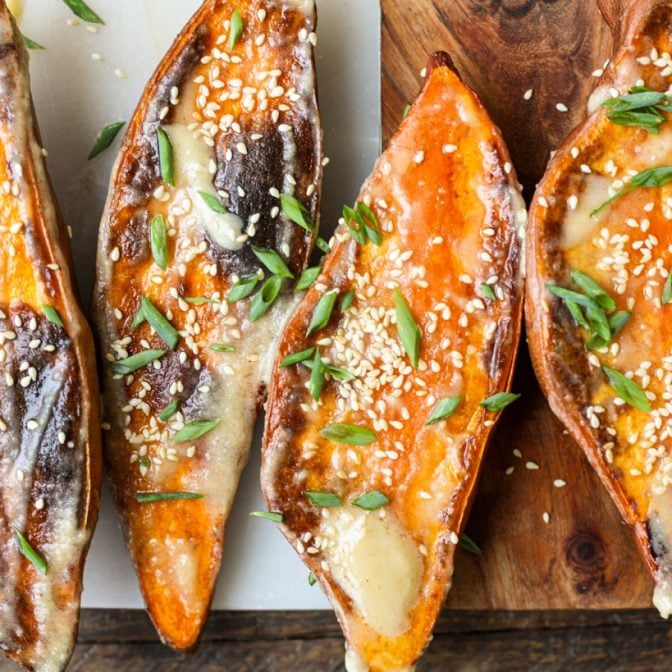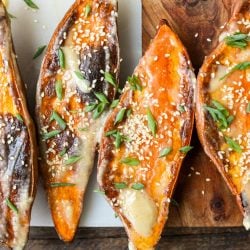 Miso Butter Sweet Potatoes
Ingredients
Sweet potatoes and garnishes:
2

large

sweet potatoes

,

cut in halves

2

tablespoons

olive oil

1

tablespoon

toasted sesame seeds

1-2

tablespoons

scallions, fresh chopped
Miso butter:
4

tablespoons

unsalted butter

2

tablespoons

white sweet miso paste

1/16

teaspoon

ground ginger

,

basically a very small pinch

1/8

teaspoon

garlic powder

2

turns

cracked black pepper – optional
Instructions
Preheat your oven to 425 degrees.
Prepare the butter:
In a small mixing bowl, combine the butter, white miso, garlic powder and ground ginger. Using a fork, mix until well combined. Set aside.
Prepare the potatoes:
Clean and carefully slice your sweet potatoes in halves.

Drizzle them with olive oil and place them center side down on a baking tray. I used a baking steel, but a baking tray will work as well.

Roasted for 25-30 minutes or until the side face down is golden brown.

Flip and continue to roast for another 10 -15 minutes or until your potatoes are fork tender.

Remove them from the oven.
Assemble the potatoes:
Top with a dollop of miso butter, toasted sesame seeds, and chopped scallions. Serve warm and enjoy!