Homemade Pizza Night
Ready for a delicious homemade pizza night? Me too! Which is why I love using Delallo Foods' pizza gift collection. Each pizza gift collection comes with everything you need for the ultimate homemade pizza night. Sauce, cheese, pepperoni, toppings, spices and two amazing, easy to make pizza dough kits.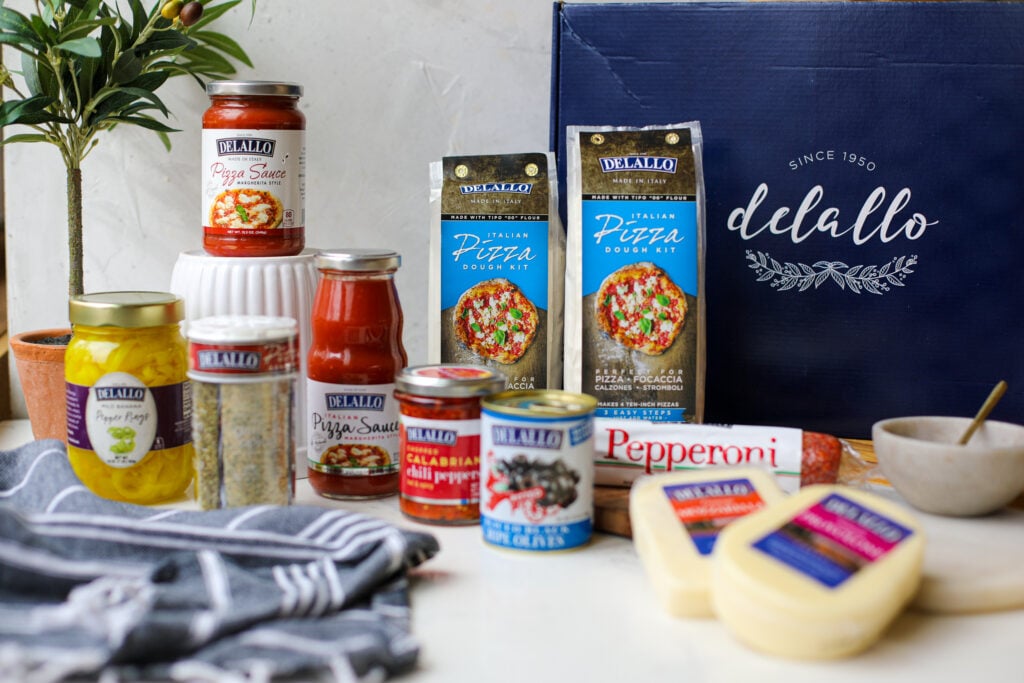 The dough kits each come equipped with high-quality flour and yeast. In three simple steps, you have homemade dough that is out of this world good. Simply add lukewarm water to the flour and yeast, and BOOM your dough is ready in no time at all.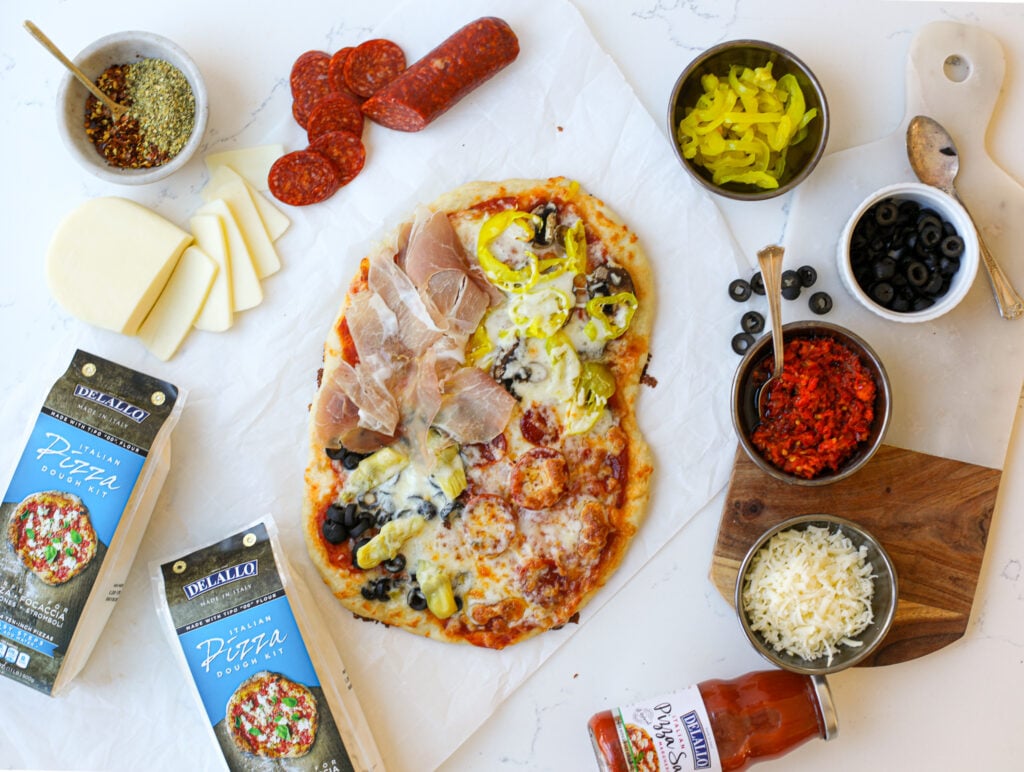 What's great, is that you can use the dough in so many ways too. Pizza crust, garlic knots, calzones, you name it. The dough is very versatile and will stay fresh for up to three days in your refrigerator. Just be sure to cover it in saran wrap or a Ziploc bag for maximum freshness.
In all honesty, these kits are a game changer. What I love, is that you can fully customize the pizza to your liking. The dough is crispy on the outside, with that perfect chew in the center. Even my husband, Dan, who can be pretty picky, is obsessed with these kits. Delallo has made it easier than ever to make delicious pizza in the comfort of your home.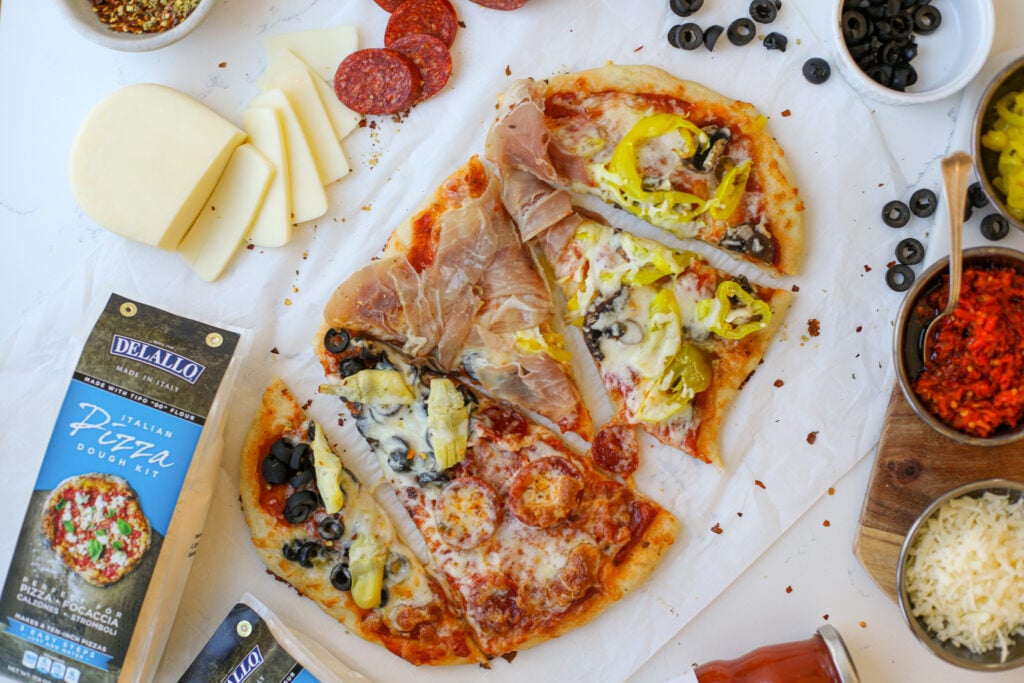 If you don't want the full pizza gift collection, no worries! You can buy individual items too! Delallo Foods' has a full e-commerce website with all of their products online.
In fact, they also have hundreds of different gift collections online that are perfect for the holidays. They ship across the country, so I always send their gift collections to my friends and family every year. It's such an impressive gift and beautifully wrapped! So, check out their gift collections today! SHOP today.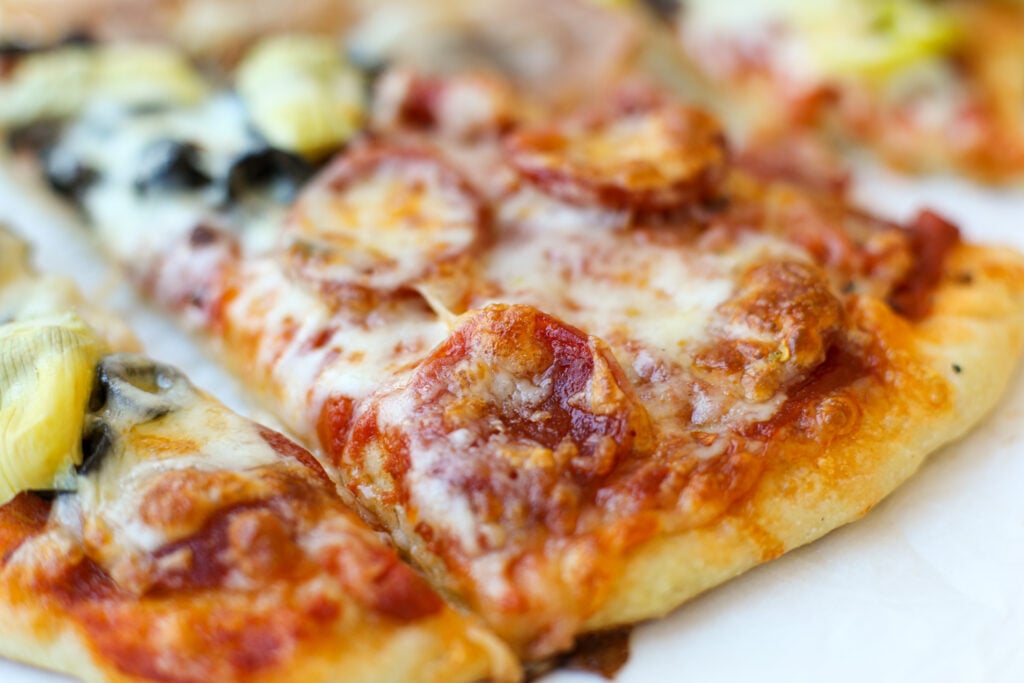 Homemade Pizza Night
Instructions
Mix the dough according to the package. Cover with saran wrap and let the dough rest at room temperature. It will need to rest for 45 minutes to an hour.

As the dough is resting, preheat the oven to 450 degrees.

Spread the dough on a standard sized baking tray using your hands. Makes 2-3 medium sized pizzas or one large pizza.

Spread the Delallo Foods' pizza sauce over the dough.

Next, top the dough and sauce with your favorite Delallo Foods' toppings and cheese.

Bake for 12-15 minutes, or until the cheese bubbling hot and the crust is golden brown.

Remove from the oven and serve immediately.