Caprese Grilled Chicken Paillard
Healthy, light yet completely satisfying this caprese grilled chicken paillard is such a delicious recipe. The chicken is fork tender and the caprese topping can't be beat.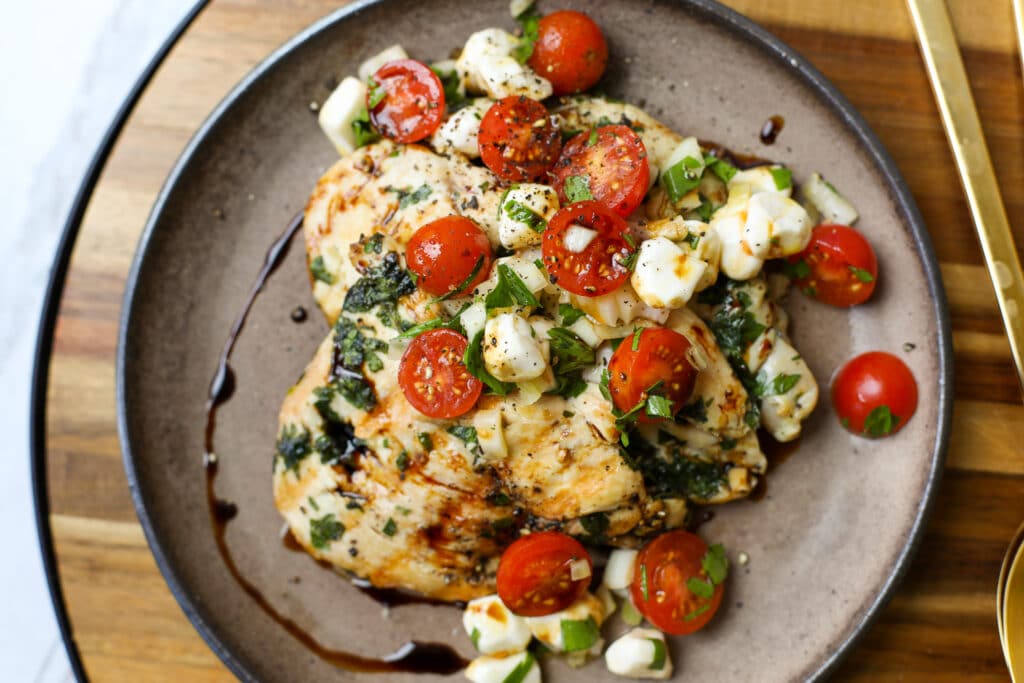 Loaded with protein, this recipe will keep you feeling full without the guilt. Plus, any leftover caprese mozzarella topping can be used the next day on a panini sandwich or on top of grilled fish. Simple, easy to make and delicious! What more can you ask for?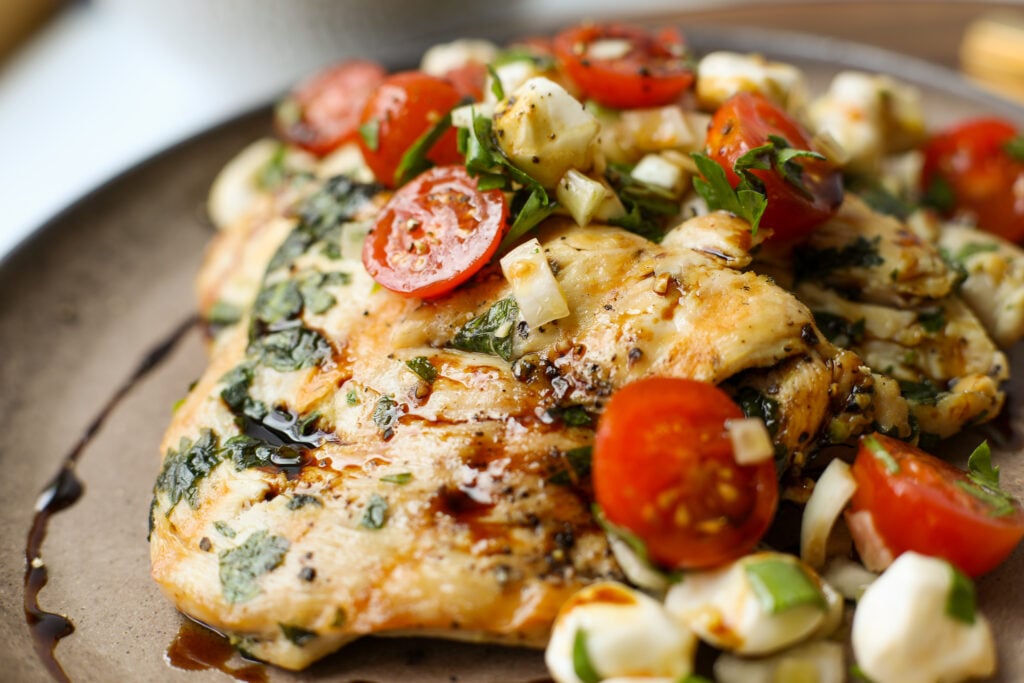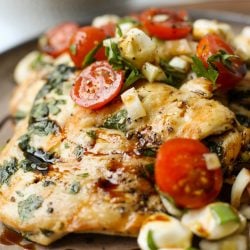 Caprese Grilled Chicken Paillard
Ingredients
1.5

lbs.

chicken breast – thin cut will work well too

4

tablespoons

olive oil

2

cloves

garlic thinly sliced or minced

2

tablespoons

chopped parsley

½

teaspoon

salt

¼

teaspoon

pepper
Caprese Mozzarella Topping
1.5

cups

sliced cherry or grape tomatoes

1

cup

mozzarella pearls

1/2

cup

diced shallots or sweet onion

2

tablespoon

fresh chopped basil

1

tablespoon

olive oil

salt and pepper

,

pinch of each

1-2

tablespoons

balsamic reduction as a finishing touch
Instructions
Place a sheet of foil on your grill, then preheat the grill to 400 degrees.

If your chicken breasts are thick, butterfly them (cut them in half) and add them to a Ziploc bag. Gently pound the chicken using the soft side of a mallet. You will want the chicken to be about ¼ inch thick.

Once the chicken is pounded thin, add the olive oil, thinly sliced or minced garlic, chopped parsley, salt and pepper to the Ziploc bag.

Zip the bag closed and massage the chicken making sure it is evenly coated in the marinade.

Leave the chicken to marinate for 20-25 minutes before grilling.

While the chicken is marinating, you'll prepare the caprese topping.

Slice the cherry or grape tomatoes in halves.

Add the sliced tomatoes and mozzarella pearls into a mixing bowl.

Next, you'll finely dice the shallots and chop the fresh basil.

Add the basil, shallots and olive oil into the mixing bowl with the tomato / mozzarella mixture. Season with a pinch of salt and pepper. Toss everything together until well combined. Set aside.

Place the chicken on the grill, since it is coated in the olive oil mixture it will not stick to the foil.

Grill for about 3 minutes on each side. Since it is pounded thin, it will cook pretty quickly. Just make sure the chicken is cooked through. Thicker chicken may need longer to cook.

Remove from the grill and arrange the chicken on a platter. Top with the caprese topping and a light drizzle of balsamic reduction.

Serve immediately and enjoy!