The BEST Vegan "Pulled Pork" Recipe
Please allow me to introduce the BEST vegan "pulled pork" recipe of all time. The homemade BBQ sauce is sweet, tangy and slightly spicy. While the "pulled pork" is made entirely from fruit and veggies.
This recipe is a combination of shredded carrots and Upton's pulled jackfruit which are both low in calories and sugar but huge on taste. And with its meat-like texture, there is no doubt your family will be coming back for more.
My husband, Dan said it was the best pork sandwich he ever had. He honestly had no idea it was completely vegan. As an added bonus, this recipe calls for simple ingredients and comes together in under 40 minutes. So, if you're new to trying vegan recipes, this is a great place to start.
Perfect for any summer picnic, or as a quick and delicious weeknight dinner. Plus, any leftover vegan "pulled pork" tastes great wrapped in a warm tortilla with scrambled eggs. Another way to enjoy leftovers is by using it on top of nachos. Grab my vegan nacho recipe and give this tasty vegan pork a try!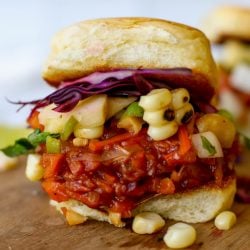 The BEST Vegan "Pulled Pork" Recipe
Ingredients
Vegan "Pulled Pork"
2.5

cups

carrots shredded

1.5

cups

shredded plain jackfruit ,

Upton's original brand – comes in a box.

1/2

cup

diced onion
Homemade BBQ Sauce
1

cup

ketchup

½

cup

brown sugar

1

teaspoon

apple cider vinegar

1

teaspoon

dry mustard powder

½

tablespoon

Worcestershire sauce

2

teaspoons

lemon juice

¼

cup

veggie broth

¼

teaspoon

salt

½

teaspoon

black pepper

½

teaspoon

red pepper flakes
Pineapple Jalapeno Salsa
1

cup

grilled and diced pineapple

1

cup

grilled sweet corn

1

tablespoon

diced jalapeno

⅓

cup

diced red bell pepper

⅓

cup

diced shallots

1

tablespoon

lime juice

Pinch

salt

Sliced red cabbage tossed with some fresh squeezed lime juice

King's Hawaiian potato rolls
Equipment
saute pan with sides

mixing bowl
Instructions
Gently spray a large sauté pan with non-stick cooking spray.

Over medium/low heat add the shredded carrots. If you do not have shredded carrots on-hand you can chop some whole carrots using your food processor. Be careful not to make the pieces too small.

Dice a small yellow or white onion. Add it to the carrots. Let the two simmer together in the pan until they begin to slightly brown.

Next, you'll add the jackfruit. I use Upton's boxed jackfruit. You'll want to drain off any liquid and remove any hard pits. Next, you'll gently pull the jackfruit apart using your hands. If you use canned jackfruit, be sure to drain it and rinse it very well. Canned jackfruit is normally stored in a brine that can taste very salty if not rinsed.

Add the cleaned and pulled jackfruit to the carrots and onion. Stir well.

In a separate small mixing bowl, combine the ketchup, brown sugar, apple cider vinegar, lemon juice, Worcestershire sauce, dry mustard, salt, pepper and red pepper flakes. Stir well.

Add the BBQ sauce to the carrot / jackfruit mixture. Pour in ¼ cup veggie broth and stir well.

Let every simmer over low heat for 20 – 25 minutes. The sauce will begin to thicken, and the flavors will all marry together.

Toast a potato roll with some earth balance butter and load the "pulled pork" onto the roll. As a finishing touch, I like to add a pineapple salsa and shaved cabbage tossed in lime juice to my sandwiches. But you could also top them with coleslaw and pickles as well.

Serve immediately and enjoy!