Plant-Based "Pulled Pork" Cups
Low carb, packed with flavor, and beyond easy to make. These plant-based "pulled pork" cups are out of this world good. Made from a combination of shredded carrots, onion and jackfruit, you're going to be shocked by how "meat-like" this recipe really is.
Simply cut an avocado in half, and using a spoon gently remove the outer skin. I like to shave a small slice off of the bottom of my avocado, so it rests flat on the plate. This will also prevent it from slipping away when filling it.
Next, load in your plant based "pulled pork" and top with shaved cabbage dressed in lime juice. For a sweet twist, try adding some pineapple salsa. Another flavorful topping would be a vinegar-based coleslaw with a pickle on top!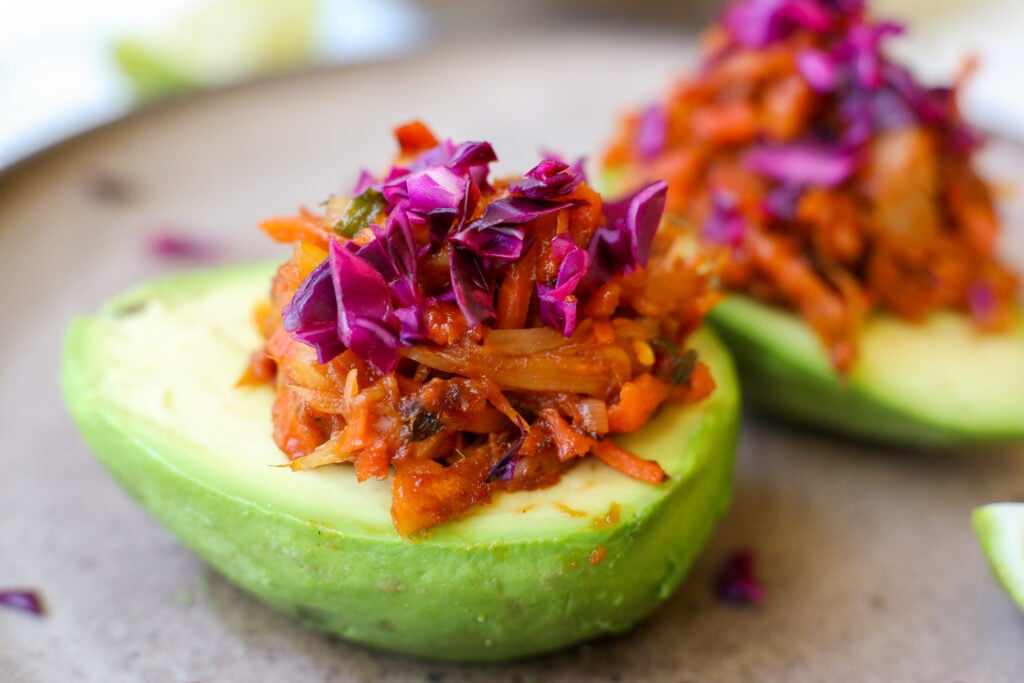 I love serving the vegan pulled pork this way because the avocado is very filling and offers our bodies a lot of healthy fats. Plus, they look amazing when plated! If you wanted to make this a fun appetizer, try placing down a cracker, then a thin slice of avocado, and a small dollop of the vegan pulled pork. This is another great way to serve this tasty dish! So, get creative and have fun because this plant based "pulled pork" recipe is so good you'll want to have it over and over again!