Garlic Ginger Immune Boosting Soup
This garlic ginger soup is the perfect way to boost your immune system and your mood! Loaded with nutrient-dense veggies and herbs, this recipe may help our bodies prevent disease and illness.
After all, there is nothing more comforting than a warm bowl of soup when you're not feeling the best.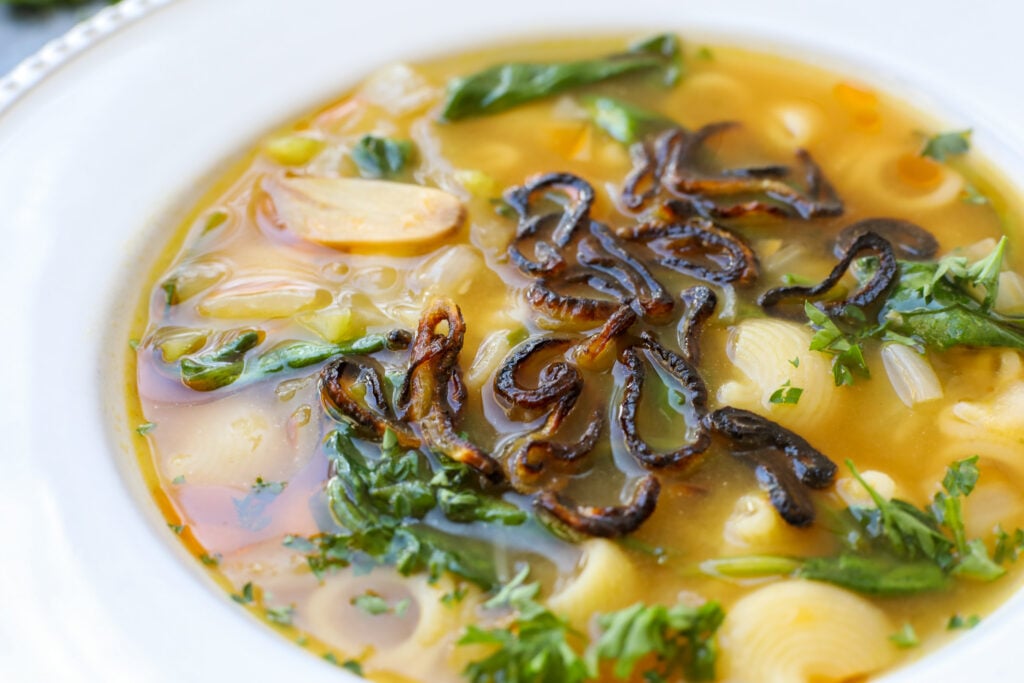 What makes it Healthyish?
This combination of vegetables and herbs are known for their immune boosting properties. For more information, please see details on each ingredient below.
In addition to being packed with healthful antioxidants, onions are a great source of quercetin. Quercetin fights bacteria and inflammation in the body. Some studies suggest that quercetin can even help fight e.coli bacteria. (1) Ultimately, onions aid in keeping our bodies free from harmful bacteria, improving our immune function.
Garlic can prevent and help fight against illnesses like the common cold and flu virus. In fact, one 12-week study conducted found that daily garlic intake can reduce colds by 63% compared to the placebo group. (2) Bottom line, garlic is packed with vitamins and nutrients that strengthen our body's immune system and help fight off illness.
Ginger is known for its anti-inflammatory properties and its ability to improve our gut health. Another benefit of ginger is that it also produces a very powerful bioactive compound called, gingerol. Gingerol is loaded with antioxidants and bacteria fighting agents. (4) Gingerol can even help fight bacterial infections like gingivitis and periodontitis. (common oral infections) (3) Ultimately, ginger is a great additive to our diets. It improves our immune system, aids in digestion, and fights off bad bacteria.
Garlic Ginger Immune Boosting Soup
Ingredients
3

tablespoon

olive oil – the good stuff

4-5

cloves

fresh garlic – sliced thin

1

tablespoon

fresh ginger – minced

1

large sweet onion – or about 1.5 cups diced. white or yellow will work

1

stalk celery – or about ½ cup sliced thin

Juice from ½ ripe lemon

2

handfuls spinach – remove stems optional

2

cups

vegetable broth

2

cups

water

1

teaspoon

salt

,

maybe a pinch more depending on how you like it

½

teaspoon

white pepper
Optional Toppings / Add-ins:
1

small shallot – cook in oil until slices are crispy

fresh Italian parsley – roughly chopped

noodles of your liking – I used shellbows because they scoop up more broth

chili oil
Instructions
In a large pot over medium heat add 3 tablespoons of olive oil. You'll want to use your good stuff here.

Add the thinly sliced garlic and minced ginger. Let the garlic and ginger begin to brown before adding the diced onions and celery.

Let the celery and onions sweat in the pot. You want them to be translucent, but not browned.

Season with salt and white pepper. I like the white pepper only for aesthetic purposes, black pepper will work too.

While the veggies are cooking, begin to boil a pot of water for your pasta noodles.

Once the veggies are ready, add the vegetable broth and water. Let everything simmer over low heat for 15- 20 minutes. Taste it to make sure it is seasoned enough.

While the soup in simmering you will make your pasta. I used shellbows because they scoop up the broth as you eat it. But you can use any noodle you like. Also, cook your noodles "al dente" so they are not mushy in the soup. Finally, I never add my noodles to the soup until it is ready to serve. This way they do not soak up all of the broth.

Add the spinach and let it wilt in the hot soup broth.

While the spinach is wilting you can thinly slice your small shallot.

In a separate skillet, add some olive oil and cook the shallot slices until they become crispy. Once crispy, place them on a paper towel to remove any excess oil. Set aside.

Next, add the fresh squeezed lemon juice into the soup broth. This will brighten the broth and add some extra flavor and acidity.

Finally, you will assemble your bowl of soup.

Add noodles to a bowl. Pour in a few ladles of hot soup making sure to get all of the veggies and spinach. Finish the dish with some fresh parsley, crispy shallots and chili oil.

Please note that you should only use a small amount of chili oil. A little goes a very long way!