The Best Vegan Bean Dip
Spring is finally here and what better way to enjoy the warm weather than with the best bean dip? This bean recipe is so easy to make and beyond delicious. Perfect for house parties, holiday gatherings, or movie nights at home. This bean dip is an easy appetizer recipe that everyone will enjoy. Make this vegan bean dip fresh with a little added salt for a more savory dish, or make it in the instant pot rather than baked in the oven for easy transportation.
About this Vegan Dip Recipe
This vegan bean dip is the ultimate easy appetizer recipe. Made from simple, delicious ingredients, you're going to be addicted to this combination. Serve it with tortilla chips, warm naan bread or my two ingredient tofu crackers. Another way to enjoy this bean recipe, is by adding it on top of your favorite protein, whether you are vegan, vegetarian, or neither. Top your grilled chicken, fish or crispy tofu with a spoonful of this dip for an extra layer of flavor.
This bean recipe is light, healthy and easy to make. Plus, it is so versatile, you can enjoy it in a variety of ways and even as a refried bean dip if you re-cook it. Perfect as a dairy free meal prep item through the week, this bean recipe is an absolute must try.
Let's Talk About Dip Ingredients:
There are a lot of ingredients in this vegan bean dip, but once you have everything out of your pantry, you'll see how easily it comes together as a delicious vegan dish.
If you don't like any of the vegetables listed in this vegan recipe, you can substitute them out for something with a similar texture, but be mindful of the difference in water content as this dip will be a little runny to begin with. If you use a vegetable that sweats easily, it may need to be squeezed and drained to keep the dip together.
The jalapeno adds a delicious kick to each bite. If you don't like spice, you can omit this vegetable entirely. For a more mild kick that still provides a little bit of jalapeno flavor, be sure to scrape the seeds out and discard them. Jalapeno seeds are spicier than the pepper itself, contributing the most heat to the recipe.
You can also boil and blanch the jalapenos to get rid of a little bit more spice, as it cooks off. You don't want the jalapeno to be soggy, however, so take care to pat these dry and make sure they are still firm when adding them to the dip.
For the beans, you can use black beans or refried beans. If you aren't a fan of black bean dip, you can use vegan refried beans or pinto beans. Refried, this will make a great black bean recipe, but it is best fresh.
Important Bean Dip Tips
When serving this dip, you will want to make sure you use a slotted spoon to drain off any excess marinade or broth. Also, it is best to let this dip marinate overnight so the beans have time to soften and absorb all of the flavors.
If you don't want any excess marinade, you can take a clean kitchen towel or gently drain the dish of excess water. I tend to keep it in because it's always easy for mistakes to happen when draining water off a full dish. Furthermore, the marinade continues to soak the beans and infuse additional flavors into the dish while it sits. It's the flavor that keeps on giving, so I find it's worth the trouble to get the slotted spoon out for this one; it only takes minutes and all the flavor stays in the pot.
Storage for this Vegan Dip
Store this vegan bean dip covered in the refrigerator for up to five days. Leftovers can be enjoyed with gluten free tortilla chips, sliced vegetables, topped over your favorite vegan protein or tucked inside of a dairy less cheese wrap. There's no end to how many ways this delicious vegan bean dip can be enjoyed.Again, be sure to use a slotted spoon to drain off any excess marinade before serving.
To reheat the bean dip, it is best to place the whole dish in a cold oven, then preheat the oven. By doing this, you allow the whole dish to heat up from the refrigerator, rather than heating up the dip while the dish cools it back down.
Reheating the dip this way gives you a much more even heating, and the dip does not need to be stirred around as much as it would in the microwave. Allow to heat in the oven until the bean dip comes out warm in the center.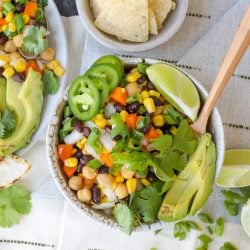 The Best Bean Dip
Spring is finally here and what better way to enjoy the warmer weather than with the best bean dip? This bean dip recipe is so easy to make and beyond delicious. 
Ingredients
1

cup

canola oil

,

can also use vegetable oil

1

cup

apple cider vinegar

½

cup

cane sugar

1

cup

black beans,

rinsed and drained

1

cup

chickpeas,

rinsed and drained

1.5

cups

sweet whole kernel corn

,

drained

1

cup

bell pepper

,

diced small

1

cup

sweet onion

,

diced small

¼

cup

jalapeno

,

minced
Optional Toppings:
avocado

fresh cilantro

fresh squeezed lime

scallions
Equipment
1 colander

1 mixing bowl

1 airtight storage container
Instructions
In a large mixing bowl, combine the apple cider vinegar, canola oil, and sugar. Whisk well until the sugar dissolves.

Add all ingredients including black beans and chickpeas into the oil mixture. Gently stir making sure to evenly coat all of the beans and veggies in the marinade.

Best if refrigerated and stored in an airtight container for 12 hours before serving. This allows the beans to soften and absorb all of the delicious flavors.

Be sure to use a slotted spoon when serving to drain off any extra marinade. Will last 4-5 days refrigerated in an airtight container.
Nutrition
Serving:
1
serving
,
Calories:
529
kcal
,
Carbohydrates:
40
g
,
Protein:
6
g
,
Fat:
39
g
,
Saturated Fat:
3
g
,
Polyunsaturated Fat:
11
g
,
Monounsaturated Fat:
24
g
,
Trans Fat:
0.1
g
,
Sodium:
69
mg
,
Potassium:
348
mg
,
Fiber:
5
g
,
Sugar:
21
g
,
Vitamin A:
827
IU
,
Vitamin C:
39
mg
,
Calcium:
32
mg
,
Iron:
2
mg