Shredded BBQ Chicken – Perfect Homemade Barbecue
Looking for a quick and delicious dinner? Then you have to try my shredded BBQ chicken recipe. The BBQ sauce is homemade and has been in my family for years. Tossed with the juicy shredded chicken and this is one quick and tasty dinner. Perfect for meal prep through the week or as a tasty dinner any night of the week.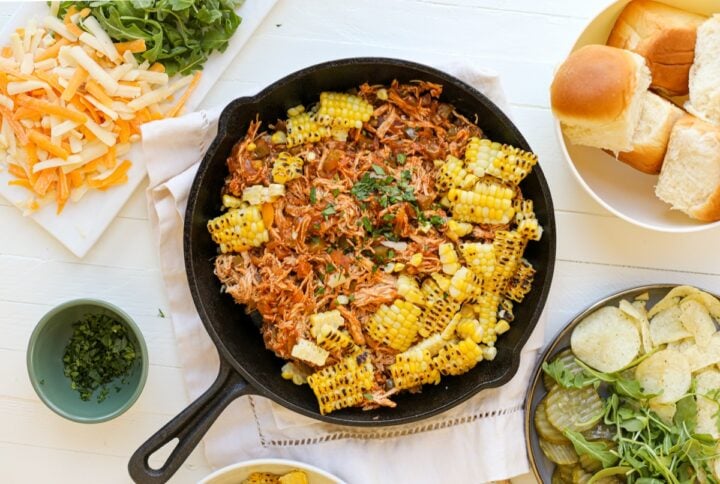 About this recipe
What's great about this shredded BBQ chicken recipe, is that you can use it in so many different ways. Pile it into a taco, enjoy it over a salad, or create your own shredded chicken bowl. Any leftovers can be used on a sandwich or tucked inside of a wrap for lunch the next day. No matter how you fix it, it's going to taste amazing.
I like to use Smart Chicken brand chicken breasts for this recipe. Their chickens are humanely handled, fed high quality diets, organic and air chilled. They never add water or antibiotics to any of their meat. You can feel good eating their products.
BBQ Chicken: History of the Sauce
For this recipe, I used my homemade BBQ sauce. This BBQ sauce has been in my family for years. While western Pennsylvania isn't known for BBQ sauce, this recipe is so good it might put us on the map. The flavor is semi-sweet but has a good amount of tang from the apple cider vinegar. I'm obsessed with the little bite you get from this sauce. It's just right.
You may have noticed that this sauce is chunky vs. smooth. The diced onion, bell pepper and celery impart so much flavor and give the sauce an awesome texture. Just be sure to dice the veggies small and try your best to keep them all the same size. This gives you a better-quality sauce. You have to give this amazing BBQ sauce a try. I can almost guarantee that you'll be smothering it over just about everything this Summer.
I made Dan some mini slider chicken sandwiches. They had shredded cheddar, charred corn and the BBQ chicken. All of which was piled into toasted mini potato rolls. They were a huge hit. For my dinner, I piled my shredded chicken onto a plate with shredded cheddar cheese, charred corn, spicy pickles and a side of chips. It was perfect. You can enjoy this shredded chicken any way you like. Just be sure to give this juicy chicken recipe a try.
The nutritional values below reflect four servings with BBQ sauce. It does not include the bun or corn.
What Goes with BBQ Shredded Chicken?
There are a lot of meals you can pair with this shredded chicken. It's a match made in heaven for just about any hearty side dish, whether it's baked beans, chili, street corn, mashed potatoes, coleslaw, green beans… You name it, and it's certain to be delicious. By far, my favorite thing to serve with this shredded chicken recipe is the grilled corn cut directly from the cob. Add this in when you're cooking the BBQ chicken and you'll get a delicious melding of flavors that will make you feel like you just stepped into a real, award-winning barbecue joint, not your own kitchen.
Is Pulled Chicken the Same as Shredded Chicken?
Yes, pulled chicken is almost the same as shredded chicken. All you need to do when shredding or pulling chicken is to cook it and take it apart slowly as its cooking. There is some implication that pulled chicken is somehow different in the subtleties of cooking, meaning a low-and-slow cooking method over a quick shredded chicken, but this won't be any issue with distinguishing between the two methods unless you're entering your chicken recipe into a professional awards contest.
Why Boil the Chicken Before You Shred?
You'll notice that in this recipe we boil the chicken because it will be used for shredding. Boiled chicken doesn't sound particularly appealing in many cases, but it really helps with the shredding process because we are introducing a lot of water to the chicken while its cooking. As the chicken absorbs this water, it will tenderize and become much easier to shred with two forks once we are done.
If we were to instead pan fry or oven bake the chicken breasts, the outside would be too crispy and hard, making it difficult to tear apart with just two forks.
Additionally, boiling the chicken removes a lot of the salt content from the chicken. As the salt is drawn out of the chicken, more moisture enters the chicken breasts because of the lower salt concentration compared to the rest of the pot. In a unique twist of food science, boiling the chicken actually helps us prepare healthier chicken that is lower in sodium and cholesterol content than any other method of preparation before we do anything to it.
During boiling, you may notice that there is a white foam around the chicken breast as it is cooking. This is nothing to worry about; it is simply a concentration of protein called sarcoplasmic protein. This does not need to be skimmed or removed from the pot.
You'll also be surprised to know that Smart Chicken or similarly healthy chicken brands that haven't added antibiotics or growth hormones to their poultry is an equally important part of properly boiling a chicken. The "slow-growing" variety of chicken (a.k.a. natural chicken) is less likely to become rubbery during boiling.
How Do You Shred Chicken Properly?
Shredding chicken is something of a skill that you acquire over time. Your first shredded chicken won't be perfect, and that's OK. The number one mistake we see with shredded chicken is that a lot of people wait until the chicken is cold to shred it. This makes for uneven shreds and more difficult, strenuous pulling that takes more time than it needs to.
While cold chicken is great for slicing, it's not so good for pulling. Instead, try to shred your chicken when it is warm – having had a few minutes at least to rest before cutting into it – and you'll find it pulls apart much easier. Simply use two forks to spread the meat apart in opposite direction.
When boiling the chicken, be sure not to overcook it, as overcooking it can cause it to lose moisture and become rubbery, making it more difficult to shred.
Storage: Barbecue Shredded Chicken Breasts
Store any leftover chicken in an airtight container for four to five days. Depending on your preference, you can reheat in the microwave until heated through, or throw it back in the pan and cook it up with some vegetables or make it into a stir fry. This shredded BBQ chicken shouldn't be frozen, as it won't reheat well, and the wet consistency of the sauce tends to develop ice crystals. After five days, toss any leftovers that haven't been eaten yet (if there's any left at all!)
Looking for more chicken recipes? Try my spinach artichoke chicken burgers or my chicken and broccoli stir fry. Both are fast and testy meals too!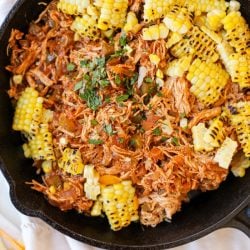 Shredded BBQ Chicken
Looking for a quick and delicious meal? Then you have to try my shredded BBQ chicken recipe. The BBQ sauce is homemade and has been in my family for years. Tossed with the juicy shredded chicken and this is one quick and tasty dinner.
Ingredients
BBQ Sauce
2

tablespoons

butter

,

salted

1

clove

garlic

,

minced

¾

cup

white onion – about 1 medium onion

,

diced small

½

cup

celery – about 2 stalks

,

diced small

1

cup

green pepper – about 1 medium pepper

,

diced small

1

cup

water

½

cup

ketchup

1

teaspoon

dry mustard powder

3

tablespoons

tomato paste

2

tablespoons

Worcestershire sauce

1

tablespoon

lemon juice

,

fresh squeezed

1

tablespoon

+ 1 teaspoon, apple cider vinegar

¼

cup

brown sugar

½

teaspoon

salt

,

to taste

¼

teaspoon

liquid smoke

few turns cracked black pepper

,

to taste
Optional Toppings
Charred corn kernels

Avocado

,

sliced or smashed

Shredded cheddar cheese

Spicy pickle chips
Equipment
saucepan

pot to boil chicken

handheld mixer
Instructions
Prepare the chicken:
Boil a pot of water and add the chicken breasts.

Cook the chicken for 15-20 minutes or until it reaches an internal temp of 165 degrees Fahrenheit.

Let the chicken cool, then add it to a large mixing bowl. Using a hand mixer, shred the chicken into small thin pieces.

Set it aside.
Prepare the BBQ sauce:
In an 11-inch saucepan over medium heat, add the butter, garlic, diced onion, diced green bell pepper, and diced celery. Simmer until soft.

Next, add everything else. This includes, ketchup, water, dry mustard, tomato paste, Worcestershire, lemon juice, apple cider vinegar, brown sugar, salt, liquid smoke and a few turns cracked black pepper.

Stir well and simmer for 30 minutes on low heat. Frequently stir.
Assemble the dish:
Once the BBQ sauce has had a chance to simmer, and has reduced into a beautiful sauce, you'll add the shredded chicken.

Toss the chicken until it is well coated in the sauce.

Serve with your favorite sides and toppings and enjoy!
Nutrition
Serving:
1
serving
,
Calories:
308
kcal
,
Carbohydrates:
31
g
,
Protein:
26
g
,
Fat:
9
g
,
Saturated Fat:
4
g
,
Polyunsaturated Fat:
1
g
,
Monounsaturated Fat:
2
g
,
Trans Fat:
1
g
,
Cholesterol:
88
mg
,
Sodium:
943
mg
,
Potassium:
876
mg
,
Fiber:
2
g
,
Sugar:
25
g
,
Vitamin A:
748
IU
,
Vitamin C:
41
mg
,
Calcium:
58
mg
,
Iron:
2
mg