Sesame Encrusted Ahi Tuna Tostadas with Spicy Mango Salsa
My obsession with sushi grade ahi tuna runs deep. Whether it's served poke style, sashimi style, or is lightly seared, I am all in. These sesame encrusted ahi tuna tostadas with spicy mango salsa are no exception. Perfect for lunch or a light dinner, this recipe is perfect nay day of the week.
Another reason I love it so much, is that ahi tuna is packed with protein and is really easy to prepare. It tastes great and leaves you feeling satisfied without feeling overly stuffed.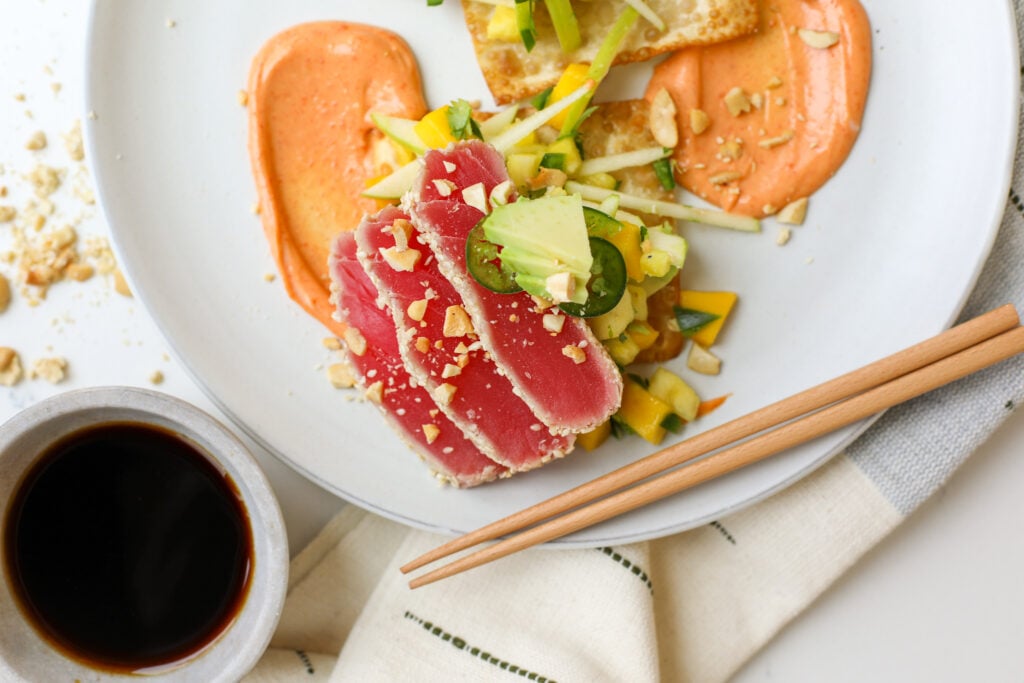 The ahi tuna in this dish is so fresh and bright you'll feel like you are poolside at your favorite getaway. For this sesame crusted ahi tuna recipe, I paired the ahi tuna with spicy mango salsa (which can literally go on anything) for the perfect flavor and texture combination.
To add that extra crunch factor, I loaded the tuna on top of lightly fried and salted wonton tostadas. To finish the dish, I sprinkled a healthy amount of crushed cashews over everything. (because why not) Oh and don't forget to dip all of these tasty bits into a dollop of my spicy creamy sauce. Perfection!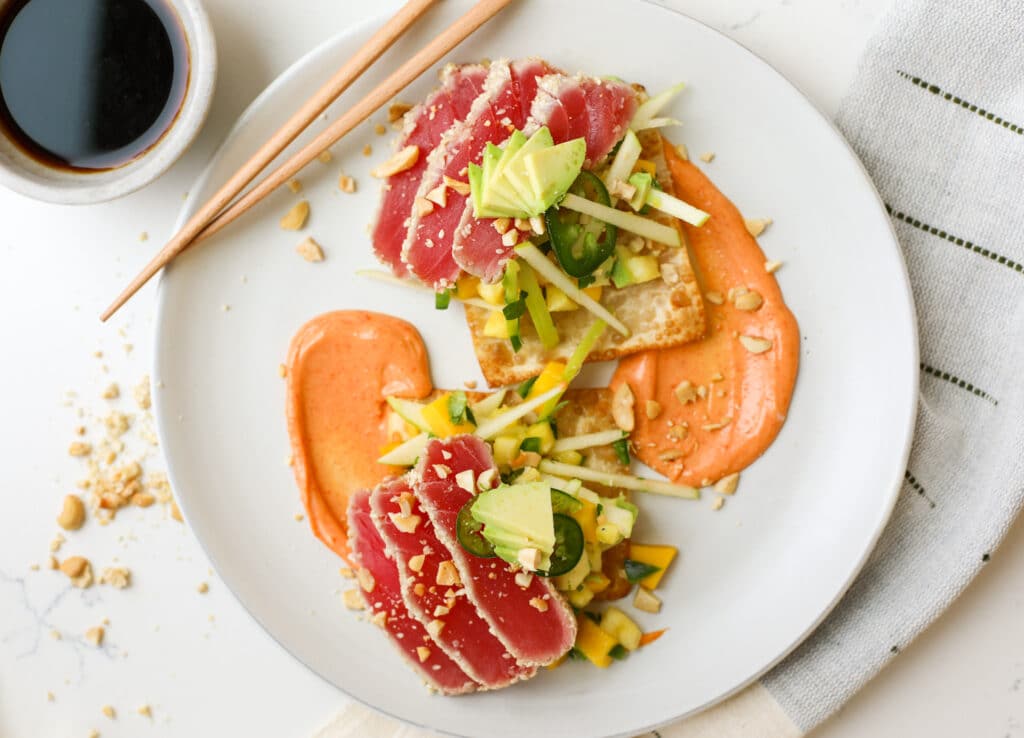 To make this dish a bit lighter, skip the spicy creamy sauce and use a touch of sriracha or soy sauce instead. Also, you can substitute the fried tostada for a lettuce cup! NO matter how you make it, these sesame encrusted ahi tuna tostadas with spicy mango salsa are incredible.
Looking for more sushi grade ahi tuna recipes? Try my tuna poke lettuce cups or my grilled tuna nicoise salad.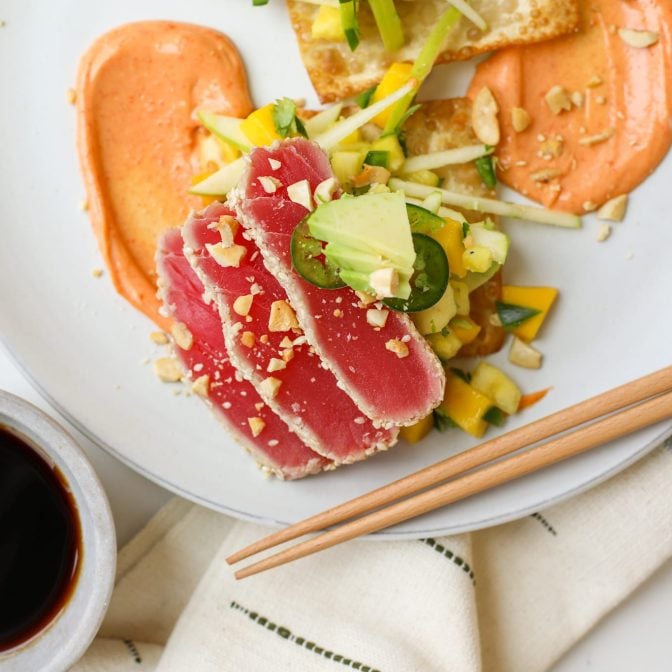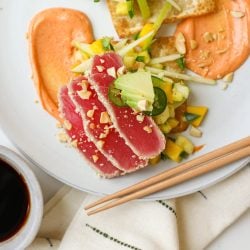 Sesame Encrusted Ahi Tuna Tostadas with Spicy Mango Salsa
Ingredients
Spicy Mango Salsa
1

mango

,

pitted and diced

½

green apple

,

julienned

½

cup

pineapple

,

diced

½

jalapeno

,

sliced into thin rounds

½

small

avocado – diced

,

reserve some avocado and slice it thin

1

tablespoon

fresh cilantro – chopped

juice from 1 lime

pinch

of salt

crushed cashews or peanuts
Sesame Encrusted Tuna and Fried Wontons
4

ounces

sushi grade ahi tuna steak

¼

cup

white sesame seeds – used to encrust the tuna

pinch

of salt

4-6

wonton wrappers

4-6

tablespoons

toasted sesame oil
Spicy Creamy Sauce
⅓

cup

Vegenaise mayonnaise

1

tablespoon

gochujang or sriracha
Instructions
Prepare the salsa:
In a large mixing bowl combine, the diced mango, julienned green apple, diced pineapple, diced avocado and jalapeno.

Next, you'll add the juice from one lime, along with the cilantro and a pinch of salt. Gently toss everything together and set it aside.
Prepare the tuna:
Pat the tuna dry using a paper towel. Add the sesame seeds to a plate and firmly press the tuna into the seeds making sure the entire tuna is well coated.

Gently spray a small skillet with cooking spray and place it over medium high heat.

Right before you add the sesame encrusted tuna into the pan, season it with some salt. Add the tuna to the pan, sear it for 1-2 minutes on each side. Remove from the heat and set the tuna aside.

Using a sharp knife, thinly slice your tuna. It should be rare on the inside.
Prepare the fried wontons:
In a small skillet add the toasted sesame oil over medium/high heat.

Add one wonton wrapper at a time to the hot oil. They will cook very fast so have your tongs ready.

Place the fried wonton wrappers on a paper towel and season them with flaky salt. repeat until you have 4-6 friend wontons.
Prepare the spicy sauce:
Combine the vegan mayo and gochujang in a small bowl. Mix well. Set aside.
Assemble the dish:
Add a smear of the spicy sauce to your plate.

Next, add a fried wonton chip, and top it with thinly sliced sesame encrusted tuna.

Top the tuna with the mango salsa. Serve and enjoy!