Scalloped Potatoes with Caramelized Onions
Looking for the perfect potato recipe? I've got you covered. These scalloped potatoes with caramelized onions are insanely delicious and perfect for any occasion.
Cheesy, tender and velvety smooth, these scalloped potatoes are exactly what you need. Add in the caramelized onions for a tasty twist on a classic. The onions add an extra layer of flavor that is hard to resist. Imagine if French onion soup and cheesy potatoes had a baby! Haha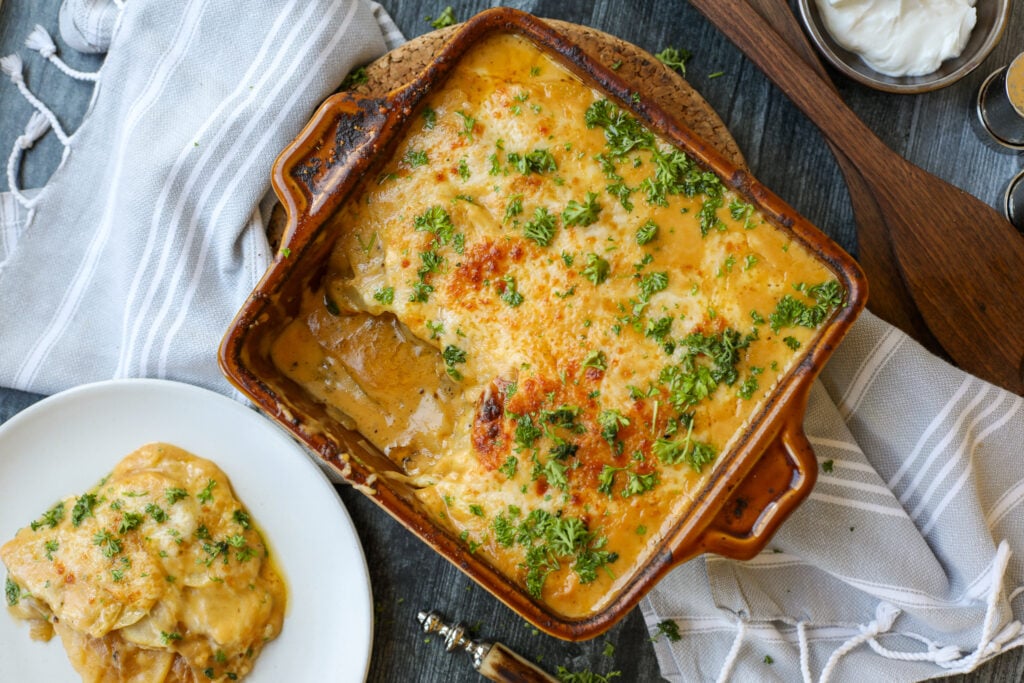 Personally, I like making these potatoes for birthdays or holidays because they are so special. The recipe does take some time, so reserve about 2-3 hours to make this dish from start to finish.
Also, you want to let the potatoes rest for 20-30 minutes after removing them from the oven. This will prevent them from falling apart when you slice into them. One way to test to make sure they are done, is by inserting a knife in the center of the dish. If it goes in and out easily, the potatoes are cooked.
Try it with my mini chicken parmesan meatball loaves or baked chicken with cashew cream sauce.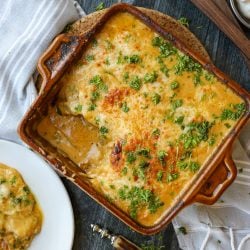 Scalloped Potatoes with Caramelized Onions
Ingredients
1.5 – 2

lbs.

russet potatoes

,

washed and peeled and sliced using a mandolin. The mandolin ensures the potato slices are the same size for even cooking.
The caramelized onions
2

tablespoons

butter

2

medium sized sweet onions

,

sliced yellow or white will work

2

gloves fresh garlic

,

thinly sliced

2

teaspoons

Worcestershire sauce

Chicken stock to deglaze the pan

,

probably about 1 cup

salt and pepper
Cheese sauce
4

tablespoons

butter

2

tablespoons

AP flour

½

cup

2% milk

1 ¾

cups

chicken stock

2

cups

shredded mozzarella

6

ounces

Velveeta cheese

salt and pepper
Equipment
2 satue pans with sides

8×8 baking dish

mandolin

colander

mixing bowl
Instructions
Preheat the oven to 400 degrees.

Gently spray an 8×8 baking dish with cooking spray. Set aside.

Using your mandolin, slice the potatoes into thin, even slices.

Add them to a large bowl of ice water to remove any extra starch. Let them sit in the water for 5 minutes before draining them in a colander.

Place the rinsed potato slices on a kitchen towel to soak up any excess water and moisture.
Prepare the caramelized onions:
In a large sauté pan over medium / low heat add the butter and onions.

Once the onions begin to sweat and turn translucent add the thinly sliced garlic cloves.

Simmer over medium / low heat until the onions and garlic begin to break down and brown.

If you see the bottom of the pan begin to get crispy pieces simply deglaze the pan using some chicken stock. I had to deglaze my pan 3 or 4 times before the onions were fully caramelized.

Right before you take the onions and garlic off of the heat add your Worcestershire sauce. Let it simmer for about 5 minutes with the rest of the ingredients.

Turn off heat and set the caramelized onions and garlic aside.
Prepare the cheese sauce:
In a sauté pan with sides add the butter and flour over a medium heat.

Once it begins to bubble, start adding the milk and gently stir. Once the sauce is smooth and creamy you will begin to slowly add the chicken stock. Stir until well combined.

Next, you'll add the cheese and salt and pepper. Stir well so the cheese melts and is well combined.

Let the cheese sauce simmer over low heat stirring occasionally so it doesn't burn on the bottom of the pan.
Assemble the dish:
Grab your 8×8 baking dish and line the bottom with potatoes. The potatoes can overlap a bit so you can fit more.

Add a layer of cheese sauce, followed by some of the caramelized onions. Repeat this process until the baking dish is almost full. Be careful not to load it all the way to the top or the cheese will spill over in your oven.

Cover with foil and bake for 55 – 60 minutes at 400 degrees or until the potatoes are fork tender. Remove the cover add some extra shredded mozzarella and broil for 2-3 minutes until crispy.

Let the dish cool before serving. I would recommend letting it sit for 20 minutes. Also, you can make this dish ahead of time and simply reheat it. Add it to the oven at 300 degrees for 20-25 minutes.