Plant-Based Cheeseburger with Special Sauce
Nothing says summer quite like a tasty cheeseburger dripping in special sauce. With the weather warming up, I made you guys the PERFECT plant-based cheeseburger recipe.
On the outside, it looks just like a traditional beef burger. It even has the red coloring, compliments of the all natural beets. Not to mention, the texture is amazing. It's slightly firm and gets a nice crispy sear on the outside.
I've found that keeping these plant based cheeseburgers on the thin slide is the way to go. If you make them too thick, the center stays soft. So, keep them thin like a slider when you're forming your patties.
What makes them Healthyish?
For starters, these burgers are packed with tasty veggies. Below outlines some of the amazing health benefits you'll receive when enjoying some of the main ingredients in this plant-based burger. Next, I skipped the bun, keeping these burgers lower in the carb department too.
Beets: Are known for their abundant source of fiber, iron and vitamin C. Studies suggest beets can even help with blood flow, and athletic performance.
Mushrooms: Are loaded with selenium which supports the immune system and can even prevent cell damage.
White cannellini beans: These beans are fat free and packed with fiber and iron. In fact, they are even considered a super food! Plus, they are a great substitute for potatoes in a recipe. Click here for more info on white beans.
So, let's get this plant-based cheeseburger started!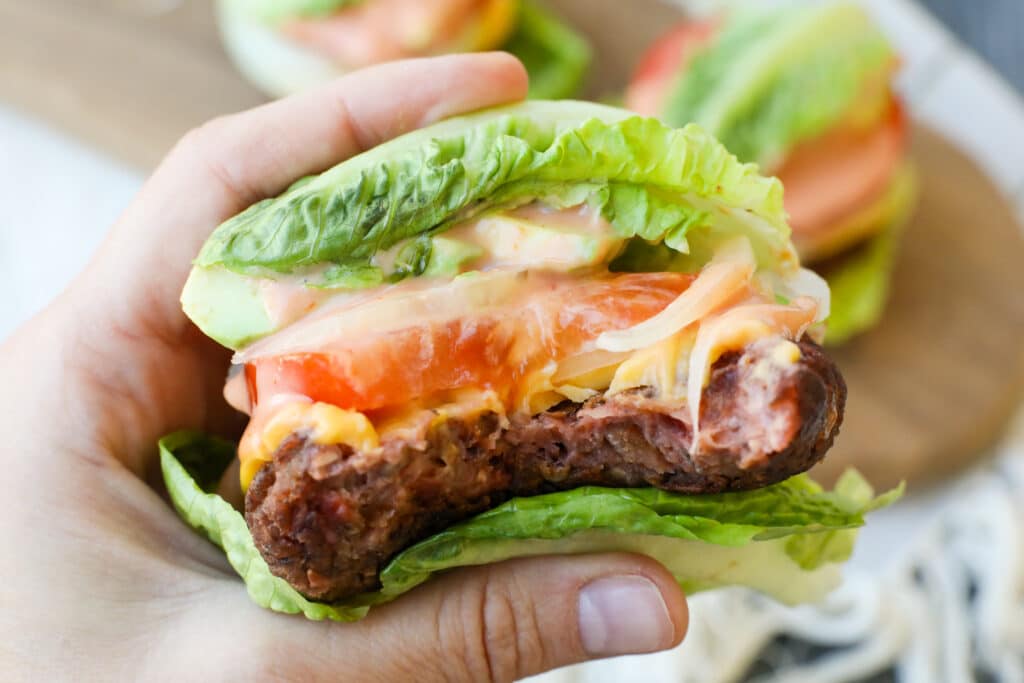 Vegan Cheeseburger with Special Sauce
Ingredients
Plant Based Burger
4

small beets cooked and peeled or about 1/2 cup diced

1

can cannelloni beans – rinsed and drained

1

cup

button mushrooms chopped small

1/4

cup

white onion

,

diced small

2

tablespoons

gluten free AP flour

2

tablespoons

ground flax seeds

2

tablespoons

nutritional yeast

1/4

cup

plain breadcrumbs

1

teaspoon

table salt

1

teaspoon

ground black pepper
Special Sauce
2

tablespoons

ketchup

1.5

tablespoons

dairy free mayo

,

vegenaise

1

teaspoon

Worcestershire sauce

,

annie's brand is vegan
Optional Toppings
onion

tomato

avocado

dairy free cheese

,

daiya slices
Equipment
mixing bowl

food processor

colander

skillet
Instructions
Grab a large mixing bowl, add the rinsed and drained cannellini beans. Smash them using the back of a spoon or spatula.

In a food processor, chop the mushrooms and onion into small pieces. Combine with the smashed beans. Blend well.

Next, you'll toss 4 cooked and peeled beets into the food processor, chop into small pieces. **The beets I used were each about the size of a golf ball. ** Blend well. Should be about 1/2 cup diced.

Add the chopped beets into the mushroom, bean and onion mixture, blend well.

Next, you'll add the breadcrumbs, flour, nutritional yeast, onion powder, ground flax seeds, salt and pepper. Mix well using a spoon or spatula.

Form the mixture into burger patties. You will get about 10 slider-sized burgers. (I recommend smaller, thinner patties) If they are too thick the center is too soft.

Next, you'll gently spray a skillet with non-stick cooking spray. Over medium heat, cook the burgers for 3-4 minutes on each side or until they are browned on the outside. Set aside once they are cooked.
Make the Special Sauce:
In a small bowl combine the Annie's Worcestershire sauce, ketchup and dairy-free vegenaise mayo. Blend well.
Assemble the Burgers:
Use a butter lettuce cup as the base.

Next, you'll add your burger and top it with cheese, tomato, onion, avocado or any toppings you desire! Top with another butter lettuce cup and enjoy!