Grilled Tuna Niçoise Salad with Sweet & Tangy Dressing
Family style dinner salad anyone? There is nothing I love more than a huge dinner-sized salad that everyone can make a plate from. This grilled tuna Niçoise salad with sweet & tangy dressing does not disappoint. It's loaded with a variety of tasty Mediterranean flavors that are sure to impress.
This grilled tuna Niçoise salad is large enough for me and Dan to enjoy for lunch and dinner. In fact, there are occasions when we even get a second lunch out of it the next day. This recipe is so easy to make and comes together in under 45 minutes.
Looking for more delicious salad recipes? Try my Cobb salad with cilantro lime dressing or my grilled peach salad.
What makes it Healthyish?
Tuna is heart friendly and has been known to lower blood pressure. It is low in fat and calories, yet high in vital nutrients and vitamins that can help strengthen our bones. (1)
Capers are a great source of fiber and high in quercetin. Quercetin has been known to help fight inflammation in the body, and improve the immune system function. These little buds are also known as a powerful anti-viral and can even help fight off infection. (2)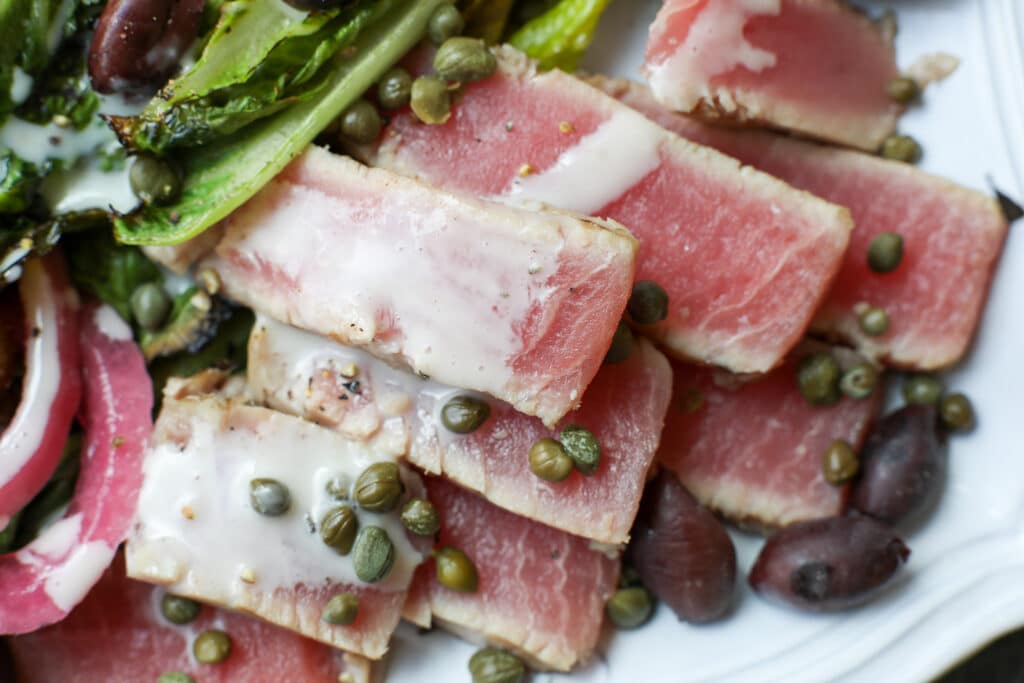 Grilled Tuna Niçoise Salad with Sweet & Tangy Dressing
Ingredients
Nicoise Salad:
3

tablespoons

olive oil

,

for grill prep and coating tuna / lettuce

2

heads

romaine lettuce

,

sliced in halves

8

ounces

ahi tuna steak

,

sushi grade

3

large

eggs

,

hard or medium-boiled

1

tablespoon

fresh dill

,

chopped

12

slices

English cucumber

,

cut into rounds

½

cup

kalamata olives

1

tablespoon

capers
Petite Gold Potatoes:
1/2

lb.

petite gold potatoes

,

boiled until fork tender

2

tablespoons

butter

½

teaspoon

dry oregano

½

teaspoon

dried parsley

½

teaspoon

garlic powder

salt and pepper

,

to taste
Sweet & Tangy Dressing:
1 + ¼

cup

mayonaise

,

Vegenaise

3

tablespoons

white vinegar

¼

cup

cane sugar

2

teaspoons

Dijon mustard

salt and pepper

,

to taste

blend together until well combined.
Equipment
2 pots for boiling water

colander

mixing bowl

salad platter

metal grill spatula
Instructions
Prepare the hard boiled eggs:
Boil 2 pots of water. One for the hard-boiled eggs and one for the baby potatoes.

Boil three eggs for 8-9 minutes to get a medium plus temperature on the yolk.

Drain water and set the cooked eggs aside.
Prepare the potatoes:
Next, you will add the petite gold potatoes to the second pot of boiling water. Cook until they are fork tender, about 15 minutes.

Once cooked through, add the potatoes to a mixing bowl with the butter and spices (garlic, parsley, oregano). Toss the potatoes until they are well coated with the butter and spices. Set aside.
Prepare the tuna and lettuce:
Preheat the grill to 400 degrees. Be sure to wipe the racks with olive oil to help prevent the tuna steak and romaine lettuce from sticking. You can also you foil if you prefer.

Cut the romaine heads in half. Drizzle with olive oil.

Pat the tuna steak dry using a paper towel. Removing the moisture on the surface helps prevent the tuna from overcooking. Water / moisture will transmit heat, causing the tuna to cook too fast.

Drizzle the tuna steak with olive oil on both sides. Making sure it is well coated.

Place the lettuce center side down on the grill. Also place the tuna down.

The tuna will only need to cook for about 2 minutes on each side. This will give you a seared rare temperature on the tuna. Since it is sushi grade, it is safe to eat this way.

Use a metal grill spatula to turn. The lettuce will need about 4-5 minutes total.

Once everything is cooked, remove the tuna and romaine lettuce from the grill.
Prepare the dressing:
Add all of the dressing ingredients into a small bowl. Mix well. Set aside.
Assemble the salad:
Place the grilled romaine lettuce down first.

Next, slice the tuna using a sharp knife. Place it off to the side of the lettuce.

Peel and slice your eggs in halves. Place them on the other corner of the platter. Top with fresh chopped dill.

Your potatoes should be slightly warm when you serve them so that they butter does not seize up on the outside.

You can leave the potatoes whole or slice them in half. Either way, just add them to the platter in small clusters.

Spread out some of the kalamata olives, capers and sliced English cucumbers over the top.

Finally, top the entire dish with a few rings of quick pickled onions and salt and pepper.

Drizzle the platter with your dressing or leave it on the side. Serve and Enjoy!