Lemon Garlic Shrimp Boat
This lemon garlic shrimp boat is jam packed with flavor and such a fun way to serve a boat load of garlicky shrimp! Perfect as an appetizer or as a weeknight family meal. This dish comes together quickly and is so tasty.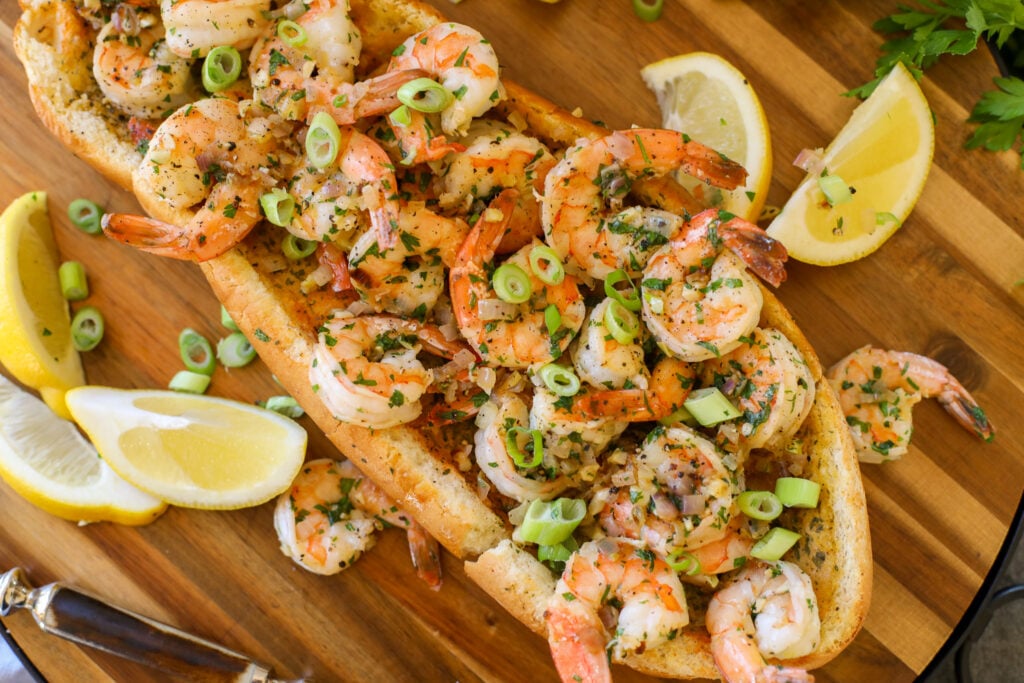 I love this recipe so much because you get a bite of tasty garlic toast with each juicy shrimp. Try adding a side of pasta to make this dish a bit hardier. You can also serve it with a side of roasted broccoli or brussel sprouts for a light and fresh twist!
Avoiding carbs? Try substituting a hallowed out zucchini boat for the garlic butter bread. This will taste great and keeps the recipe on the lighter side. If you do decide to go the zucchini route, try adding my Avocado Tomato Salad to start!
This entire recipe comes together in under 40 minutes, making it a great addition to your weekly meal plan! So, let's get this tasty lemon garlic shrimp boat recipe underway!
Lemon Garlic Shrimp Boat
Ingredients
Shrimp:
1

lb.

jumbo shrimp peeled and deveined.

2.5

tablespoons

olive oil

2

tablespoons

lemon juice – fresh squeezed

,

and extra lemon wedges on the side

2

cloves

garlic

,

minced

¼

cup

shallots

,

minced

⅓

cup

chopped fresh Italian parsley

1

teaspoon

salt

¼

teaspoons

cracked black pepper

chopped scallions

,

optional garnish
Garlic butter and bread:
1

loaf of Italian bread – cut in half lengthwise

1

stick

soft butter

2

teaspoons

garlic

,

minced

½

teaspoon

garlic salt

2

tablespoons

grated parmesan cheese

2

tablespoons

chopped fresh parsley

pinch

black pepper

pinch

paprika
Equipment
2 baking trays

mixing bowl
Instructions
Preheat your oven to 400 degrees.

Gently spray two baking trays with cooking spray and set them aside.
Prepare the garlic butter and bread:
In a small bowl, combine softened butter, minced garlic and parmesan cheese. Season with garlic salt, fresh chopped parsley, pepper and paprika. Mix until smooth.

Grab a large loaf of Italian bread and cut it in half lengthwise – place half of the loaf open faced on a baking tray. You can wrap and freeze the other half loaf.

Spread a light coating of garlic butter on the inside of the loaf gently pressing down on the center to form an indent or bowl shape. Any extra garlic butter can be refrigerated. This will depend on the size of your loaf.

Bake the half loaf of Italian bread in the oven until the butter is melted and the bread is slightly crispy on the edges, about 8-10 minutes. For an extra cripy top, try broiling the loaf for the last 1-2 minutes. Remove from the oven and set aside.
Prepare the shrimp:
Pat the shrimp dry and place them in a mixing bowl. Add the olive oil, garlic, shallots, parsley, lemon juice, salt and pepper. Toss everything together until the shrimp are well coated.

Place the shrimp on the second baking tray and cook them for 8-9 minutes. You'll want to make sure they are opaque in color and fully cooked through.

Remove the shrimp and gently spoon them into the garlic bread bowl.

Top everything with chopped scallions and serve with extra lemon wedges on the side.

Serve immediately and enjoy!