Homemade Wedding Soup
Growing up, my family always enjoyed homemade wedding soup. We would each pour a large bowl and dip a piece of buttered French bread into the hot broth. While this wedding soup recipe has a Healthyish twist, it still gives me all the hometown feels.
For this recipe, I used ground chicken instead of ground beef. You can use the ground beef if you prefer, but the chicken is a nice, light alternative. I also used spinach instead if escarole. The escarole has a heartier texture than the spinach, but both taste great. Basically, any dark leafy green will work.
You can also use store bought vegetable broth or chicken broth vs. making homemade. I like to make the homemade veggie broth because it adds an extra level of flavor that is so tasty with the soup. However, if store bought is easier for you, go with that!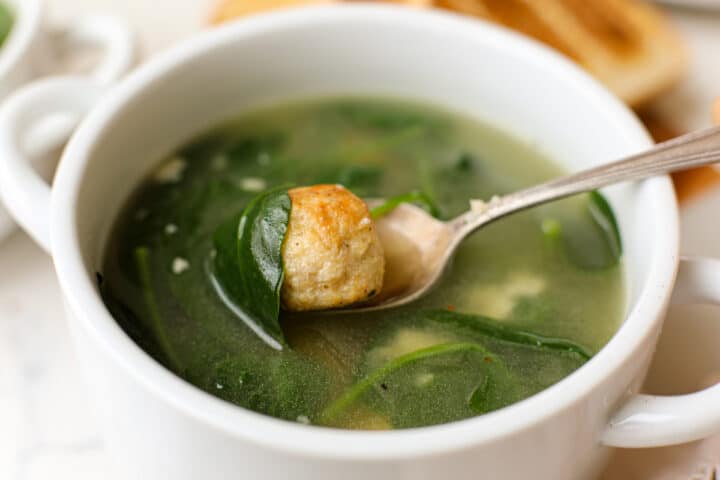 One thing you won't want to skip, is the buttered French bread and extra grated parmesan cheese on top. I also like to add a few red pepper flakes to my soup for a small punch of heat, but you can skip this step if you prefer. So, what are you waiting for? Give this tasty soup recipe a try.
Looking for more soup recipes? Try my creamy onion soup or my kale and white bean soup. Both are delicious and will keep you warm on a chilly day.
Homemade Wedding Soup
Ingredients
Soup:
6

ounces

fresh spinach

1

cup

yellow or white onion diced

Parmesan cheese rind – optional but recommended

1

cup

vegetable oil for frying the meatballs
Homemade veggie broth:
14

cups

water

6

carrots peeled

8

stalks celery

2

large

yellow or white onions – peeled and halved

4-5

cloves

garlic

2

teaspoons

salt

3-4

bay leaves
Mini chicken meatballs:
1

lb.

ground chicken or ground beef

½

cup

Italian breadcrumbs

½

cup

grated parmesan cheese

1

large

egg

2

tablespoons

2% milk

½

teaspoon

onion powder

½

teaspoon

dreid oregano

½

teaspoon

garlic powder

½

teaspoon

dried parsley

½

teaspoon

salt

pinch black pepper
Equipment
stock pot

11-inch saute pan

small skillet

mixing bowl

mesh strainer
Instructions
In a large stock pot combine, water, peeled carrots, celery, onions, garlic salt, bay leaves and bouillon cubes. Simmer over medium / low heat for 1-2 hours.
Prepare the meatballs:
In a large mixing bowl combine, ground chicken, egg, Italian breadcrumbs, grated parmesan cheese, milk, onion powder, garlic powder, dried parsley, dried oregano, and some salt and pepper. Mix well using your hands.

Form the ground chicken mixture into small meatballs. I used about a 1/2 tablespoon sized scoop.

Once all of the meatballs are rolled, heat 1 cup of vegetable oil in an 11-inch pan.

Add 7-8 mini meatballs to the hot oil and sear them on all sides. You want them to be golden brown.

Add the golden-brown meatballs to a paper towel to absorb any excess oil.

Once all of the meatballs are seared, set them aside.
Prepare the onions:
Next, you grab a small skillet and gently spray it with cooking spray. Place the skillet over medium heat.

Add your diced onions and cook them until they are translucent. Set aside.
Prepare the soup:
Strain your homemade broth using a mesh strainer. Be sure to remove all of the veggies.

Next, you'll add the mini meatballs, spinach, parmesan rind, and grated parmesan. Let everything simmer together for 30 minutes on medium/low heat.
Prepare the acini di pepe:
Boil a small pot of water and cook the acini di pepe according to the package.

Drain off the water using a colander. Set aside.

You will only add the acini di pepe to the soup as you eat it. If you add the pasta to the entire pot of soup it will soak up a lot of the broth and the pasta will get soggy.
Prepare a bowl of soup:
Taste the broth to make sure it has enough seasoning. You can add another chicken or veggie bouillon cube for some extra flavor.

Remove the parmesan rind and add the cooked acini di pepe pasta before serving.

Top with extra parmesan cheese and serve hot.