Grilled Peaches and Burrata
Looking for a mouthwatering appetizer for your next gathering? Then try my grilled peaches and burrata recipe.
Summertime and grilled peaches go hand-in-hand like peanut butter and jelly. Ripe, juicy and sweet, peaches are the quintessential summer fruit. Paired with fresh herbs, balsamic glaze, and creamy avocado and this appetizer is hard to resist. Oh, and let's not forget the garlic butter naan bread that can be torn apart and used to scoop up all the goodness. This is one of those appetizers where you're bound to get a little messy!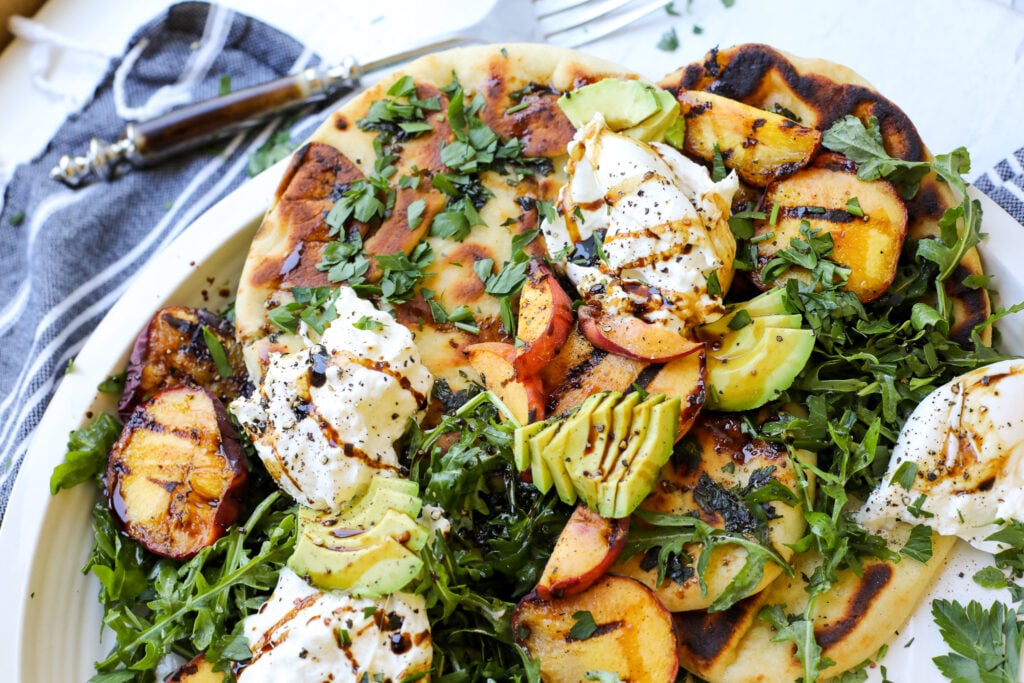 I love this recipe so much because it's messy, fun and insanely delicious. In my opinion, appetizers taste so much better when they have an abstract component. It takes the pressure off knowing that you can effortlessly pull an amazing appetizer recipe together in under 30 minutes. The only problem is that the garlic naan bread is so good, you'll have to get some before it's gone!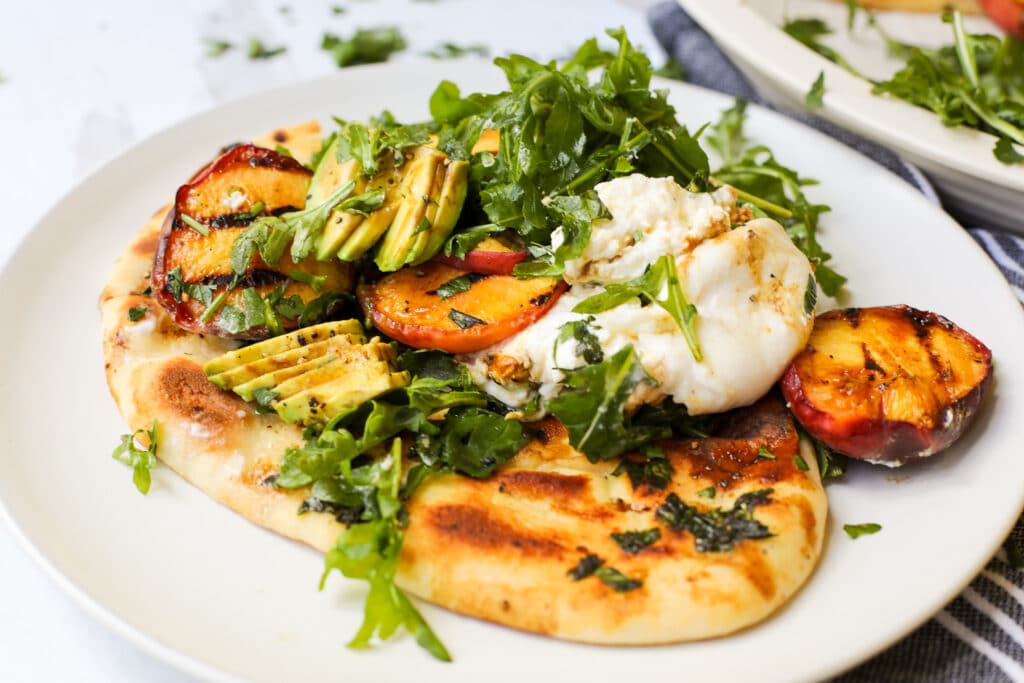 Looking for a dinner entrée to go with the grilled peaches? Try my lemon garlic shrimp boat! It's another sharable, family-style recipe that tastes great in the warmer Summer months!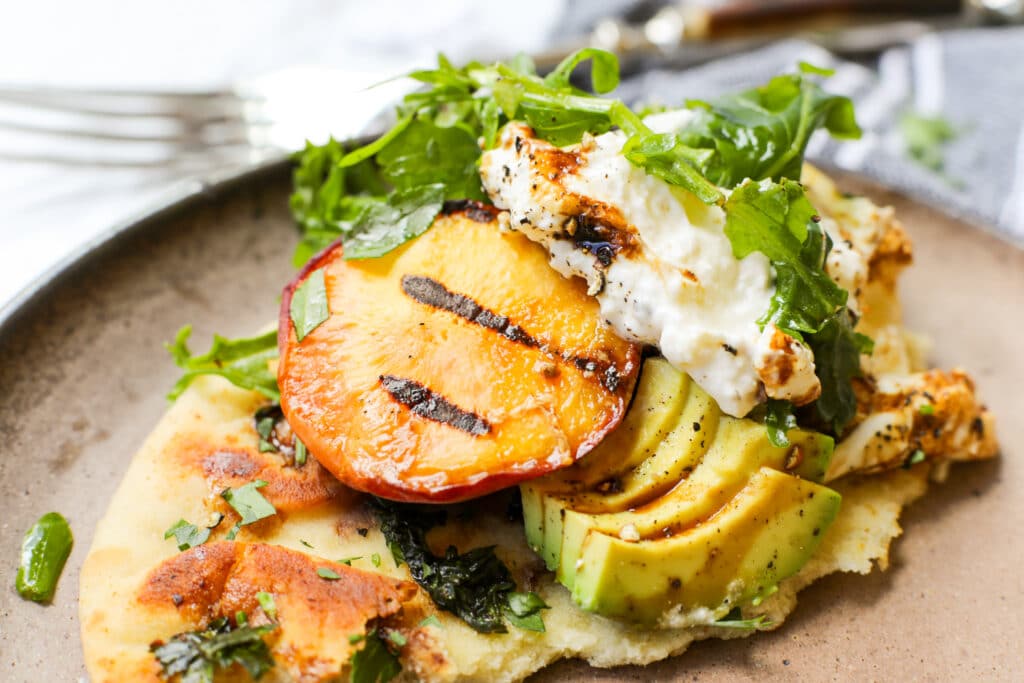 Grilled Peaches and Burrata
Ingredients
2

large naan breads

,

I used Stonefire brand

3

tablespoons

butter

1

teaspoon

garlic paste

1

tablespoon

Italian parsley fresh chopped

,

save extra to finish the dish

4

peaches cut in halves

,

remove pit, and leave skin on

2

balls of burrata cheese

3

heaping handfuls of arugula lettuce

,

lightly dress the arugula in olive oil and a squeeze of lemon juice

2

tablespoons

reduced balsamic glaze

1

avocado

,

sliced thin

Salt and fresh cracked black pepper

Drizzle of good olive oil

,

I used Delallo brand private selection
Equipment
grill

skillet

2 mixing bowl

platter
Instructions
Preheat the grill to 500 degrees.

Slice your peaches in halves and place them flesh-side down on the hot grill.

Cook for 3-4 minutes so you get nice dark grill marks on the peach.

Turn down grill heat and use a thin metal spatula to gently flip the peaches. I used a pie cutter because that's what I have that's thin enough to get under the peaches without damaging them. Cook for an additional 1-2 minutes.

Remove the peaches from the grill. Set aside.

Slice your avocado into thin slices and set it aside. Keep the avocado in the skin until you are ready to assemble the dish. This will prevent browning.

In a small mixing bowl, toss the arugula lettuce with a drizzle of olive oil and fresh squeezed lemon. Season with some salt and pepper. Set the salad aside.

Make your garlic butter. Melt the butter and garlic paste together in the microwave for a few seconds. Stir until well combined. Add the fresh chopped parsley into the garlic butter. Stir well. Gently brush the naan bread with the garlic butter.

Place a medium-sized skillet over medium heat and lay the naan bread butter side down. Gently cook the naan bread until it's golden brown and crispy. Once cooked to your liking, set aside.

Grab a medium-sized serving platter. Assemble the dish.

First, place the garlic butter naan bread down.

Next, add some of the arugula salad. Reserving some to finish the dish.

Then add the grilled peaches. You can place them anywhere; it doesn't need to be perfect.

Take the burrata and place it on the platter. Gently cut it open so the soft center begins to pour out.

Next, remove the avocado slices from the skin using a spoon. Sporadically place the avocado slices on top of the peaches, burrata, arugula, and garlic butter naan bread.

Drizzle with reduced balsamic glaze and season with a pinch of salt and fresh cracked black pepper.

Finish with some of the extra chopped parsley and arugula lettuce.

Serve while the naan is still warm and enjoy!