Grilled Corn and Tajin Roasted Chickpea Salad with Halloumi Croutons
This grilled corn and tajin roasted chickpea salad with halloumi croutons is the perfect way to celebrate Summer! It's loaded with seasonal veggies and is absolutely delicious.
This salad recipe is perfect as a side dish, or you can enjoy it on top of your favorite protein. For example, fish, chicken, shrimp or tofu would all taste great with this salad. It's incredibly versatile and easy to make!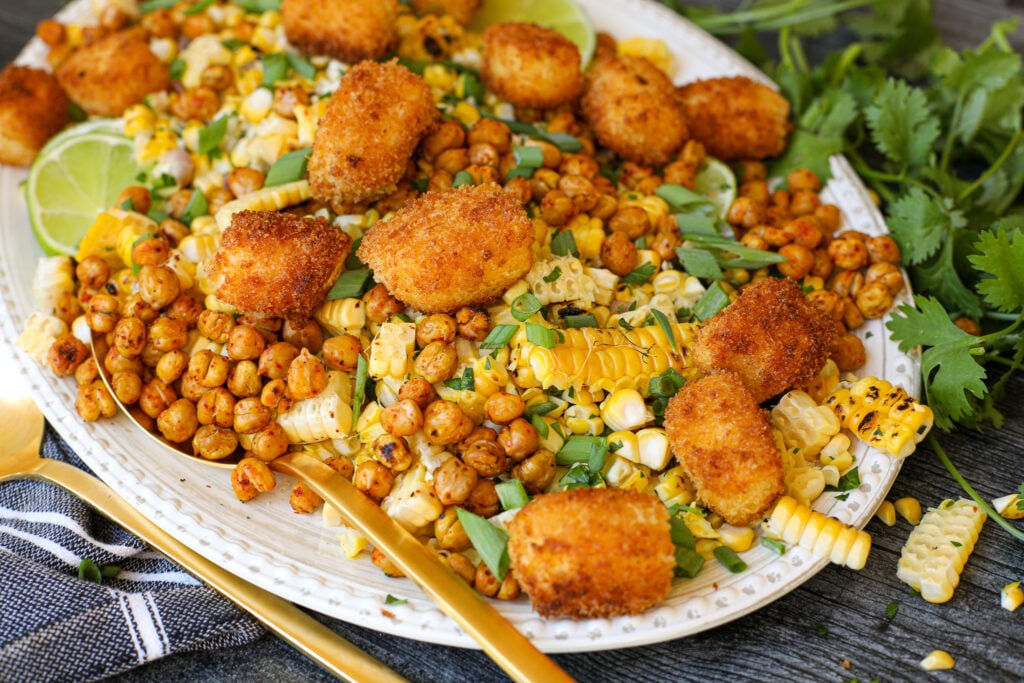 I absolutely love this recipe. If you're new to halloumi it's a Mediterranean cheese made from goat or sheep's milk. It's stored in a brine that adds a delicious salty flavor to the cheese. Since this cheese has a high melt point, it's great for frying or grilling! It's almost a hybrid between feta and mozzarella. It's fantastic!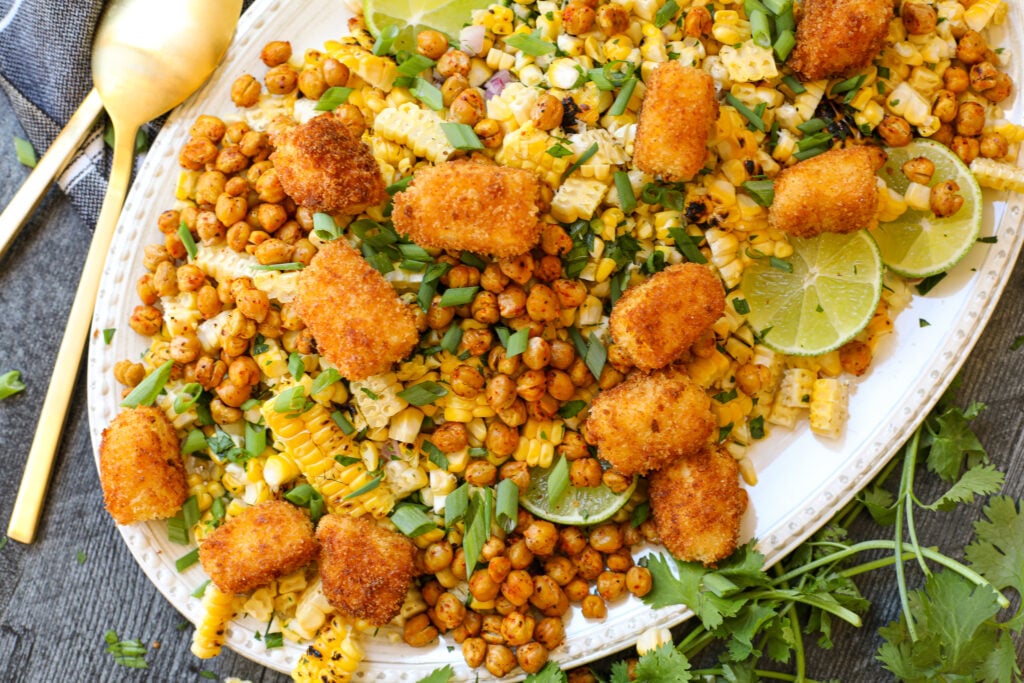 There is another ingredient in this recipe I love as well! It's the Tajin spice. Tajin spice is a Mexican spice blend made from dehydrated lime, chili peppers and salt. The spice level is mild, but it is loaded with flavor. I love roasting my chickpeas with the Tajin spice because it adds such a delicious layer of flavor to the chickpeas.
Pair all of this with the sweet grilled corn, shallots, lime juice, jalapeño and fresh herbs and you're in for a delicious side dish! Finish the dinner with a cool sweet treat! Try my homemade chocolate NICE cream with homemade maple vanilla marshmallows. It's delicious!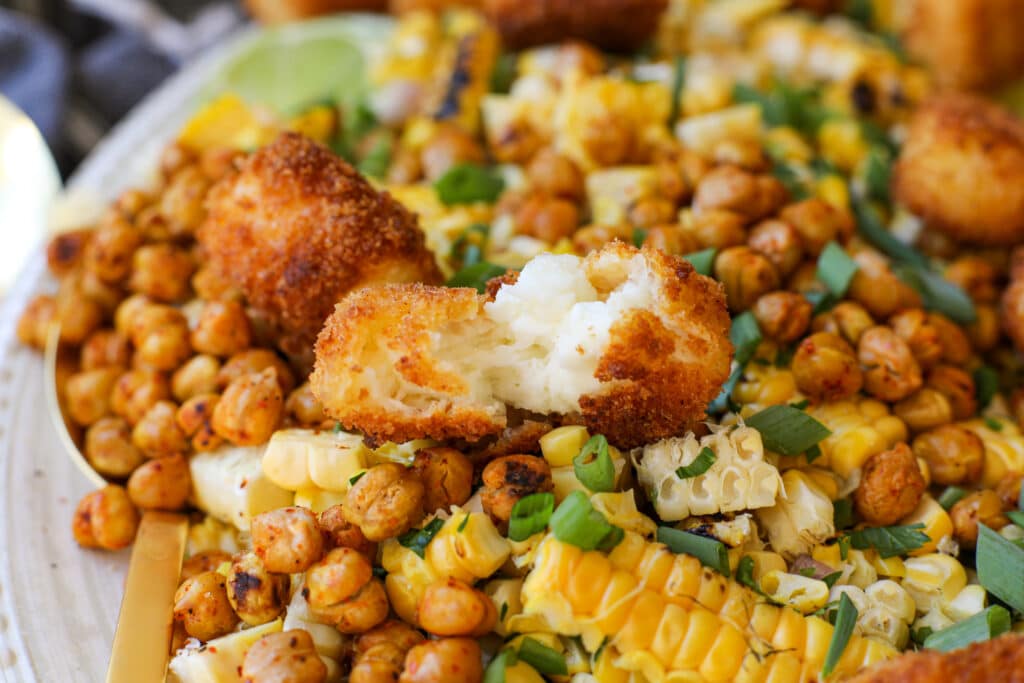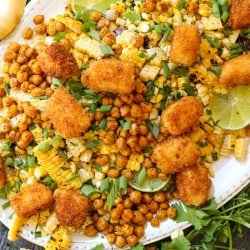 Grilled Corn and Tajin Roasted Chickpea Salad with Halloumi Croutons
Ingredients
6

ears corn grilled and removed from cobb

1

can chickpeas

,

drained and rinsed. remove loose skins

1.5

tablespoons

Tajin spice

2

tablespoons

olive oil

,

divided

1

jalapeño

,

remove seeds and mince – about 1/4 cup

⅓

cup

shallots

,

diced small

3

tablespoons

lime juice

,

fresh squeezed

2

tablespoons

Italian parsley

,

chopped small

2

tablespoons

cilantro

,

choppped small

Scallions for garnish
Halloumi croutons
8

ounces

halloumi cut into 16 cubes

,

1/2 ounces per cube

2

eggs

,

beaten

¼

cup

cornstarch

1

cup

panko breadcrumbs

½

teaspoon

paprika

½

teaspoon

garlic powder

Cracked black pepper

1

cup

vegetable oil for frying

,

canola oil will work too

Finish with a pinch of salt
Equipment
baking tray

large mixing bowl

3 plates

satue pan

colander

serving platter
Instructions
Preheat the oven to 400 degrees.

Preheat the grill to 400 degrees.

Line a baking tray with parchment paper. Set aside.

Grilled your corn for 5-10 minutes or until it has a light char on the kernels. Remove from the grill and set aside. Once the corn has cooled, use a knife to remove the kernels from the cobb.

Place the charred corn kernels in a large mixing bowl.

Next, you will drain and rinse the chickpeas. Remove any loose skins. Pat the chickpeas dry using a paper towel.

Place the chickpeas on the prepared baking tray and dust them with the Tajin spice and a 1 tablespoon of olive oil. Toss them around on the tray so they are evenly coated on the spice and oil.

Roast them in the oven for 15-20 minutes or until they are nice and crispy.

Remove them from the oven and them set aside until they cool.

Next, you'll dice the jalapeno and shallot. Add them into the bowl with the cooled corn kernels.

Chop the fresh parsley and cilantro. Add it into the bowl with the corn, shallots, and jalapeno.

Next, you'll add the fresh squeezed lime juice and 1 tablespoon olive oil. Toss everything together until well combined.
Prepare the halloumi croutons:
Cut the halloumi into 16 even-sized cubes.

Add the cornstarch to a plate. Add two whisked eggs onto a second plate. And on a third plate you will combine the panko breadcrumbs, paprika, garlic powder and a few cracks of black pepper.

Take one cube of halloumi and dust it in the cornstarch. Next, you'll dredge it through the egg wash and finally you will toss it in the breadcrumb mixture. Repeat until all of the halloumi cubes are breaded.

In a medium sauté pan add the vegetable oil. You'll want the oil nice and hot before you fry the halloumi. If you add the halloumi before the oil is hot, the croutons will get soggy and not crispy. You can test the oil by adding a small piece of the breadcrumb into the pan. If the breadcrumbs sink the oil is not ready, but if they begin to fry and bubble the oil is ready.

Fry about 4 of the breaded halloumi cubes at a time. Overcrowding the pan will reduce the oil temperature and also result in soggy croutons.

Place the croutons on a paper towel to absorb any excess oil. Season with a small pinch of salt when they are still hot.
Assemble the dish:
Grab a large serving platter and add the corn, shallot, jalapeno, herb mixture. Top with the chickpeas.

Add the croutons and finished the dish with some fresh sliced scallions and wedges of lime.

Serve and enjoy!