Lettuce Cup Salad with Sesame Poppy Seed Vinaigrette
Family night just got a lot more "hands-on" haha. This lettuce cup salad is easy to make, incredibly delicious and can be eaten with your hands. Simply grab a piece of butter lettuce, fill it with some toppings, drizzle with dressing and enjoy!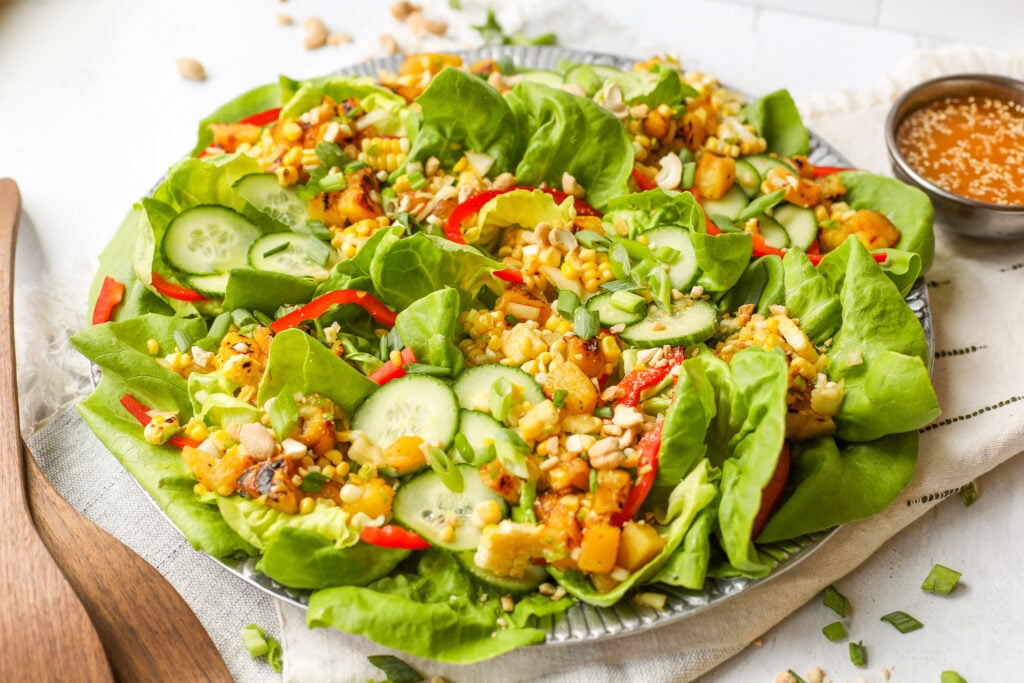 Family style salads like this one are such a fun and tasty way to switch things up at home. Topped with loads of healthy veggies, you can feel good knowing your family is getting the nutrients their bodies need.
For a punch of protein, try adding grilled salmon, shrimp or crispy tofu. All of these protein options would taste great with my homemade sesame poppyseed vinaigrette. For this lettuce cup salad, I used pan roasted chicken breasts. They tasted so good with the fresh fruit and veggies.
Looking for more family style salad recipes? Try my Cobb salad with cilantro lime dressing or my grilled tuna nicoise salad with sweet and tangy dressing.
Lettuce Cup Salad with Sesame Poppy Seed Vinaigrette
Ingredients
Lettuce Cup Salad
1

head butter lettuce

,

cleaned and dried

1

red bell pepper

,

sliced thin

Sliced English cucumber

,

sliced thin

1

cup

pineapple

,

grilled and diced

1

cup

corn kernels – grilled

,

frozen or canned will all work. I like to grill mine.

1.5

tablespoons

lime juice

,

fresh squeezed

1/3

cup

diced onion

,

white or yellow will work

2

tablespoon

jalapeños

,

diced small

2

chicken breasts seasoned with salt and pepper

Garnish with chopped scallions and crushed cashews
Sesame Poppy Seed Vinaigrette
1/4

cup

white wine vinegar

1/4

cup

apple cider vinegar

1/2

cup

vegetable oil

1

tablespoon

cane sugar

1

teaspoon

dried minced garlic

1

teaspoon

dried onion flakes

1

teaspoon

poppy seeds

1.5

tablespoon

toasted sesame seeds

Pinch

paprika
Equipment
serving platter

saute pan

grill – optional
Instructions
Preheat the grill to 400 degrees. Line it with foil.
Prepare the chicken:
Grab a skillet, gently spray it with cooking spray and over medium heat add your seasoned chicken breasts. Once both sides have a nice brown sear on the outside, lower heat. Pan roast them on medium/low heat until fully cooked. Mine cooked for about 20 – 25 minutes.

Remove the chicken from the heat and let the breasts cool completely before slicing. This will help retain the moisture.
Prepare the grilled pineapple and corn:
Destem and slice a pineapple into large round slices. Making sure to keep them about ½ inch thick for grilling. You want to make sure you can easily flip the slices once they are on the grill.

Husk the corn.

Grill the pineapple and the corn. I used 3 ears of corn.

Once the pineapple and corn have a defined char, remove them from the grill and let them cool.

Dice the pineapple, making sure to remove the core. The core is too hard to eat in the salad but is still tasty on its own.

Using a knife carefully cut the corn kernels off of the cob.
Prepare the pineapple salsa:
In a large mixing bowl combine, the pineapple, corn, fresh squeezed lime juice, diced jalapeno, and diced onion. Gently toss until everything is coated in the lime juice. Set aside.
Assemble the dish:
Grab a large serving platter. Arrange the cleaned and dried lettuce cups on the platter.

Add the thinly sliced red pepper and sliced cucumbers.

Using a spoon, scoop the pineapple corn mixture on top of the lettuce.

Slice the chicken breast and place it on top of the cups.

Season everything with a pinch of salt and pepper. You can also garnich the dish with crushed cashews and chopped scallions.
Prepare the dressing:
In a small mixing bowl combine, all of the dressing ingredients. Whisk until well combined. Serve on the side so people can drizzle their salad with the dressing.