Family Style Grilled Peach Salad
It's that time of year when Georgia peaches are at their prime. And what better way to enjoy them, than grilled and piled over a huge family style salad? Perfect for those hot nights when you want something light and refreshing for dinner. Plus, this salad is made from 5 simple, healthy ingredients so it comes together very quickly, which is always a win.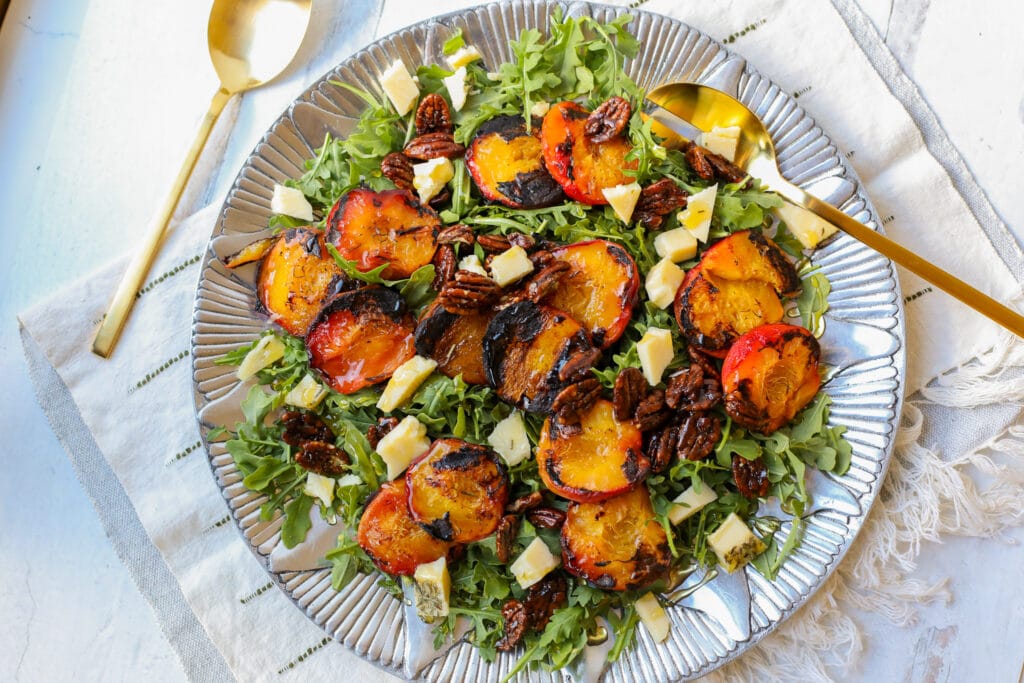 If you've never grilled peaches, you have to try this recipe. Grilling them brings out the peaches natural sugars and creates a char that tastes so good! They remain incredibly juicy and enhance any dish.
Paired with all of the other tasty ingredients, this family style grilled peach salad is going to be a family favorite all summer long. Looking for more salad recipe ideas? Try my toasted pine nut and cherry salad or my ditalini pasta salad.
What makes the Healthyish?
Peaches are good for your digestion and loaded with fiber. They have also been known to regulate blood sugar and insulin levels. (1)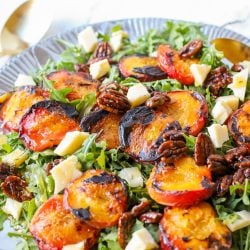 Family Style Grilled Peach Salad
Ingredients
8

peaches

,

I used Georgia peaches that were small / medium in size and slightly ripe.

candied pecans

,

store bought or homemade are fine

hard salty cheese

,

I used parmesan cheese that had been infused with rosemary

arugula

,

fresh

honey

,

drizzle as much or as little as you like. I used about 2-3 tablespoons.
Instructions
Preheat the grill to 400 degrees.

Place down foil.

Pit the peaches and cut them into halves. Spray them with cooking spray before adding them face down on the grill. The size and ripeness will also determine cooking time. Overly ripe peaches might be hard to flip.

I left mine on the grill face down for about 5-6 minutes before flipping them over. I used a spatula to flip mine over, but in order to preserve the grill marks you might want to use tongs.

Remove peaches from the grill and set aside.
Assemble the salad:
Grab a large platter and add fresh arugula as the base.

Next, add your grilled peaches.

Crumble some hard cheese of your choice across the salad. I used parmesan that had been infused with rosemary. The rosemary tastes great with the peaches.

Next, layer on some candied pecans. I used store bought, but you can make them as well.

Finally, drizzle the entire salad with honey. The honey enhances the cheese, peaches and pecans. It's the perfect way to finish the salad.

Serve immediately and enjoy.