Ditalini Pasta Salad
This ditalini pasta salad recipe is perfect for any gathering. It's creamy, slightly tangy and loaded with fresh seasonal veggies. The veggies add an extra pop of flavor and a little extra crunch, which tastes great with the creamy dressing and tender pasta. Perfect as a side, this recipe goes great with grilled chicken, crab cakes or pulled pork.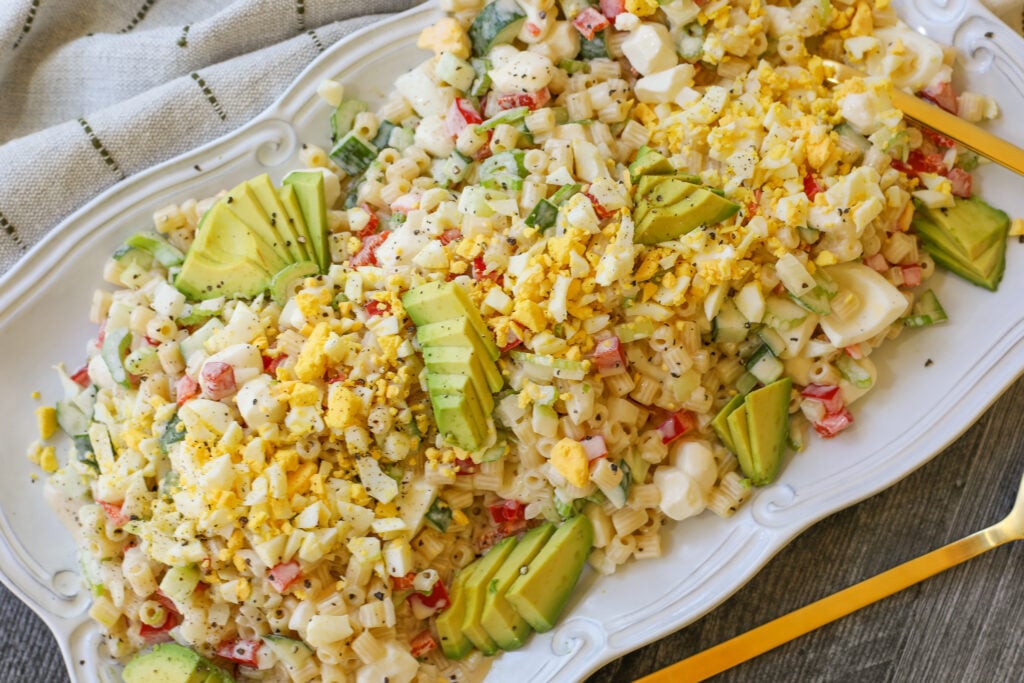 I love this recipe because it's easy to make and completely satisfying. Nothing makes me think Summer quite like pasta salad does. And if you're vegan, I've got you covered. Try my plant-based macaroni salad recipe instead!
Ditalini Pasta Salad
Ingredients
Dressing
1

cup

mayo

2

tablespoon

white vinegar

¼

cup

cane sugar

2

teaspoon

Dijon mustard

salt and pepper
Ditalini Pasta Salad
3/4

cup

celery

,

about 3 stalks

3/4

cup

red pepper

,

1 large bell pepper

3/4

cup

onion

,

diced small – white or yellow

3/4

cup

cucumber

,

diced small

3/4

mozzarella pearls

4

eggs chopped

1

avocado sliced thin

1/2

lb.

Delallo food ditalini pasta – drizzled with olive oil
Equipment
pasta pot

colander

2 mixing bowls
Instructions
Boil a pot of water and cook the ditalini according to the package. I like to cook mine al dente because the pasta will soak up some of the dressing and continue to soften.

Drain the water off of the pasta using a colander. Drizzle the pasta with olive oil and set it aside.

In a small mixing bowl combine, the mayo, vinegar, Dijon mustard, salt & pepper, and cane sugar. Whisk together until well blended. Set aside.

Cut all of your veggies and eggs into evenly-sized pieces. I always like to dice my veggies the same size as the ditalini.

In a large mixing bowl combine, the veggies, dressing, mozzarella pearls, eggs and cooked pasta. Gently fold all of the ingredients together.

Cover and refrigerate for 2 hours before serving. Top with sliced avocado before serving.

Enjoy!