Crispy Tofu and Green Beans with Balsamic Soy Sauce
This crispy tofu and green beans with balsamic soy sauce recipe is so good you'll hardly notice it's completely plant-based. Made from seven simple ingredients, this recipe will quickly become a household favorite. The sauce is tangy and slightly sweet, which tastes great with the crispy tofu and tender green beans.
For a kick of spice, try adding a few red pepper flakes. Another way to enjoy this dish is by adding a side of rice. The rice will make the dish slightly heartier, but still vegan. Also, it is important that you use fresh, not canned green beans. Canned green beans will be mushy and not as enjoyable as the fresh green beans.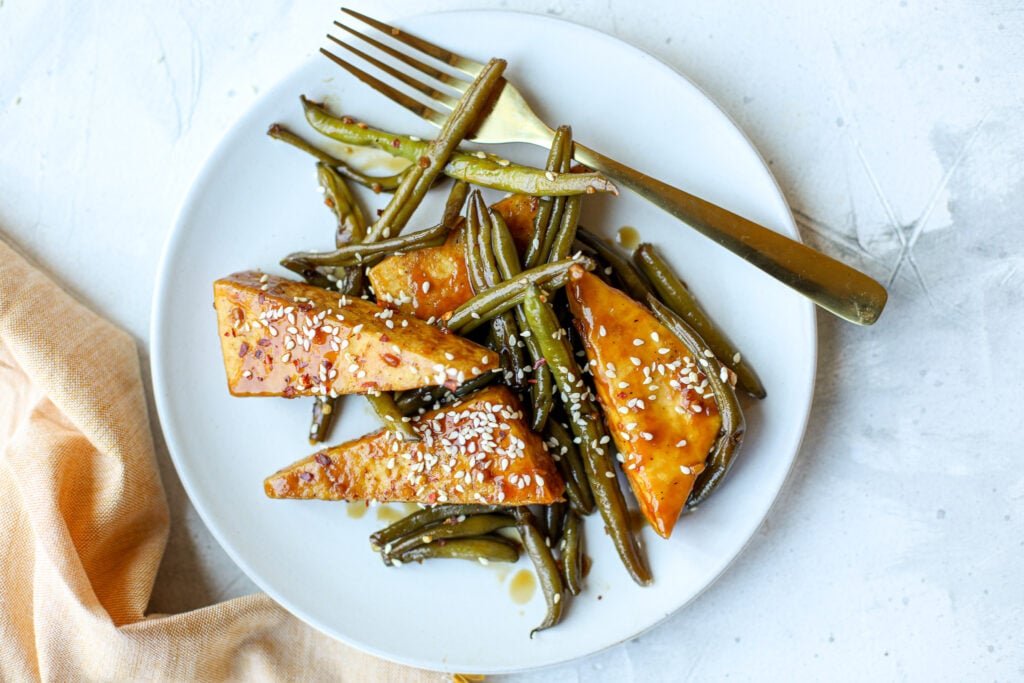 For this recipe, I used golden balsamic vinegar. Golden balsamic vinegar is slightly sweeter and fruitier than traditional balsamic vinegar. It's lighter in color than regular balsamic vinegar as well. You can swap regular balsamic vinegar for the golden, but you may need to add a little more brown sugar to get the sauce just right. Finish the dish with some regular or toasted sesame seeds for an extra pop of flavor.
So, if you are new to plant-based recipes, give this delicious crispy tofu and green beans with balsamic soy sauce a try. It's a simple recipe to make and a great way to introduce some vegan recipes into your weekly diet.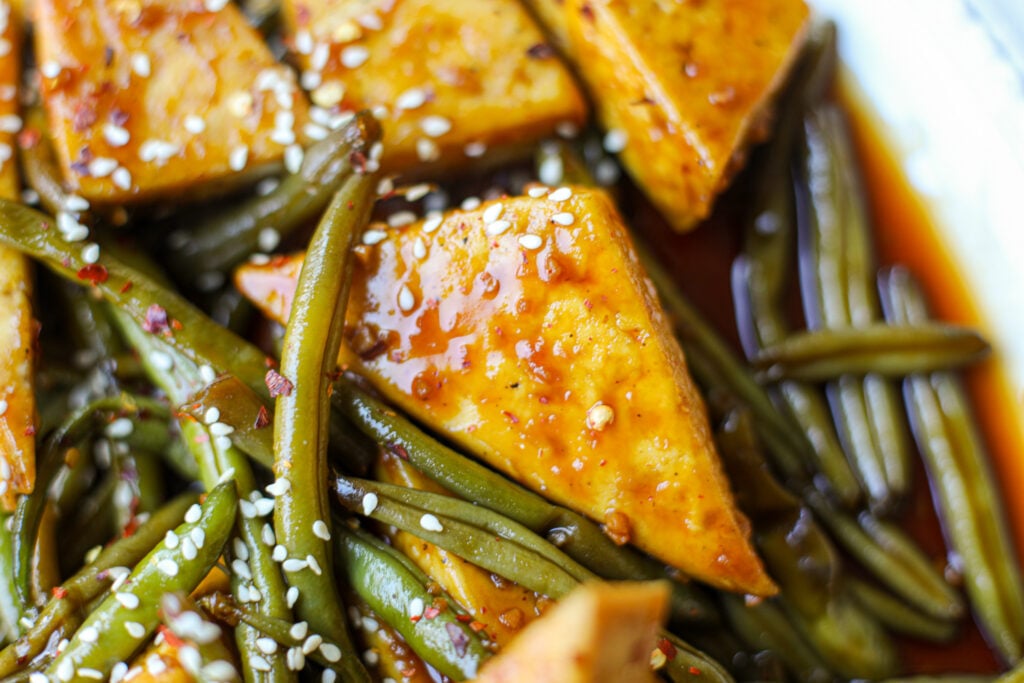 Looking for more plant-based tofu recipes? Try my plant-based spicy tahini noodles with crispy tofu. These noodles are spicy, creamy and perfectly delicious. Another great recipe is my plant-based buffalo tofu tenders. They curb your hot wings craving without the meat. Just be warned, they are hot!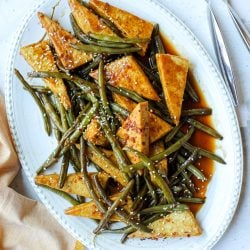 Crispy Tofu and Green Beans with Balsamic Soy Sauce
Ingredients
Balsamic Soy Sauce
½

cup

golden balsamic vinegar

½

cup

soy sauce

3

tablespoons

brown sugar

1

teaspoon

minced garlic

,

or fine chopped

1.5

teaspoons

cornstarch
Crispy Tofu and Green Beans
2

packages super firm tofu

,

1 lb. each after drained

½

cup

cornstarch

½

teaspoon

salt

Cracked black pepper

12

ounce

bag fresh green beans
Optional Toppings
sesame seeds

,

regualr or toasted

red pepper flakes
Instructions
Preheat the oven to 425 degrees.

Line a baking tray with parchment paper and set it aside.

Drain the liquid from the two blocks of tofu. Using a kitchen towel or paper towels, press any excess moisture out from the tofu. This will help the tofu to get crispy once baked in the oven.

Next, you will want to slice the tofu in half lengthwise. Then, slice it in half again widthwise. You will be left with four evenly sized rectangles.

The final cut will run from the top left corner of each rectangle to the bottom right corner.

You will be left with 8 tofu pieces that are triangular in shape.

Repeat this process for the second block of tofu.

Grab a plate and add the cornstarch, salt and pepper. Stir until well combined.

Once all of the tofu is sliced, you will run the tofu triangles through the cornstarch mixture. Make sure each side is well coated.

Place the breaded tofu pieces on the prepared baking tray.

Gently spray the tofu with olive oil cooking spray and place it in the oven for 40 minutes.

Make sure to turn the tofu halfway through baking and spray them again with the cooking spray.
Prepare the sauce:
While the tofu is getting crispy in the oven, we will prepare the balsamic soy sauce.

In a saucepan, add the soy sauce, golden balsamic vinegar, brown sugar, minced or fine chopped garlic and cornstarch. Stir until well combined and simmer over medium / low heat.

I used bagged green beans and cooked them al dente. The package called for 3 minutes in the microwave, but I only did 2 because they will continue to soften in the pan with the sauce.
Assemble the dish:
Once the green beans are slightly soft, add them to the sauce and continue to stir everything together until the sauce begins to thicken. I would wait until the tofu is almost ready so the beans do not get too soft!

Once the tofu is crispy, remove it from the oven and toss it in the sauce with the green beans.

Toss everything together in the saucepan until the beans and tofu are well coated in the balsamic soy sauce.

Spoon everything onto a platter, serve hot and enjoy!