Creamy Seared Scallop Pasta
Creamy, flavorful and perfect for fall, this creamy seared scallop pasta is guaranteed to be a family favorite. This recipe is a riff off of my roasted chicken with creamy spinach and artichokes, except I've swapped scallops for the roasted chicken and added delicious Delallo Foods' casarecce pasta.
What I love about this creamy seared scallop pasta recipe is that it's special enough for holidays but easy enough for weeknights. I used about ½ cup of pasta water in the sauce, but you can add more as needed. This will help prevent the sauce from getting too thick. You can also add a few red pepper flakes for flavor but be careful not to overpower the delicate scallops.
When prepping the scallops be sure to remove the foot and pat them dry. The foot is a small rubbery / tough muscle found on the side of the scallop. It's very easy to spot and remove. Sometimes it might even be a shade darker than the rest of the scallop. I simply used my hands to gently peel it off.
Additionally, you'll want to make sure the scallops are dry before searing them. This will allow you to get a nice brown sear on the scallops. I like to hit my scallops with a pinch of salt right before I add them into the cast iron pan. Adding the salt too early will draw moisture to the surface again, which we want to avoid.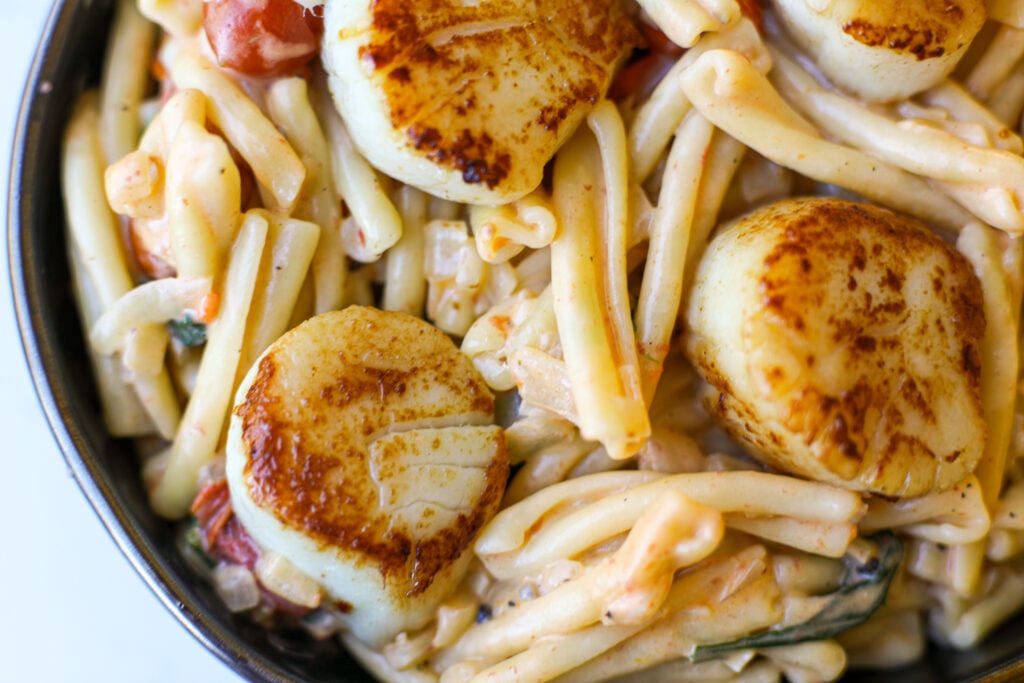 Creamy Seared Scallop Pasta
Ingredients
12

ounces

casarecce pasta

1

lb.

scallops

4

tablespoons

olive oil

,

divided

2

cups

diced onion

,

white or yellow will work

4

cloves

garlic

,

minced

½

teaspoon

salt

Cracked black pepper

,

to taste

12

ounces

grape or cherry tomatoes

1

cup

seasoned pasta water

6-8

ounces

of fresh spinach

1

can

coconut milk 5.46 ounces

,

the small can

½

cup

grated parmesan cheese

½

cup

whipped cream cheese

Fresh chopped parsley – optional
Equipment
saucepan

pasta pot

cast iron skillet
Instructions
Boil a pot of water, season it with salt, and cook your pasta according to the package. I like to cook mine al dente because it will continue cooking in the saucepan.

Reserve 1 cup of the seasoned pasta water before draining the noodles.

Drain the noodles and drizzle them with olive oil to prevent them from sticking together. Set them aside.

Next, you'll prepare the scallops. I discussed how to prepare the scallops in the paragraph section above because it would be too long to type here.

Heat a cast iron skillet on high heat. Once the pan is hot, add 2 tablespoons of olive oil and let it heat for about 1 minute.

Add the prepared scallops and let them sear for 3-4 minutes in the pan. Do not move them. Once they have a beautiful sear reduce the heat to medium and flip the scallops. Cook for another 3ish minutes before removing them from the pan. Set them aside.

Next, in a large saucepan, add 2 tablespoons olive oil, minced garlic, diced onion, salt and pepper.

Once the onions begin to soften, you'll add your tomatoes.

Once the tomatoes begin to blister, add ½ cup pasta water into the pan and deglaze the pan.

Add the fresh spinach and coconut milk. Stir well.

Once the spinach has wilted, you will add the grated parmesan cheese and whipped cream cheese. Stir until well combined. If the sauce begins to thicken too much, simply add a little more of the pasat water.

Add the cooked pasta into the sauce. Once the pasta is well coated, you can transfer it to a serving bowl. Nestle the seared scallops into the dish.

Serve immediately and enjoy!