Cinnamon Apple Crumble
When I think of fall desserts, this warm cinnamon apple crumble always comes to mind. It's easy to make, delicious and perfect for sharing. I enjoyed mine with a scoop of vanilla bean ice cream, but you can also enjoy this crumble with a drizzle of caramel sauce or as is.
If you do not have mini paper baking cups, you can also use an 8×8 glass or metal baking dish. I like using glass or metal baking dishes, because they conduct heat more evenly when baking. Also, for this recipe, I used a combination of peeled granny smith and honey crisp apples. It's been my experience that these two types of apples combined taste the best and hold up well when baking.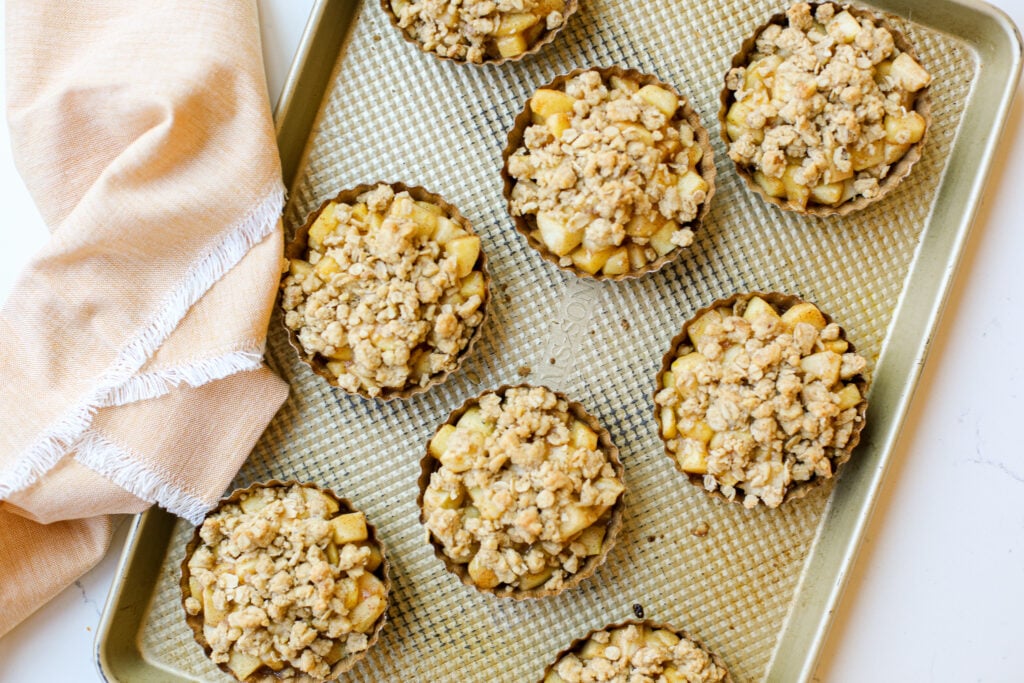 If you're looking for more fall dessert recipes try my plant-based pumpkin cookies or my date crumble which is just as delicious as the cinnamon apple crumble!
Cinnamon Apple Crumble
Ingredients
Crust
1/2

cup

butter or 1 stick

,

soft

1/4

cup

coconut sugar

1/4

teaspoon

vanilla extract

1

cup

AP flour
Apple Filling
4

tablespoons

butter

8

apples – 4 honey crisp apples – 4 granny smith

,

peeled and diced into cubes a little larger than a dime

2

tablespoon

AP flour

1

teaspoon

vanilla

1

tablespoon

lemon juice

,

fresh squeezed

1.5

teaspoons

cinnamon

1/2

teaspoon

nutmeg

1/4

cup

brown sugar

1/2

cup

water

Pinch

salt
Crumble
1/4

cup

brown sugar

3

tablespoon

butter

1/4

cup

quick rolled oats

,

whole grain

1/4

chopped walnuts

1/4

cup

AP flour
Equipment
baking cups – 4 inch wide

3 mixing bowls

saucepan
Instructions
Preheat the oven to 350 degrees.

Gently spray eight 4-inch paper baking cups with cooking spray. Set aside. If you do not have paper baking cups, you can use an 8×8 square baking pan. Metal or glass works best.

In a small bowl, beat the butter, coconut sugar and vanilla extract together. Slowly add the AP flour until a dough begins to form. Evenly split the dough into eight portions and then gently press the dough in the bottom of the baking cups. Bake for 10 minutes or until the center is set. Remove from the oven and set aside.

Next, we will prepare the filling. Add 4 tablespoons of butter into a saucepan over medium / low heat. You want the butter to melt but not brown.

Peel and dice your apples. You'll want the apples to be slightly larger than a dime in size. Also, make sure you do not have any seeds.

Next, you'll toss the diced apples with the AP flour until the apples are lightly coated with flour.

Add the apples into the saucepan with the butter. Next, you'll add the lemon juice, water, brown sugar, cinnamon, nutmeg, vanilla flavor and a pinch of salt. Stir until well combined.

Stir and cook the apples until they begin to soften but are not mushy. I cooked mine for 10-15 minutes. Remove from the heat and set aside.

Next, we will prepare the crumble. In a small mixing bowl, combine the oats, butter, AP flour, brown sugar and chopped walnuts. Using a fork, stir everything together until the butter is evenly distributed and a crumble begins to form.

Finally, we will assemble the dish. Spoon the apple filling on top of the par-baked crust. Sprinkle with some of the crumble and repeat until all of the cups are filled. Bake for 15 -18 minutes or until the crumble is a light golden-brown color.

Serve warm and enjoy!