Chicken and Broccoli Stir Fry
Need a quick and healthy dinner? Try my chicken and broccoli stir fry with spicy brown sauce. It's made from a few simple, healthy ingredients and comes together in under 30 minutes. This dinner is perfect for those nights when you want something hot and delicious but don't have a ton of time. As an added bonus you only need one pan too!
You can enjoy this dish with a side of rice or tasty rice noodles. Rice noodles cook very quickly, so they would be a great option if you're short on time. Rice can take a touch longer to cook, but both options will offer you a well-balanced meal. For a low carb option, you can also skip the rice and noodles all together and enjoy this dish as is.
Swap the chicken for tofu and this dish is completely vegetarian. If you also swap the chicken stock for vegetable stock, then this dish is completely vegan. What's great is that uou can really make this recipe your own.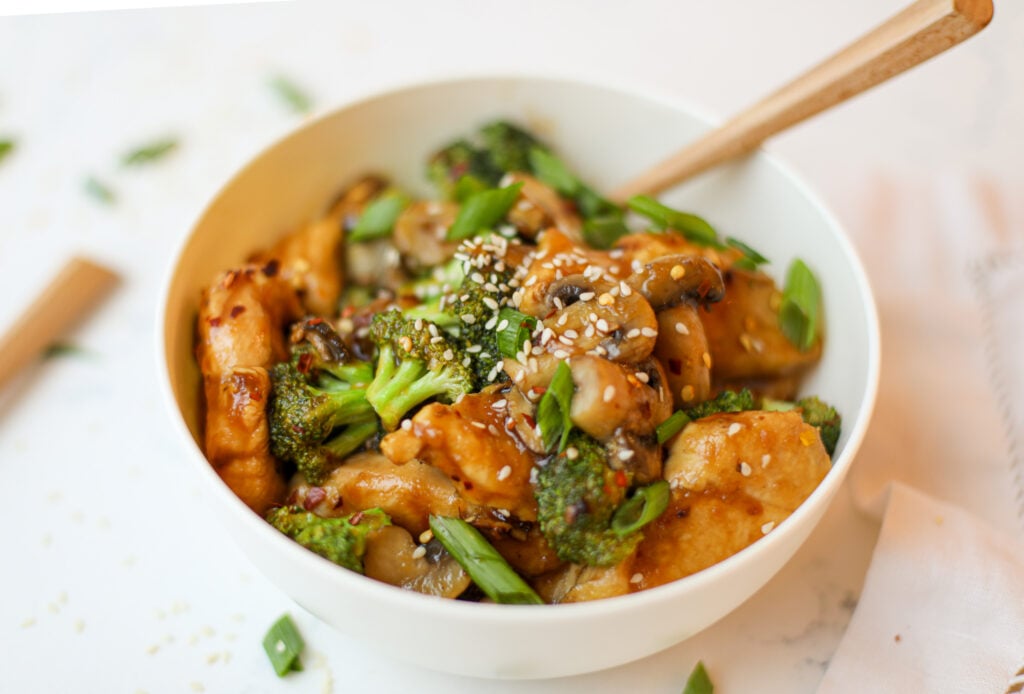 Personally, I love making this dish on the weekends. It's so good you'd never know it isn't take-out from a local restaurant. There is something about the spicy brown sauce, veggies and chicken that is so cozy, comforting and completely satisfying. You're going to love this chicken and broccoli stir fry recipe.
Looking for more chicken recipes? Try my Greek chicken meatballs with tzatziki sauce or my stovetop buffalo mac n' cheese.
Chicken and Broccoli Stir Fry
Ingredients
Chicken and Broccoli Stir Fry:
1

lb.

chicken breast sliced into 1/2 inch strips

1/4

cup

cornstarch

1/2

teaspoon

salt

Pinch

black pepper

3

ounces

broccoli florets

4

ounces

sliced button mushrooms
Spicy brown sauce:
1

tablespoon

toasted sesame oil

2

teaspoons

minced garlic – about 2-3 cloves

2

teaspoons

minced ginger

1

cup

chicken stock – divided

1/4

cup

soy sauce

2

tablespoons

light brown sugar
Optional Garnishes:
red pepper flakes

toasted sesame seeds

sliced scallions
Equipment
11-inch skillet

mixing bowl
Instructions
Mince the garlic and fresh ginger. Be sure to remove the skin from the ginger before mincing it.

Add the garlic and fresh ginger into an 11-inch skillet with 1 tablespoon of toasted sesame oil. Simmer over medium / low heat until the garlic and ginger are lightly browned and fragrant.

While the garlic and ginger are simmering, slice your chicken breasts.

Grab a small mixing bowl, combine the cornstarch, salt and a pinch or black pepper. Stir well.

Toss the sliced chicken in the bowl, making sure to coat each piece with the cornstarch mixture.

Next, you'll add the chicken to the pan, shaking off any excess cornstarch.

Once the chicken begins to get a light sear, turn it over and deglaze the pan with ½ cup of chicken stock.

Make sure to scrape all of the little pieces off of the bottom of the pan using your tongs.

Once the chicken stock begins to reduce, add the soy sauce, brown sugar, and remaining ½ cup of chicken stock. Stir well. Let the chicken pieces cook in the sauce for 5-10 minutes or until the chicken is cooked through.

Reduce the heat to low and add the mushrooms and broccoli florets.

Simmer for 5-10 minutes until the broccoli is slightly softened and everything is well coated in the sauce. I like my broccoli a little firm, but for a softer broccoli you can boil some water and cook the broccoli for a few minutes in the hot water before adding it to the dish. Be sure to drain any water before adding it to the rest of the dish.

Top with your favorite garnishes and serve hot!